Kids Cooking Green is an after-school program in the Boston area that teaches children about nutrition and fresh, healthy food. The students cook meals, like eggs in a basket, and ravioli, and bring recipes and samples home to their parents. The emphasis is on locally grown products, so one piece of the program is to introduce the kids to the people who grow food. I'm not a "real" farmer, but I do know all about chickens, so Kids Cooking Green asked me to be part of their program. It's the perfect match!
I recently taught a group of fourth and fifth graders all about how eggs are made in the hen's reproductive tract. Then I ask, "do you know where the egg comes out?" No one ever thinks about that part of the process. I pick up my hen, turn her around so they can see her bottom, and show the vent. You can imagine how this age group loves this!
At the end of the program, I talk about feathers and teach how to touch a hen. For many, this is the first time that they've seen a real chicken, let alone pet one. The other day eighteen energetic and excited children quietly and gently stroked Amber's back. Smiles all around.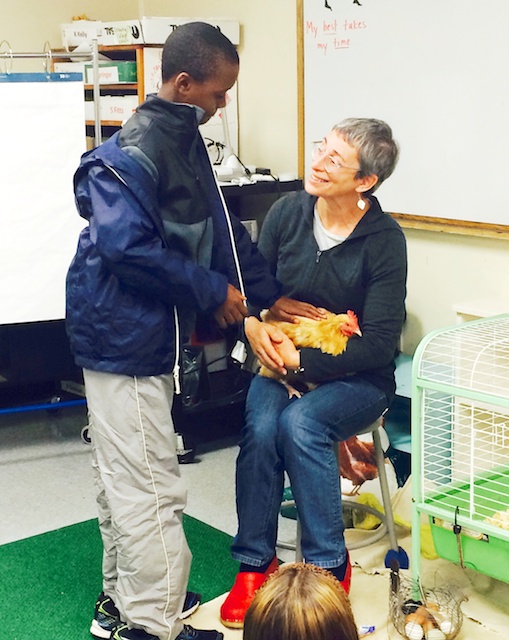 Information about my school programs is here.