Too much is made in the horse training world about how horses are prey animals, and that's why they're different to train than dogs, which are predators. Yes, horses are wary and sometimes skittish, but my horse, Tonka, knows I'm not about to chase and eat him. If anything, my approach means that something good is coming his way (this time of year, it's apples from the orchard.) Too much is also made about "dominance" and "leadership." The basic premise of that is that horse herds are composed of a head horse that keeps all of the others in line via aggressive body language. That assumption has been debunked by ethologists studying feral horses. So, if it's not about dominance or fear, how do we go about communing with these animals? For horses, it's all about relationships.
In Tonka's last boarding situation, he lived in a paddock with three other horses. They each were given a pile of hay twice a day. The paddock was bare dirt and so there was nothing to nibble on between meals. Tonka had to eat up quickly or have to defend his forage. Horses use teeth and hooves. Tonka had marks on him. This had nothing to do with herd leadership, but was because there was a pecking order due to limited resources. Horses are relationship oriented animals. Given enough food and space, they form lasting friendships. Buddies graze together, groom each other, and even stand head to tail to flick flies off of each other's faces with their tails. But, shrink their resources and those relationships can be stymied. Other horses in his group were able to deal with this feeding schedule, but not Tonka. Tonka did not have a friend. He was too concerned about keeping his pile of hay to himself.
The remarkable thing for us humans is that horses form close friendships not only with others of their kind, but with their people, too. Tonka didn't have a horse friend, but he did have me. His attachment was obvious. At the new stable I asked someone to hold his lead rope for a moment while I went into the barn to get something. "He ignored me" she said. "I thought that maybe this is a dull horse. But when you came back his head lifted and his ears pricked." For the last year, I've been Tonka's best friend. But now there's another woman in his life.
When we moved to Sterling Stables, Tonka was put into a spacious, shady paddock. Next door was a grey mare named Maggie. She was very interested in this new gelding. Tonka ignored her. Tonka was now getting hay four times a day. There was no one to chase off of his pile of feed. He relaxed. Maggie was put into his paddock. There was plenty of hay and both horses have calm natures, so there were no scuffles. Still, he ignored her.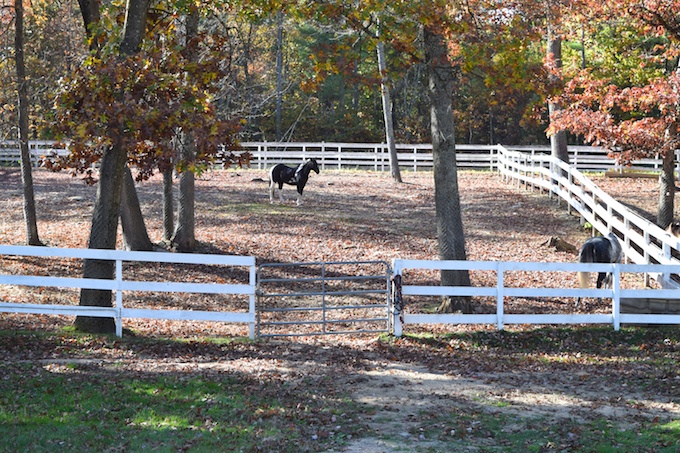 Tonka kept his distance from Maggie. He looked for me.
But, Maggie was smitten. Her owner told me that last Sunday that Maggie looked so lethargic when led out of the paddock that she took her temperature, thinking that her mare was ill. However, as soon as Maggie got sight of Tonka, she perked right back up. Maggie was lovesick.
It took a couple of weeks, but Tonka gradually realized that this grey mare wasn't competition. She wasn't going to bite or kick him. I arrived last week to see them side-by-side, scratching each other's backs with their teeth. That is the ultimate sign of horse friendship.
Maggie has claimed him. When I arrived on Monday, Maggie knew that I was going to take Tonka into the barn. She tried to block me.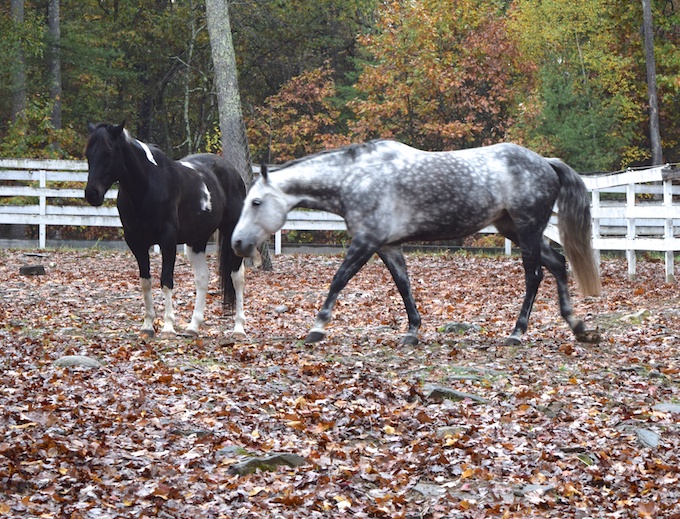 Tonka said hello as best he could. Over her neck.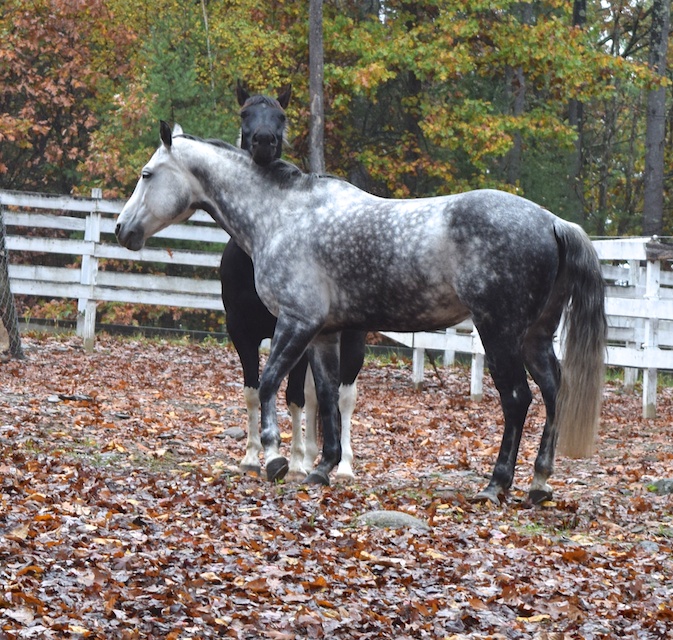 Under her neck.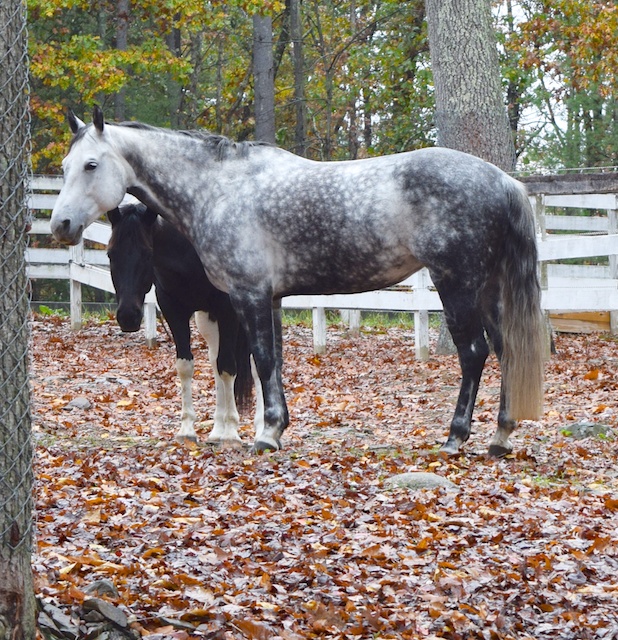 Maggie is a sweet mare. I told her that I was willing to share. She agreed to that.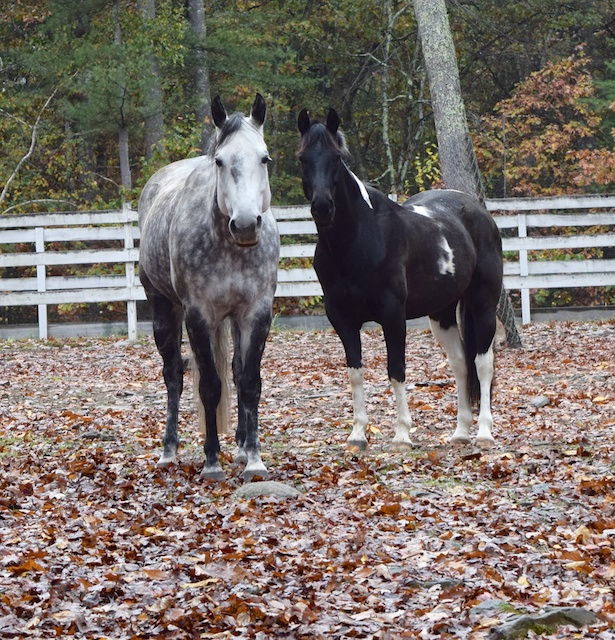 It's good for Tonka to have another woman in his life, one with a tail for swishing flies, and teeth to give back scratches, and that keeps him company for all of those hours that I'm not at the barn. It's okay, because we're still best friends.