It's molting season. The chickens are looking scruffy.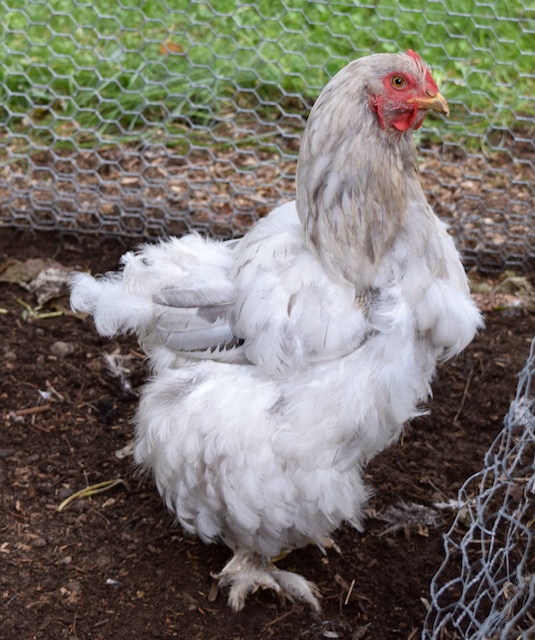 The hens are stressed. Some have come out of weeks-long broody spells, only to head right into the molt. Others have been laying so steadily all summer that now they are depleted of nutrients. All chickens over a year old are losing their feathers. Replenishing their bodies and growing new plumage takes a lot of energy, protein and calcium. You see your girls looking like this and you want to do something.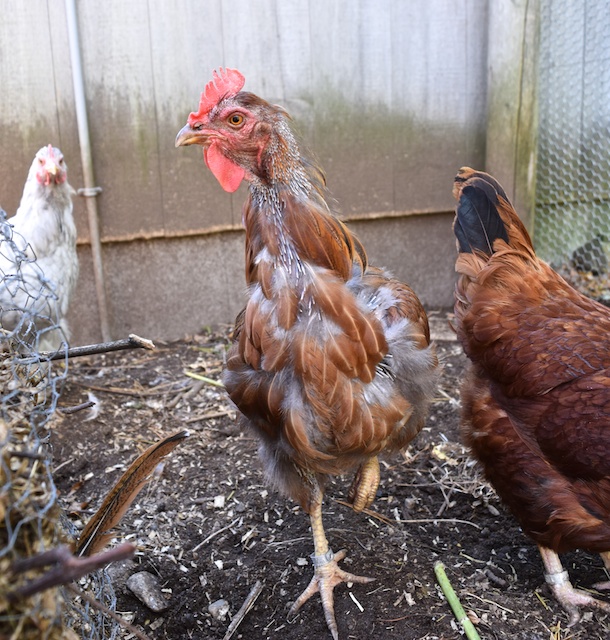 During this time, hens need an optimum diet. Continue to feed high-quality laying hen pellets and avoid empty-caloried treats, like handfuls of cracked corn and stale bread. You can purchase laying hen pellets that are designed especially for molting season with nutrients added that promote feather growth.  I'm not convinced that this expensive feed is worth the cost. (Skeptical me thinks that the manufacturers are catering to the owner's worries more than what is actually necessary for the flocks.) I caution against feeding a lot of high protein treats, like mealworms, because chickens will gorge on them whether they need them or not, and excessive protein causes kidney failure.
I do what farmers did back before supplements. I feed alfalfa. Alfalfa looks like hay (which is a grass), but it's not. Alfalfa is a legume. It's packed with digestible (for chickens, not you!) protein and calcium. There is evidence that feeding alfalfa reduces the amount of salmonella in a hen's gut. The difficulty for the urban and backyard chicken keeper is finding it in a form that you can handle and bring home. Pellets are convenient, but they are formulated with more stem than leaf, and what the hens require are those nutrient-dense leaves. A small box of alfalfa, sold in the rabbit section of the pet store, is very expensive and wouldn't last a week. A bale at the feed store usually weighs over a hundred pounds! But, you can find what you need in the horse aisle: chopped alfalfa mixed with molasses. (This is horse feed, the molasses makes it more palatable for the animals; the hens don't mind.)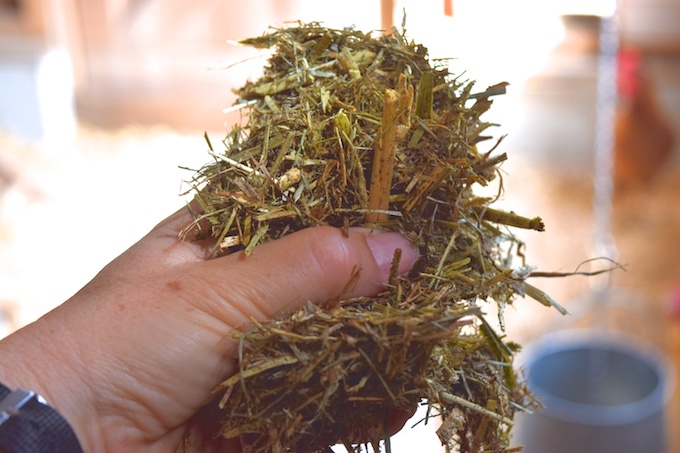 This is the brand that I feed – it comes in a 40 pound plastic bag, the size and heft of a bag of pine shavings. Every morning, I toss a handful out into the run. Because the stems are chopped, your hens won't get impacted crops. They like it enough, but don't eat too much. They look for the leafy bits and ignore the rest. What they don't eat is quickly scratched into the ground and improves the soil. Here, Ruby is finding the best pieces. She is a superb layer who hasn't yet begun to molt.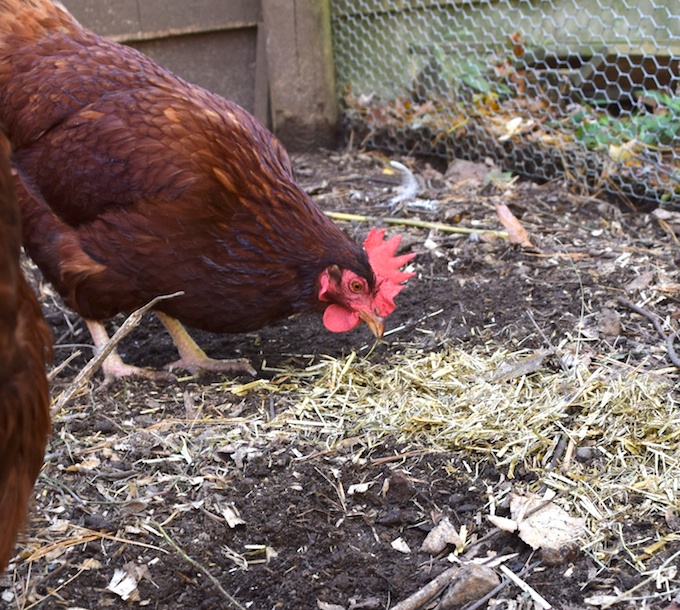 Jasper, however, is another story. This head shot shows the few remaining feathers falling out, and the new quills coming in.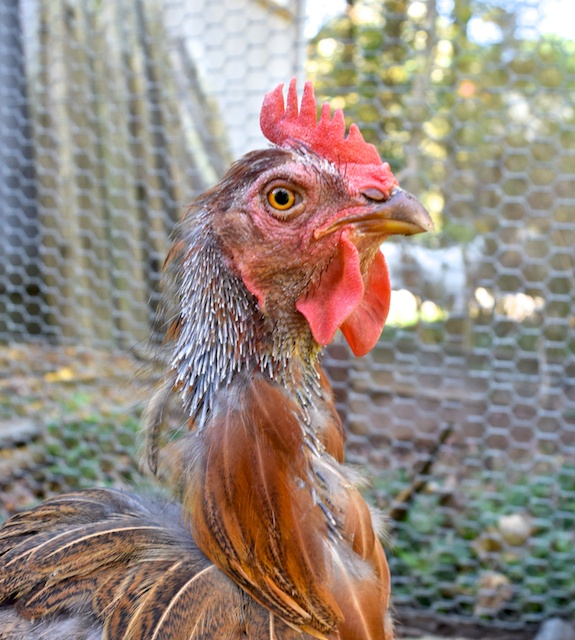 Here's a view from another angle. Oh, Jasper.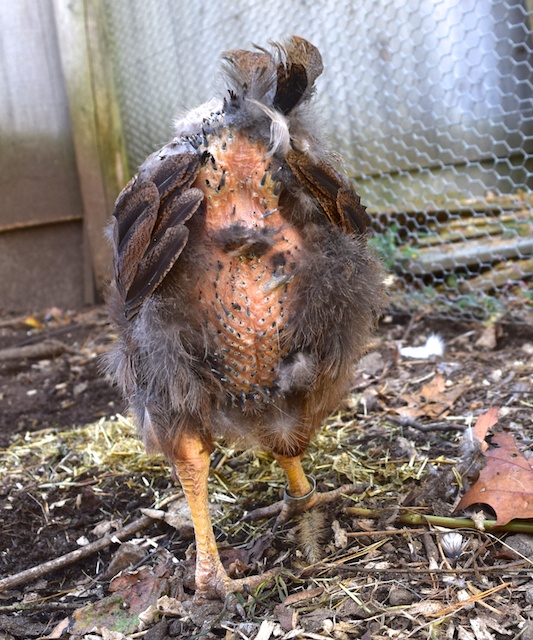 It's a good thing for her that she likes the alfalfa. Eat up, girl.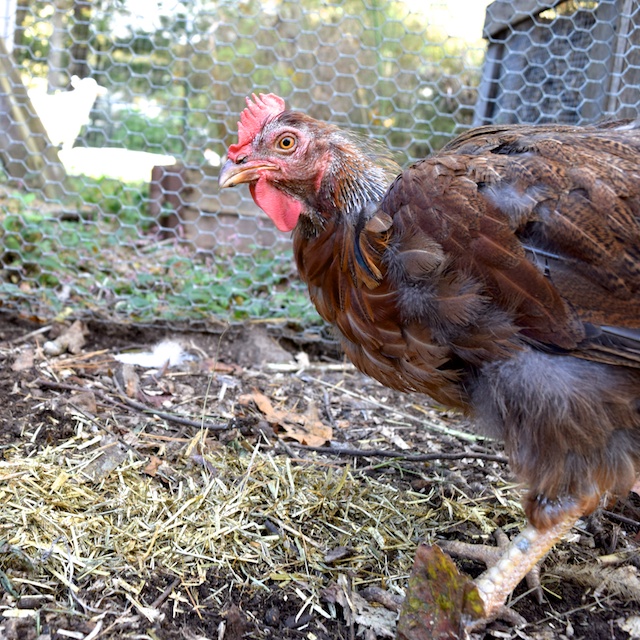 I started feeding Lucerne Farms alfalfa in early August, when I first noticed thin-shelled eggs. The hens already had free-choice oyster shell and an excellent diet, but their fragile eggs were breaking in the nesting boxes. Within a few weeks of feeding alfalfa, the shells thickened up.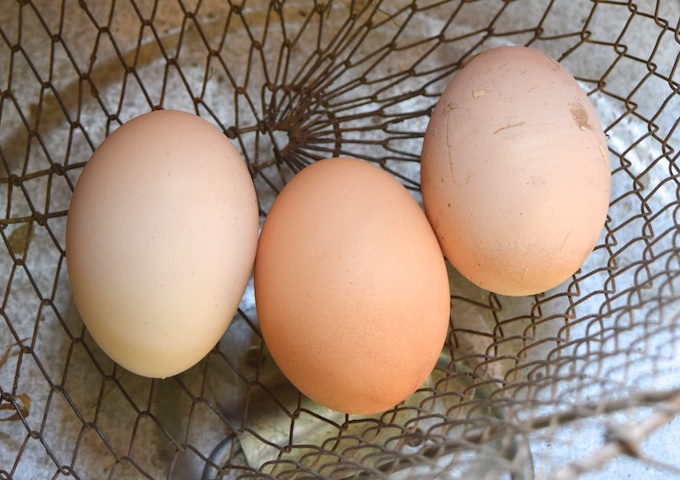 Now that we're halfway through October, there are fewer eggs for the hens to put their resources into laying, but many feathers to be built. Hens like Jasper could use help! Once the molt is over, I'll continue to feed alfalfa through the winter when the girls will appreciate the green tidbits. So, my hens get alfalfa, but my horse does not. Alfalfa is too rich for him – Tonka eats classic timothy hay (he is indulged with carrots and peppermint candy.)
UPDATE: please read this post as well. Roughage can cause issues. Make sure that you feed grit and that your hens aren't eating alfalfa to excess.
(FYI, I stumbled upon the Lucerne Farms alfalfa at a horse expo, and I asked them for a bag of their alfalfa to try. So, I did receive free product for this post, but I was not paid for a positive review. I have tried products by other companies that I have not endorsed.)