On and off over the last couple of years, I've fed alfalfa from bales, and chopped alfalfa from bags, to my hens. My girls have benefited from the highly usable protein and calcium, as well as nutrients found in leafy greens.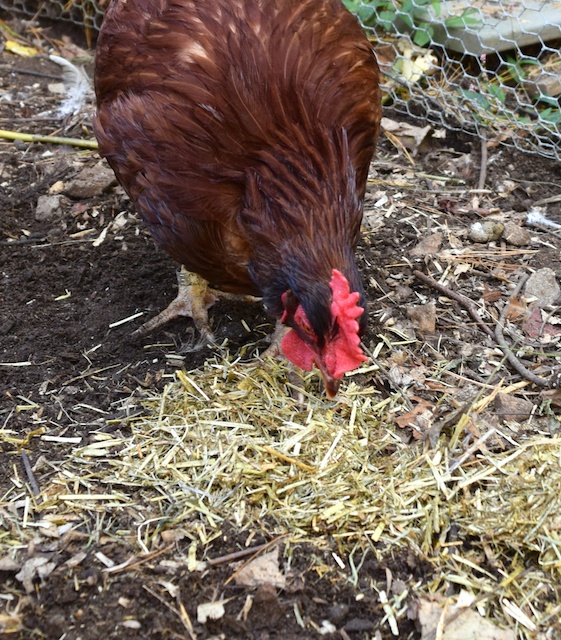 When you feed roughage. there's always a risk of impaction and intestinal blockage, however I feed the alfalfa as part of a balanced diet. My hens aren't hungry and they have lots of interesting things to peck at in their compost piles. They leave most of the tough stalks and eat just the good bits. Also, they have access to grit, which is granite that's been broken into small pebbles. Chickens eat these rocks, which go into the gizzard – that is the powerful muscular pouch where food is ground up. If chickens don't have grit in their gizzards, they can't digest food thoroughly.
I recently heard from a reader who found this odd pile of manure in her coop: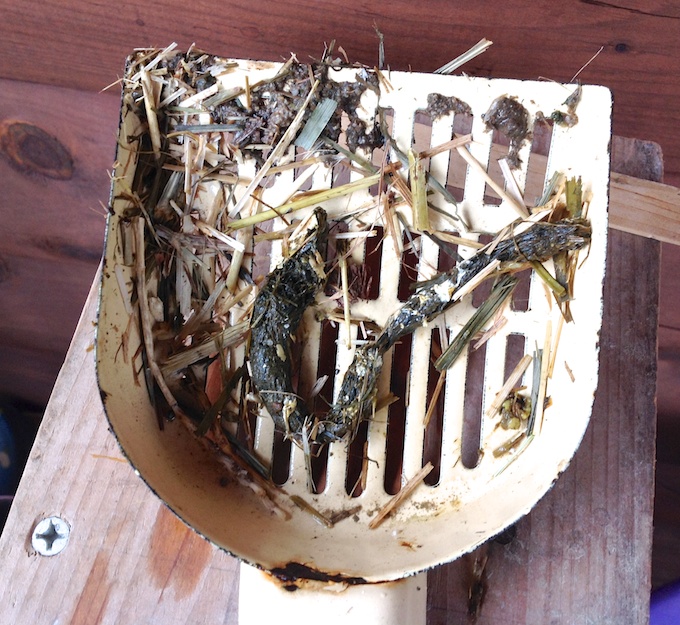 She also had a hen that was huffed up and looking uncomfortable, although she was still eating and drinking. A day after the hen passed this manure, she was back to normal. What's going on? I found out that the reader had recently begun to feed alfalfa. There's a chance that the eager hen ate too much of this new treat. I was also told that although grit is offered free-choice, that the only type available at her feed store was the fine stuff for chicks.
I dispense chicken keeping advise for a living and I take the responsibility of what I say very, very seriously. I base what I say on twenty years of hen keeping experience, plus lots of looking into primary research materials. But, I could be wrong. What works for my flock here in New England, on my soil, with my coop structures and management, might not work for you. If anyone else has issues with feeding alfalfa, do let me know!