The Program:
My storytime combines reading Tillie Lays an Egg with learning about chickens. I begin by sharing information about chickens, like the fact that chickens take dust baths, not bathtub baths. I also talk about egg laying and show examples of eggs from different breeds of chickens. I then read Tillie Lays an Egg. Looking at the last page of the book, with Tillie in the pickup truck, I ask, "If you were to write a story, where would Tillie go next?" Teachers like this because they can fit it into their curriculum. I enjoy it because the suggestions are often quite funny! (My Teacher's Page has additional ideas for how to use Tillie Lays an Egg in the classroom.) At the end, I bring out a real, live chicken! I talk about feathers and teach how to pet a bird. Each child is invited to take a turn stroking a gentle hen. (This chicken is not Tillie, but is one of her friends.)
This program is appropriate for pre-K through grade 2.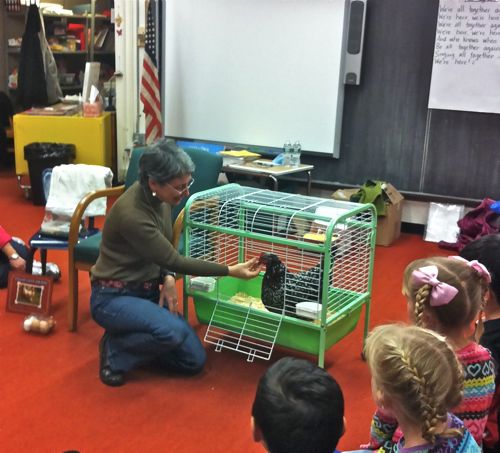 I also offer two other programs for older children. One focuses on the science of chickens. The other is a writing workshop. I can customize these for the classroom's curriculum.
Program Details and Fees:
I prefer to do my program for individual classes, however, I can accommodate up to 45 children in each half-hour program. The first 1/2 hour program costs $100. I am happy to do two back-to-back programs. The second session is $75.
There is no travel charge for visits within 30 miles of my home in Carlisle, MA. Please inquire about fees for travel further afield.
If the visit requires a long drive, or if there are more than two classroom visits scheduled, the school will have a choice of either a half or a full-day visit. I will bring a hen on day trips, but do not take her on overnights!
A half-day is three hours, with up to 4 presentations. Presentations are limited to groups of 45 or fewer children at a time, but can be longer than a half-hour. The half-day fee is $400. A full-day visit is 5 hours, with up 6 presentations, and costs $800. An overnight charge is applied to long-distance trips for which a hotel stay is a necessity.
Payment is due on the day of the event.
Teacher's Page:
Tillie Lays an Egg can fit into your curriculum in so many ways. Here's a page with ideas that will help you to enrich the reading experience. Also, here's a list of children's books about chickens.
Want to Know More?