WARNING: this post contains graphic photos of a chicken necropsy.
One afternoon two weeks ago, when I went to collect eggs, Etheldred was in a nesting box. I lifted her up just enough to get the egg that she was sitting on. In doing so, I noticed that there was a mass as large and hard as a small baseball near her chest. What I was feeling was her crop, and I was concerned. After a hen pecks and swallows food, it all goes down into this storage pouch. A full crop is not unusual, but it shouldn't feel as solid as this one did. It helps to know how the chicken's digestive tract works to determine if something is amiss. The crop is a holding area – the organs in the rest of the digestive tract are far smaller. So, there are times during the day when the crop expands, but slowly, and as she digests the food, it shrinks. The organ immediately after the crop is the gizzard. This is where tough and large pieces of food are ground down. The gizzard is small and muscular. Chickens swallow tiny rocks, which go into the gizzard to help break down food, rather like a millstone grinds grain. (Offer grit free-choice to your flock because even free-ranging hens might not find the right rocks.) Once the food becomes mush, it progresses through the intestines. (The stomach is small and rather inconsequential.)
I kept an eye on Etheldred. She was eating and drinking. Sometimes the hen eats something too tough or large to break down and pass into the passageway to the gizzard and the hen develops what is called an impacted crop. I massaged the mass, which sometimes is all that is needed to move things along. I wanted to see how serious this was, so I isolated her overnight in a dog crate. Manure production would be telling. The next day I didn't find any poo. This was bad. I dosed her with olive oil and epsom salts diluted in water. She continued to be an active member of the flock. She ate. She drank. But Etheldred's crop remained too large and hard.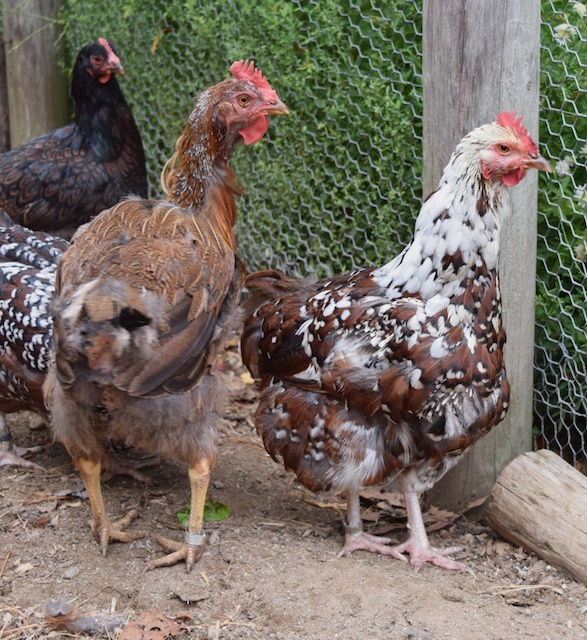 I fed her a bit of bread soaked in oil. She ate it up. She roosted with the others. But her crop remained hard.
Finally, yesterday morning, she did not come off of the roost. I offered her bread soaked in oil. She didn't eat. She pooped tiny bits of dark manure. I decided to euthanize her.
I know that many of you, faced with a hen that is huffed up, but still wide awake, and is walking, would want to do more.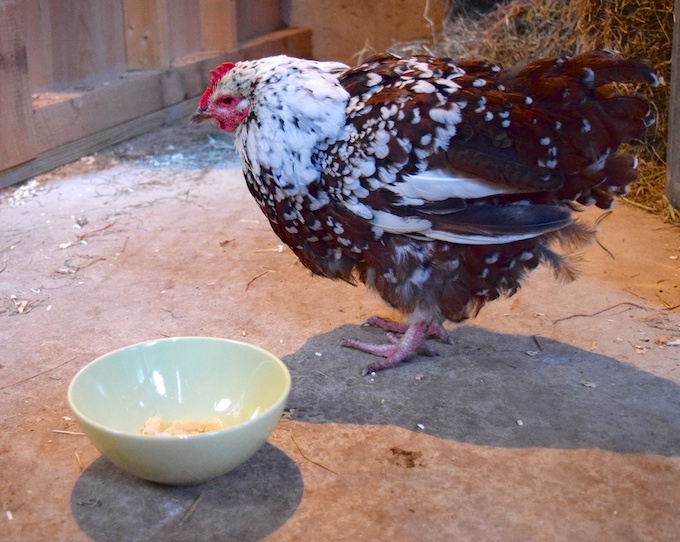 I had a suspicion that although what I was seeing was an impacted crop, that there was more going on. I was not going to let her starve to death.
Two years ago I did a necropsy on a hen that a friend said had died suddenly. One day the chicken looked limp, and then she keeled over. It was a simple case of a crop impaction. It was obvious. Nothing else was wrong with this hen. You might wonder how the owner could have missed a crop of that size. It's easy. Hens can be gluttons. They often don't show distress until the very end. This is what her opened up crop looked like.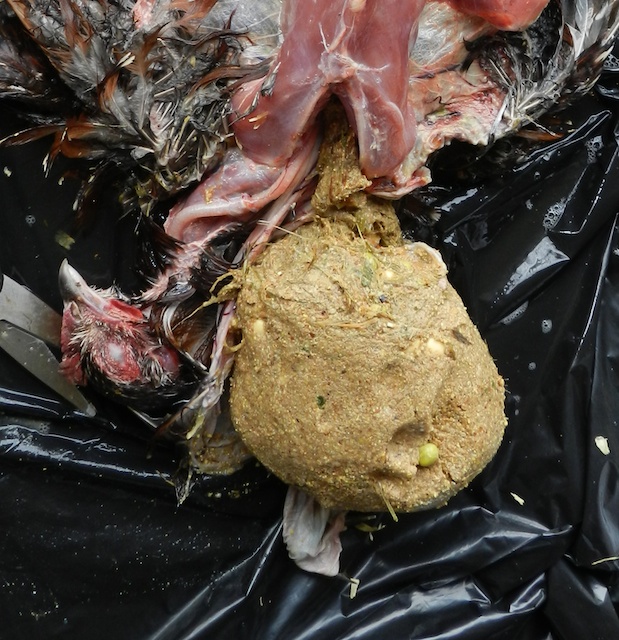 Etheldred had been showing signs of being "off" for awhile. Treatment for impacted crop wasn't working. Whatever I could do for her would only prolong the inevitable, and in that time she would suffer. I've cared for enough hens to have the benefit of hindsight. Steve euthanized Etheldred by breaking her neck. This is difficult. Death is instantaneous, however the heart keeps beating (those stories of "a chicken running around with it's head chopped off" are not far-fetched).
I did a necropsy. There was an impacted crop (It's that white ball on the left of this photo.) But there was also this – an abdomen filled with solid, rubbery yellow material. In a healthy hen none of that would be there. None.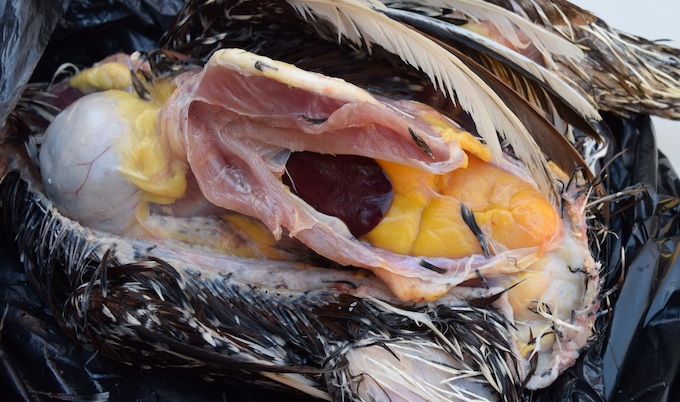 There was no room for the intestines to function. There was no room at all. I'm not sure what I found. At first I thought that this was a case of internal laying, and that those were egg yolks that had dropped off of the ovaries and into the abdomen. But it didn't look like other cases of internal laying that I've seen. Rather, this yellow mass looked and felt like fat. I'm not a veterinarian and I don't have a lab. But, I do know this: I did not euthanize her too soon. When a hen is huffed up and can't eat or drink, there is something seriously wrong inside of her. You might be able to prolong her life for a few weeks, or even months (it's amazing how they can keep on going, despite the horrors inside of them) but should you? I'll miss Etheldred, but euthanizing her was the right thing to do.
I know that this is a hard post to read and look at. If you've read my blog for awhile you know that I don't sugarcoat things, and that I make it clear that backyard chicken keeping isn't all fluff and happiness. Still, this story does veer to the most difficult part of animal keeping. But it's important. If you keep chickens for any length of time, you will have to face what to do with a hen that looks "off." Sometimes a hen will bounce back with a spa treatment. If so, then her insides are still in good shape. If she doesn't, something bad is going on. It's nothing that can be fixed. Not by you, and not by a veterinarian. These issues usually arise after the hen reaches three years of age – which is past prime for poultry. I've agonized over these end of life decisions and so I do necropsies to know if I've done right by the hen. Having seen what I've seen (now more than 20 necropsies), I've not once thought I should have done more. Often, I wish I'd let the hen go sooner. I tell you this to make your own decision making easier.