On Saturday, March 30, thousands of chicks will hatch at Murray McMurray. Twenty-five of them will be shipped on the next day and arrive at my post office first thing on Monday morning, April 1. When I ordered the chicks in the middle of the winter, I'd had images of their arrival at the beginning of a new season, with fresh green grass on the lawn and crocuses coming up in the woodland. April Fools joke on me! This is what my front yard looks like.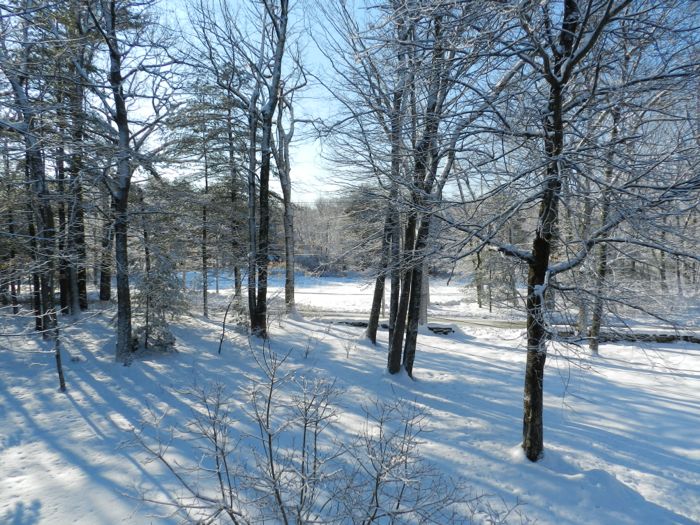 Instead of putting the chicks into a heated brooder, I had hoped that I'd be able to sneak the chicks underneath a couple of broody hens, and let them raise the chicks up. A broody hen is awash in hormones that make her want to care for chicks, and she'll do a very good job of it, keeping them warm, and leading them to food and water. Those plans are dashed. First of all, none of my hens are broody. I don't think that they believe it's springtime, either. Secondly, each broody hen and her batch of chicks need to be kept in a separate enclosure. Contrary to the heartwarming videos on YouTube, hens do not like to share. Not food. Not chicks. My friend Wendy has a lot of experience with mamma hens and chicks and she's told me about the mayhem, the attempted abduction of chicks, and the bloodshed, when two fiercely maternal chickens live in the same enclosure.
The solution, and what was done in the days before kerosene (and then gas, and then electric) brooders were invented, was to put each mama hen into her own brood coop. These were small enclosures. The hen had access to food and water inside. She couldn't leave, but her chicks were free to come and go at will.
This design is from a 1907 USDA publication.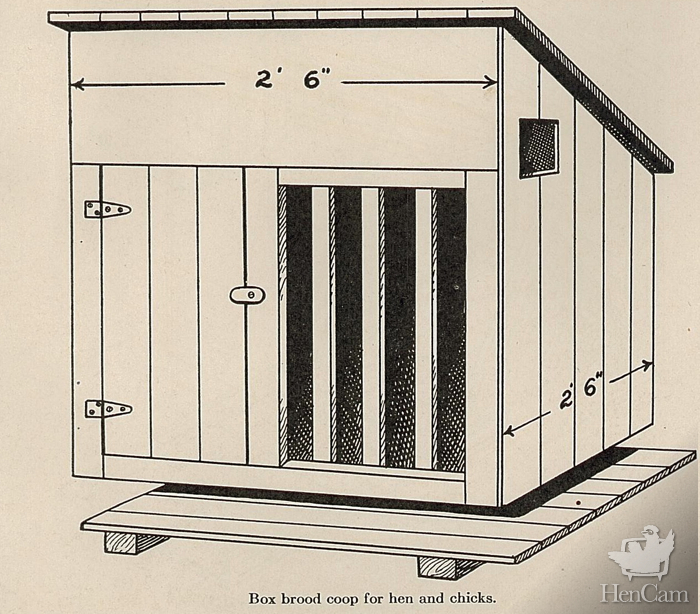 This A-frame is another version. (Note that this is what these triangular shelters are designed for. They are not meant to be your flock's permanent housing!)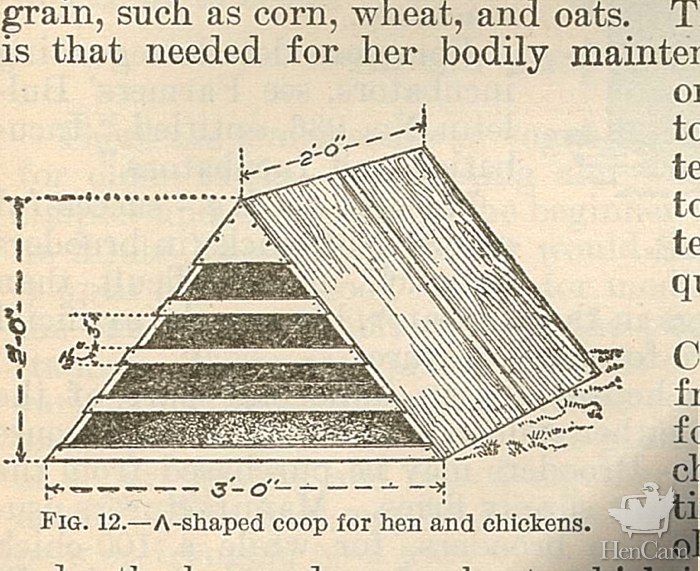 I have spare rabbit hutches that I was going to turn into brood coops and put temporary fencing around. But, that doesn't work in the snow. And, even if the ground was bare and dry, what with the weasels and foxes looking for dinner on my property, I couldn't possibly keep such a setup safe.
Instead, when my chicks arrive they'll be put into a traditional brooder with an electric heat lamp. With Steve's help I've just set it up in the Little Barn. I'll be doing numerous posts in the next few weeks to walk you through what I do, so that when you get your own chicks, you'll be ready.
On April 1 the cam in the Little Barn will be moved into the brooder. ChickCam!
So, who's getting chicks and when are they arriving?