Yesterday, along with a thousands of other treasure hunters, I went to Brimfield, an annual flea market that fills up fields alongside more than a mile of a country highway in Massachusetts.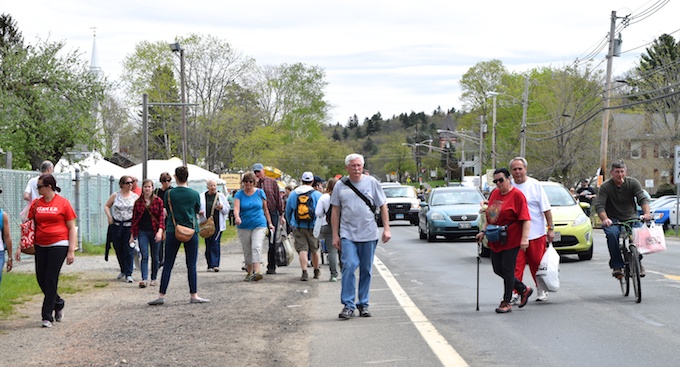 Although the avid collector can go on-line and find whatever one is looking for, sometimes, you need to browse. Sometimes you need to stumble across an item that you'd never even know to search for. LIke this five-foot stuffed canvas parakeet, that was once a sign in a pet store. I didn't buy it, but somehow my life is enriched because I've seen it.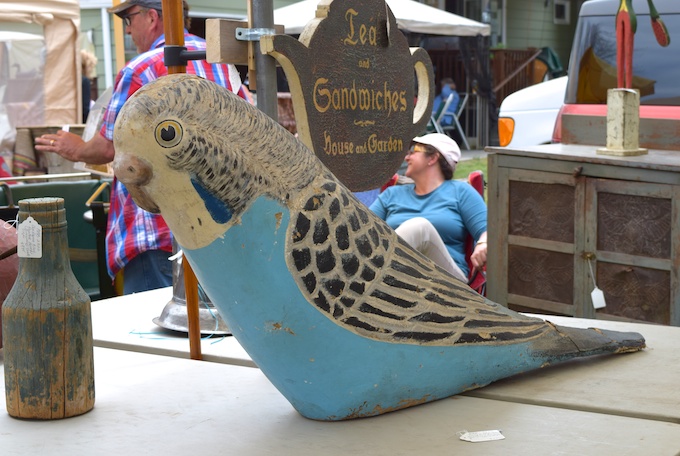 I spent some time admiring this barn, that I'm told was built by a gentleman in Quebec.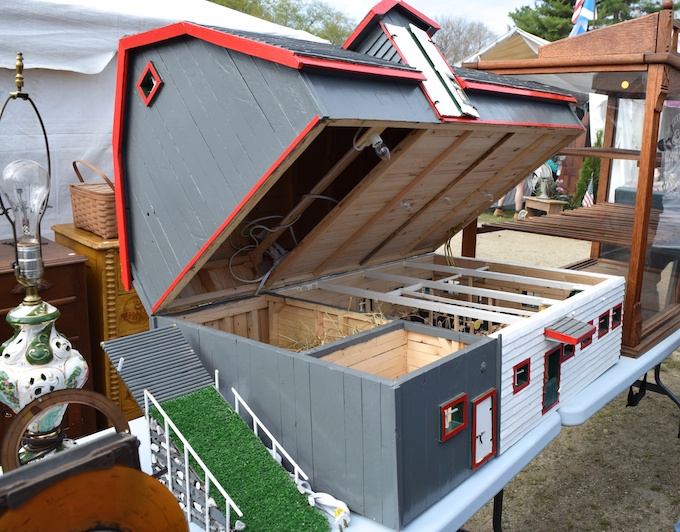 He managed to infuse the plastic animals with warmth. I could hear them chewing their cuds and mooing softly.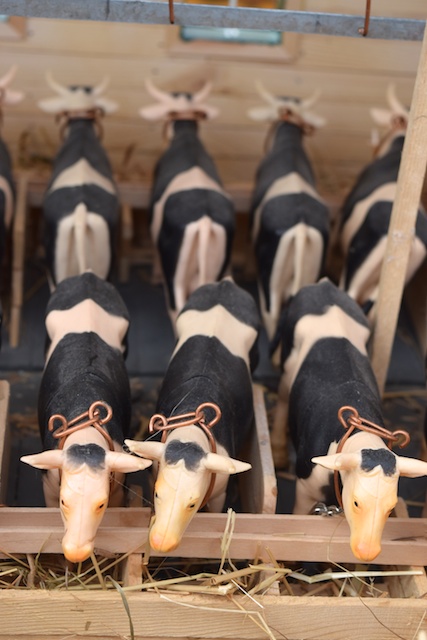 Wander through the booths at Brimfield, and trends emerge. Ten years ago it was all about shabby chic, then the industrial aesthetic took over. That's now morphed into farm chic. Piles of rusty chicken feeders are being snapped up by designers.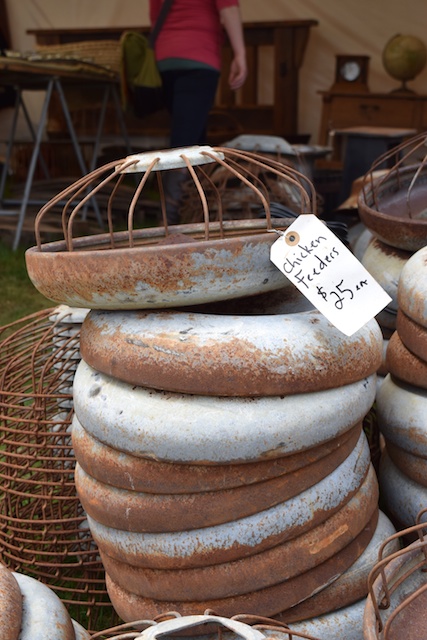 Hanging lamps are made from items that most of us have piled up on the back sides of our barns.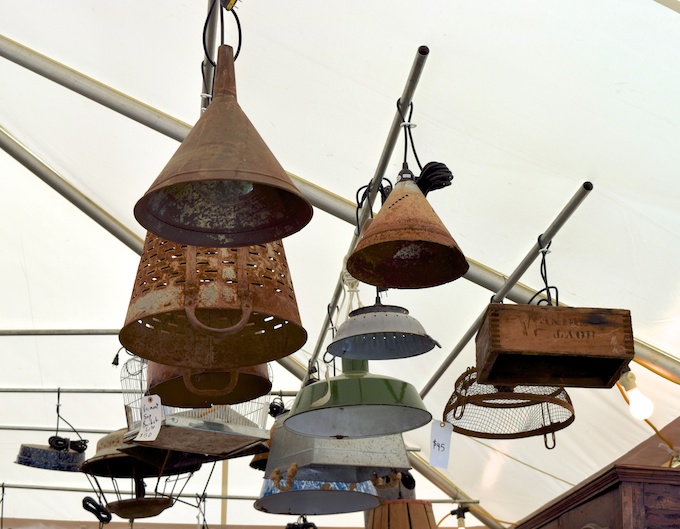 One booth was filled with farm implements and old feed bags.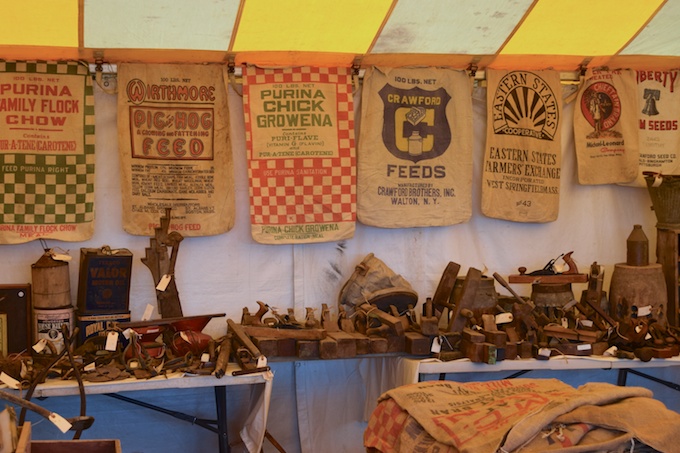 I was smitten with this image of a farmer hen. Wouldn't it make a great pillow? Unfortunately, there was a large hole near her wing.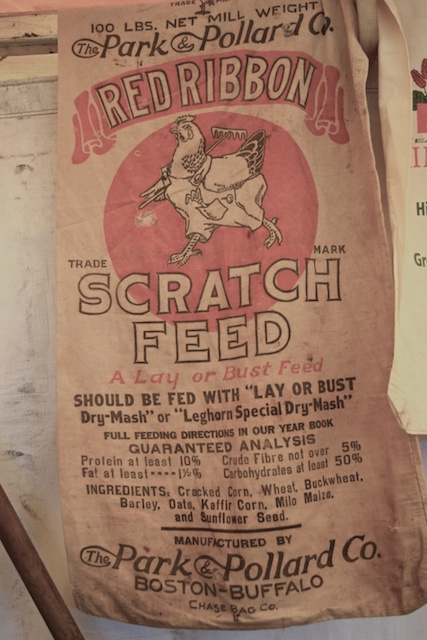 I came across the loveliest cast iron lawn ornaments that I've ever seen. These deer had grace and agility that belied what they are made from. They were $2500 each, not an outrageous price for their quality, but I didn't bring them home.
I spent hours wandering and browsing. I'm not one to want to fill my house with a lot of clutter, but I did purchase this egg basket. Egg baskets are not so precious that you can't put them to use. This one is perfectly designed for carrying eggs in from the coop. I'll be using it today.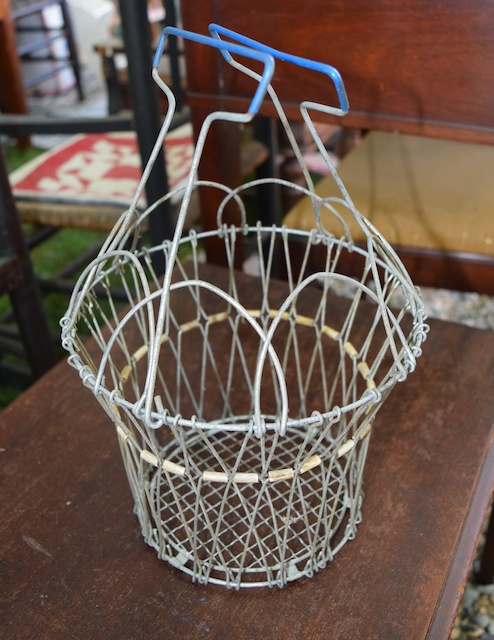 Do you go to flea markets? What's the oddest thing you've ever seen?