Even with temperatures going into the minus teens overnight, I am unwavering about not hanging heat lamps in the coops. However, I do take an extra step to keep my horse warm. Tonka lives out in a paddock, both day and night. There's a shed that he can go into for shelter from the wind. He has a fur coat, which is thick, but not as warm as my hens' down jackets.  Although Tonka and his pasture-mate Merlin (a pleasant Standarbred gelding) might stand side-by-side to ward off wind, they don't cuddle up like the chickens do. Some horses grow dense coats and can tolerate most any storm. Although Tonka's coat is not as thin as that of a Thoroughbred that I once owned (she really needed coddling in winter), he does have to wear a blanket when it's below freezing. And when the temps dip down below 0°, I dress him in this bit of horse armor: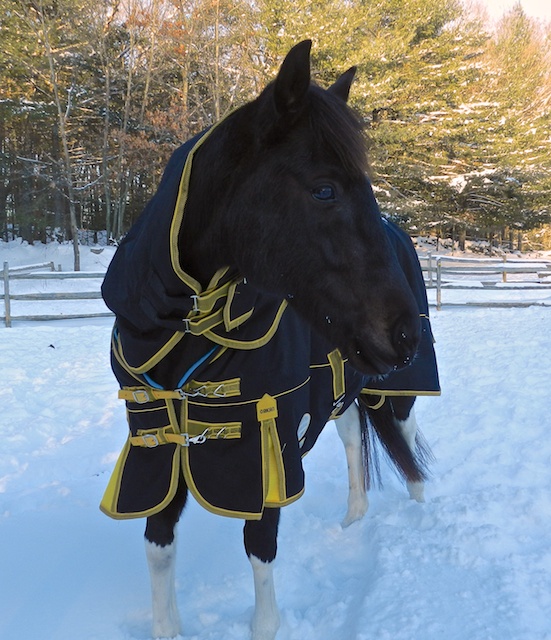 Lest you think that putting coats on horses is a new, indulgent phenomena, take a look at this one-hundred year-old photograph from my collection: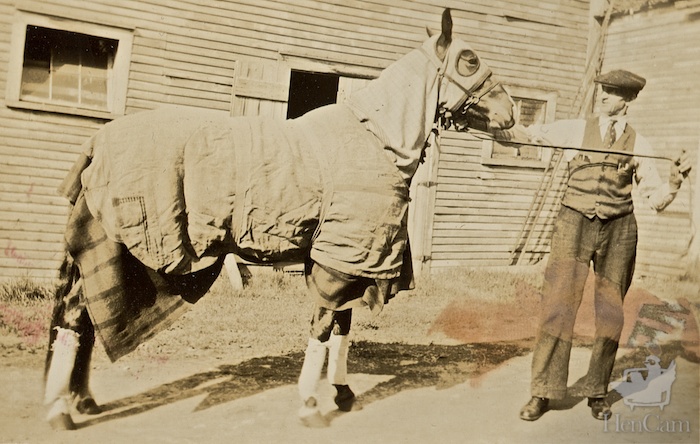 It does make me feel less indulgent about blanketing my own horse.
By the way, I don't know why this horse is clothed the way he is. Judging by the handler's apparel, it's not cold out. Does anyone know?