A mule looks sort of like a horse with long ears, a long face, bristles instead of a mane along the neck, and a wisp of a tail. I've never ridden one, but I've known a few, and I like them a lot. I've done several pack trips through wild mountains here in North America. We dudes were on horses, but many of the pack animals were mules, especially the one entrusted with the bulky and awkward and all-important cookstove. I've known wranglers who prefer riding mules. The head cowboy on a trip through the Sangre de Cristo Mountains in New Mexico rode a mule. He claimed that his good mule had saved his life several times. Mules have a deeply-ingrained sense of self-preservation. If you load their packs unevenly, they won't budge. If you ask a mule to go through a mucky area, he'll tell you if the footing is unsafe. The cowboy in the Sangre de Cristos, as we rode along the mountain ridge, pointed out a charred tree trunk. He'd been on his mule, just the two of them out in the wilderness, when all of a sudden the mule stopped dead. Refused to budge. A sudden boom of thunder. A crack. A flash. The tree a few hundred feet in front of them burst into flames. Any closer, and both he and his mule would have been dead. That mule just stood and watched. A horse would have high-tailed it into the next state.
Some mules are quite large. In times past, mules could be used to plow a field and then take you to church on Sunday. Look at this gentle giant. His lady is riding him with just a simple bit held on with a strap of twine.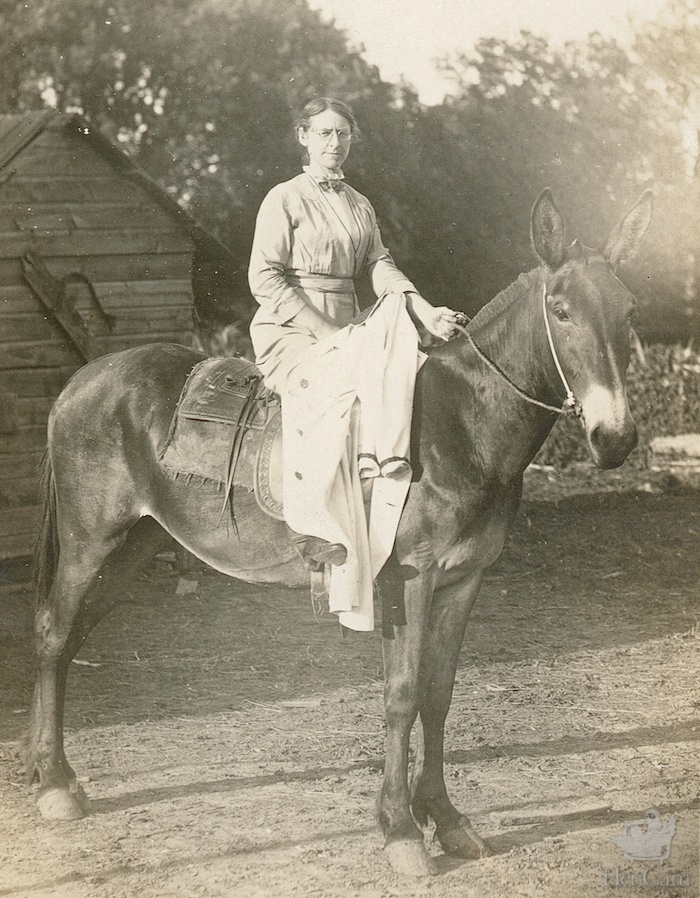 I did think about getting a mule instead of a horse; if I lived in the mountains I just might have. Do any of you have experience with mules? Do tell!