Horses have always been on my mind, but now, with Tonka here for a week and a half, horses are back in my life. Everyday.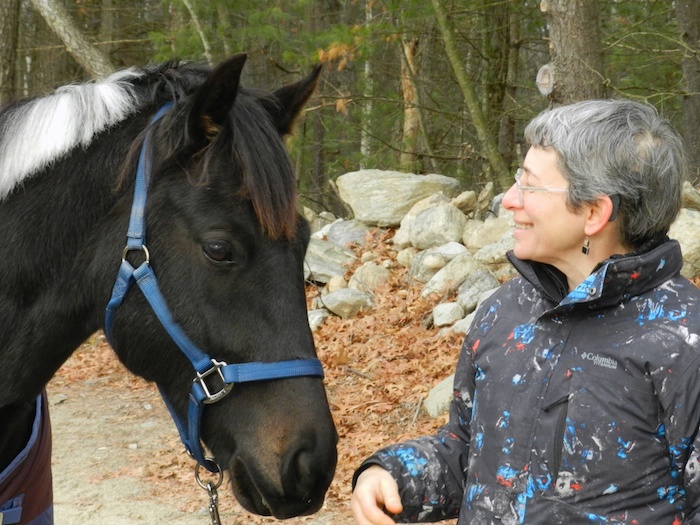 It's too icy to ride, which is fine, because it gives Tonka and I a chance to get to know each other from the ground. He's a horse with a kind eye and a sane head, but that doesn't mean that he's going to jump right into a trusting relationship with me. I'm spending time simply grooming and hand-grazing him (I hold the lead while he finds things to nibble under the snow.) I've also started to use the clicker to train him to do a "touch," and I'm teaching him to come. He's beginning to pay attention to me. He's beginning to trust that the lines of communication are open. We listen to each other. (I'll be writing about this in the months to come.)
Trust in your horse and your horse's trust in you, is essential for a safe and enjoyable ride. There are plenty of "natural horsemanship" cowboys out there touting ways to get there. Some of what they say is useful (although much isn't!) Some say that they've discovered a new way of training, but the fact is that good horsemen have developed trust using gentle methods for the thousands of years that we've worked alongside these animals.
Not all horseman are kind. Many are harsh. Many don't know any other way than to subjugate the horse into behaving. But, even in the past the old plow horse was often treated as a member of the farm family. In my library of vintage farm ephemera I have a treatise published in 1898 on how to train with kindness. Photographs in my collection also tell this story. A small boy of four couldn't hold onto 2,000 pounds of horses without a lot of trust between all involved.
Look at this team's quiet yet alert posture. They like that boy.