LIly was quite excited when the delivery man left a big box on the front porch. I was, too, because I knew what was inside. One of my readers is a potter. She also has chickens. Of course, if you have a flock of hens, you are always thinking of how to make the coop area more charming. If you're a potter, and one as talented as LIndsay, then you can act on your whims.
Lindsay has come up with a line of chicken feeders and waterers of her own design. To me, they are reminiscent of the vintage ceramic dispensers that I occasionally see at flea markets. But, Lindsay's are vibrantly colorful and cheerful. They're also beautifully crafted and eminently useful.
She sent me a small feeder in my choice of color, red. (Yellow, blue and custom hues are available.) I filled it with pellets and placed it  inside of the coop. The Gems were immediately drawn to it, and set right to eating.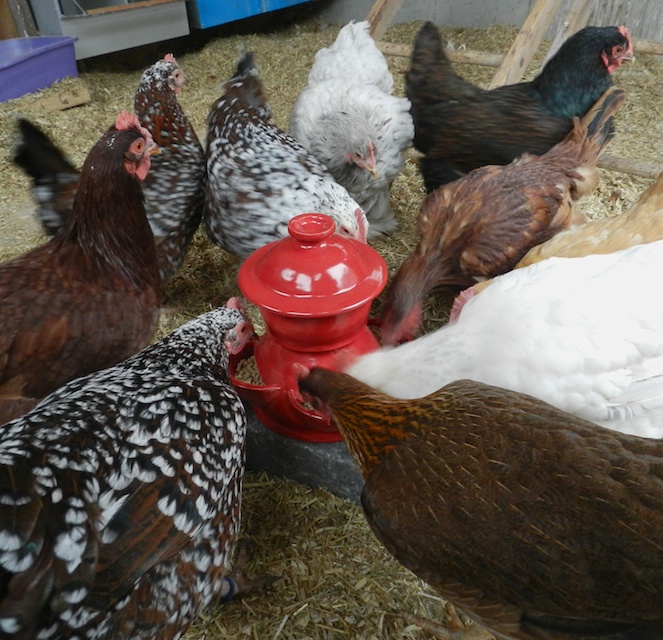 The color red encourages eating and drinking (which is why plastic founts are often that color.) The shine of the glaze, and Lindsay's perfectly designed feeder lips, increased the appeal for the hens and they ate with gusto.
Because it is pottery,  the feeder can't withstand ice and freezing. I could keep it inside of the coop, but I'm going to store it away until springtime, when I can use it outside, where it will look charming near the red barn door. Since this is a medium version, instead of using it for feed, I'm going to fill it with oyster shell and grit. I have a feeling that the girls will consume more of those essential minerals when they're offered in a pottery feeder.
Lindsay makes each pot by hand. She is a craftsman, and so you will spend more for one of these than for a serviceable plastic dispenser. Think of her pots as garden ornaments rather than strictly utilitarian objects, and maybe you'll be able to find room in your budget for one.
You can find Lindsay's pots at her website, Rock Bottom Pottery and at her Etsy shop.