Nancy Drew should be one of the best layers of my flock. She's a Black Star, which is a hybrid designed to lay brown eggs day in and day out.
She does go into the nesting box.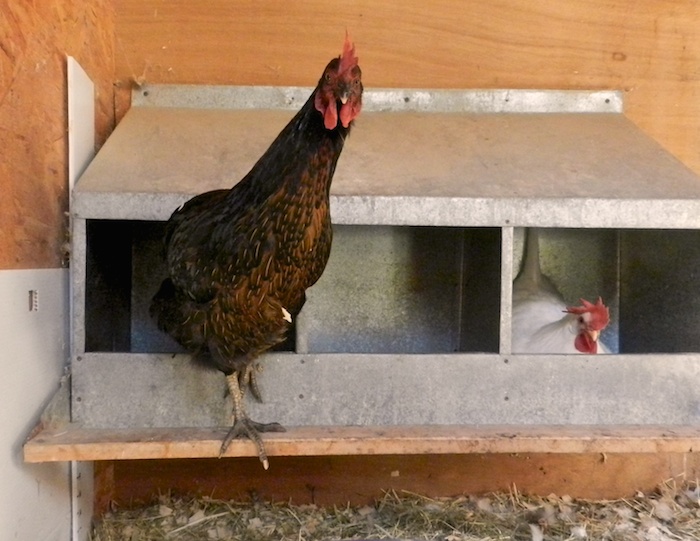 She even lays eggs. Once a week I collect a perfect brown egg. I know it's hers because she's the only one of the group that lays an egg that color. But, most days she lays soft-shelled eggs that look and feel like water balloons. If I don't find an egg, it's likely because Nancy Drew, or one of the other hens, has eaten it. Soft eggs break easily and the chickens find them irresistibly delicious. That sort of egg eating can lead to the bad habit of egg-breaking and eating, but it hasn't happened. Her eggs are so unlike the hard-shelled ones laid by everyone else that I don't think that the hens have made the connection.
It can be hard on a hen to lay a soft-shelled egg. They're squishy and don't slip out easily like smooth, correctly formed eggs. I worry about her. Sometimes soft eggs are caused by a poor diet. But, I know that's not the case here. Not only do I feed the girls exactly the right foods, but the other hens lay perfect eggs, and so I know that this is a problem unique to Nancy Drew. I don't know what her issue is, but it isn't something that I can fix. A hen having laying difficulty is not that unusual. Commercial flocks have plenty of these, but five out of hundreds don't stand out. However, in a flock of only six layers, one hen that isn't doing her job is obvious. If I was a homesteader, depending on my animals for food, then she'd be going into the stew pot. Luckily for Nancy, I don't need to eat her. But, she will earn her keep. She has a nice, classic, steady, chicken personality. Nancy will be my next school visit hen.