Of the six pullets (I call them my Literary Ladies), five are now laying. Twiggy, the White Leghorn, has been the star producer, creating six to seven bright white eggs per week. She started early and hasn't stopped. Next to lay was Nancy Drew, the Black Star. She's a hybrid and is supposed to be a prolific layer of brown eggs. So far, she's had a bit of difficulty getting her system into sync. She'll lay lovely, perfectly-formed eggs, and then take a break. Yesterday she laid a soft-shelled egg late in the day. Everyone else was on the roost. It's rare for a hen to lay in the dark. Usually, the hen will hold it in until sunrise the next morning. My guess is that she's not giving the shell enough time to form (it takes hours!) or perhaps her shell gland isn't functioning properly yet. If Betsy sees a soft-shelled egg, she'll eat it. Perhaps that's why that pesky little bantam has been avidly watching the nesting boxes from the vantage point of the roost. If I keep an eye on the nesting boxes and collect eggs frequently, I should be able to limit that bad behavior.
The two Ameracaunas, Beatrix and Owly, have been laying such pretty eggs. Beatrix's is a dusky olive-blue, and Owly's is a shade more of a pure blue.
Misty, the Blue Andalusian (she's supposed to be blue, but her feathers are black as an Australorp's) has, for the last week, been squawking loudly. Her comb had a growth spurt, and now flops over like Twiggy's cap. She laid an egg yesterday! It is ivory in color, it's not as pure white as Twiggy's so I can tell them apart.
The only one not laying is the Cuckoo Marans, Veronica. She's fat. She's sassy. She hasn't ever even peeked into a nesting box. Her egg should be chocolate brown, and I'll recognize it if she ever lays one. Marans are known to be late to mature, but at 25 weeks, I think it's time. Veronica, however seems in no hurry.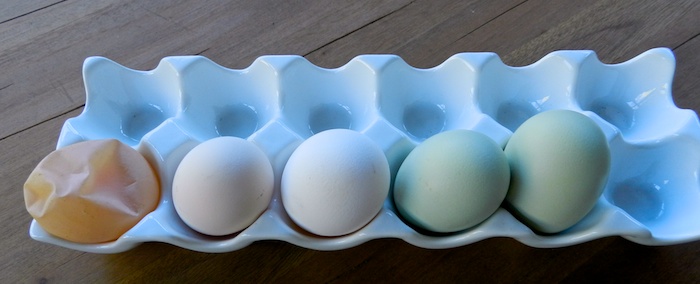 left to right, eggs by: Nancy Drew, Misty, Twiggy, Owly, Beatrix