This is the first year that I've grown Hakurei Turnips.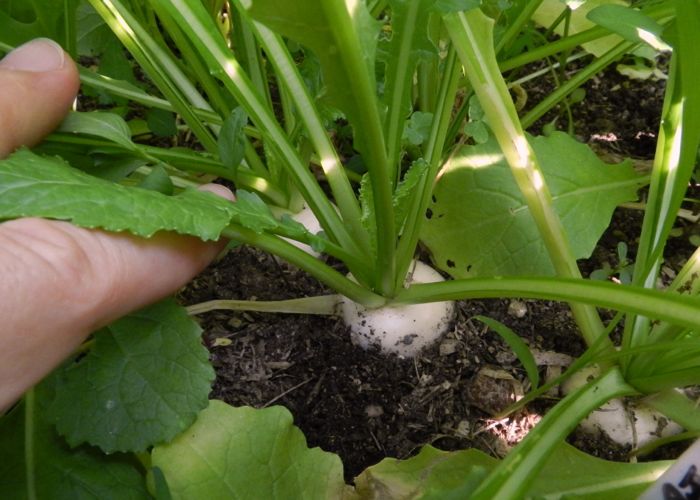 They're nothing like the cold-weather crop turnips that I'm familiar with. This is a Japanese variety that has the moisture and crunch of an Asian apple, and in fact is so mild that it can be eaten raw. It's reminiscent of a radish without the tang.
I harvested a bowlful, and also pulled a few young carrots that needed to be thinned. Although the turnip greens are edible, I'm awash in chard, lettuce and kale, and so fed the tops to the chickens. Phoebe and the goats got the carrot tops, which made them all quite happy.
I sliced the turnips in half, tossed them with one tablespoon of olive oil and dusted with salt and freshly ground pepper. I put them onto a baking sheet in a single layer and placed in a 425 degree F oven for 8 minutes. Then, I turned them over and baked for another 10 minutes. Because they contain so much water, you want to roast them quickly, at high heat. If cooked more slowly, they'd turn to mush. When done, they look like this: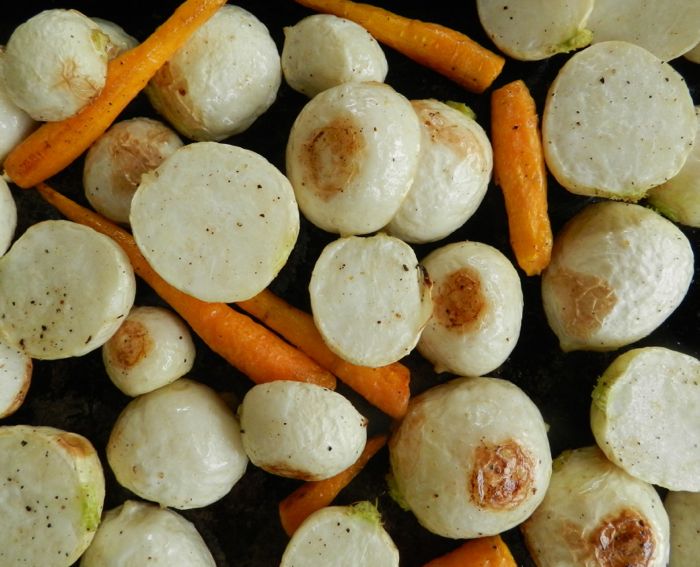 I could have done a fancier preparation, and roasted them in a dressing of maple syrup, mustard and soy. But, at the beginning of the summer bounty, I crave simple recipes in which the vegetables themselves are the stars, and so just simply roasted them. Serve at room temperature with a drizzle of the best balsamic vinegar that you can afford.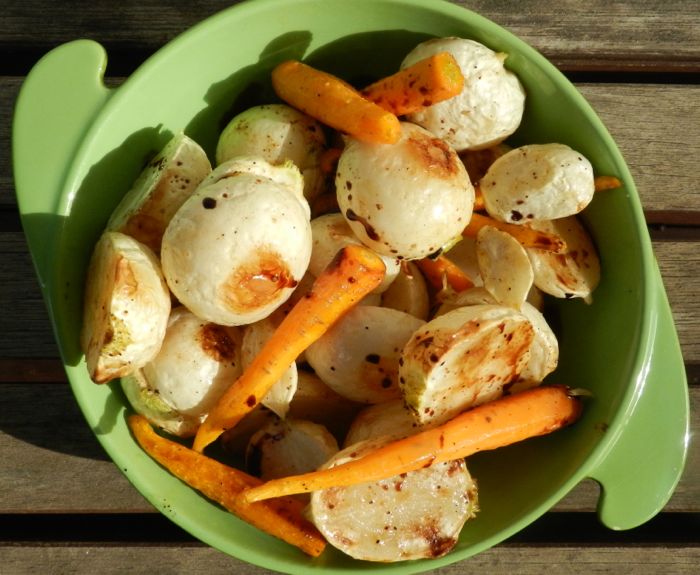 For lunch today, I'll have a salad with lettuce and these vegetables, tossed with feta cheese. But, as much as I like these Hakurei turnips, I think that I prefer the regular purple tops. I'm going to buy a packet of seeds today and plant them. They should be ready to pull by October.