I think that Pip and Caper are cute. In fact, I think that they are unbearably charming and handsome boys. But, in the world of miniature dairy goats, they're average. Can you believe it? I know this because there are a blogs out there that post photos of their off-the-charts adorable goats. Minter Bay breeds goats that are black and white and have blue eyes. True. Just take a look at Cora Belle. Then there are Cudzoo Farm's mini-Alpine dairy goats. Check the farm's goats for sale page, where there are no goats currently available, but there are photos of some of the cutest babies ever. It's a good thing that there are not any for sale. I want one. Or two. What Sarah at Cudzoo Farm does have for sale are soaps, made from fresh milk from those very same beautiful goats in the photos on her web site. She very nicely sent me a bar of Dirty Pig Soap for my own personal use. Sarah says there was no hidden message in that selection. She also sent me three bars to giveaway to one very lucky winner.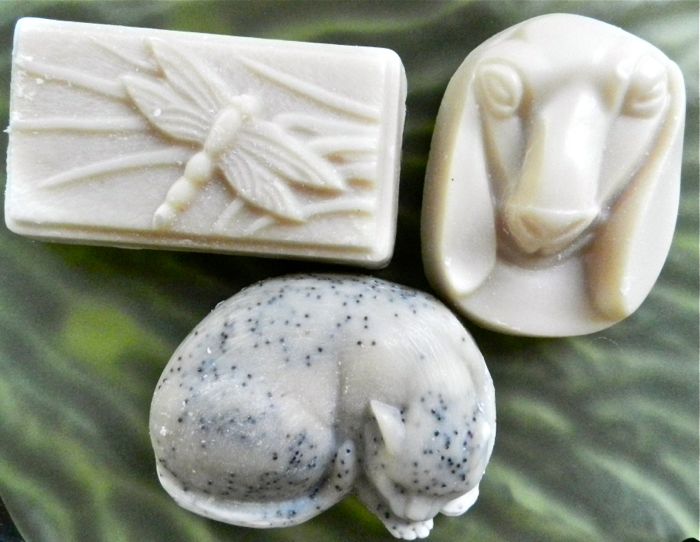 Her soaps are as pretty as her does! (Even the pig soap is attractive, but you don't get to see that because I've already used it.) To enter, simply take a look at her soaps here, and then tell me (in the comments below) which soap is your favorite. It's an interesting selection. I'm intrigued by the soap with jewelweed to soothe poison ivy. Luckily so far this summer I've avoided getting a rash. But I haven't avoided working in the garden in the heat and humidity. Dirty Pig soap is exactly what I needed!
Contest fine print: If you are a FaceBook reader, you must enter here, on my web site to win. Please don't leave your entry in the FB comments section. But feel free to spread the word on FaceBook! One entry per person, and my international readers are welcome to enter. The contest will close on Monday, July 23 at 7 am. The winner will be selected using a random number generator.
UPDATE: the contest is closed and the winner is Cady!