When I was in grade school, my mother made my lunch every day. Tuna fish sandwiches on white bread. A pickle spear. Potato chips. A pink marshmallow covered cake (not homemade.) Sometimes it was bologna and pickle sandwiches. Sometimes meatloaf. With ketchup. You get the idea. These lunches were squishy and smelly. This was in the days before plastic zipper bags. The dill pickle was slipped into a wax paper bag that was, maybe if my mother remembered, twisted closed. The sandwiches, too,were wrapped in wax paper. Then it all went into a thin, inexpensive, small brown paper bag, which was too full to fold over. My name was written on with a marker. By the time I got off of the school bus at 7:45 the edges of the bag were damp. By the time I fished it out of my desk for lunch there was a soggy hole in the bottom of the bag. I don't know why I didn't have a lunch box and tidy Tupperware containers. Other kids had tins with the Monkees embossed on them, or Batman, or Flipper the dolphin. I had a small, crumpled, paper bag. This went on for years, until, gratefully in junior high, I was allowed to buy cafeteria food. Having lunch in a school dining hall with several hundred kids was horrifying enough, but bringing an odiferous, falling apart paper bag to the communal table would have made the experience unbearable. How I appreciated getting my meal handed to me on a neat tray!  I no longer wished for a lunch box. Anyway, at this point, lunch boxes were not cool.
Recently I bought this lunch box. I wonder how different my life would have been if I had carried my salami sandwiches to school in it.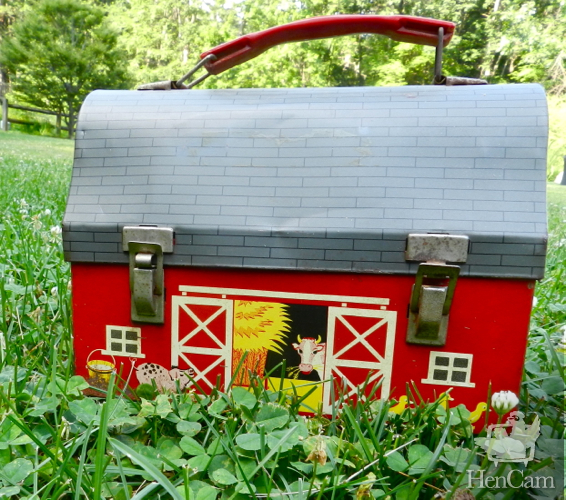 It would not have made me instantly popular, and I still probably would have eaten by myself, but I would have liked having this goat for company.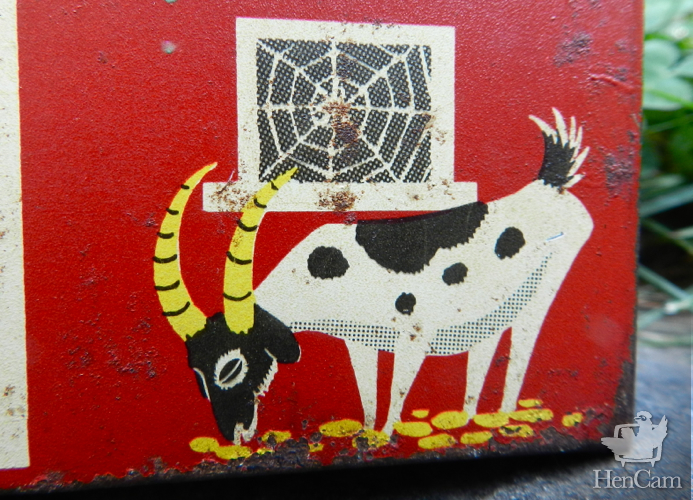 I would have told stories to this dog.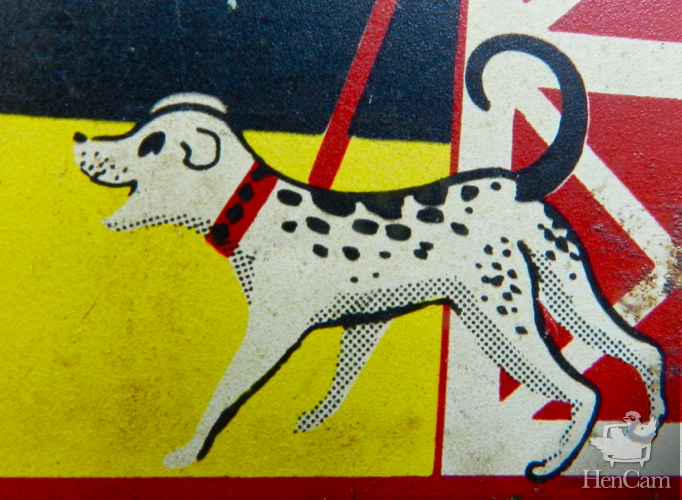 I didn't know any real chickens, but I would have enjoyed these. I would have named the horse.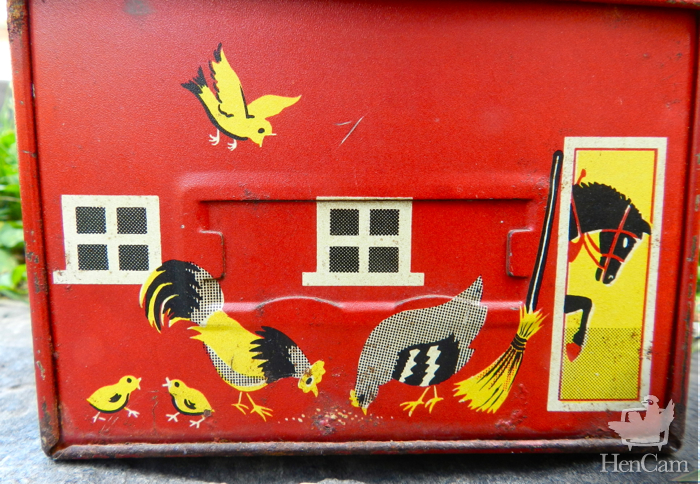 I wonder who carried this to school. Was he or she proud of it? Or, is it possible that the child who owned this box wished for a brown paper bag that could be tossed right into the trash so that nothing had to be carried back home?
Did you have a lunchbox?