Feeding chickens is so easy. You go to the local feed store and purchase a 50 pound bag of laying hen feed. You put the pellets into a hanging galvanized container which the chickens peck at throughout the day. It's good for your hens to get greens, too, but they'll stay quite healthy when the bulk of their diet is from those tidy pellets.
It hasn't always been like this. In the 19th century you couldn't purchase bags of complete rations. My favorite chicken manual is a charming little book titled The Biggle Book of Poultry. It first came out in 1895 and has this to say about chicken feed: "On every egg farm there should be a large boiler or steam cooker for cooking vegetables and making compounds of meat, ground grain and vegetables." That makes me appreciate being able to buy a bag of pellets at the Agway!
By the 1920s grain mills were marketing bags of chicken feed.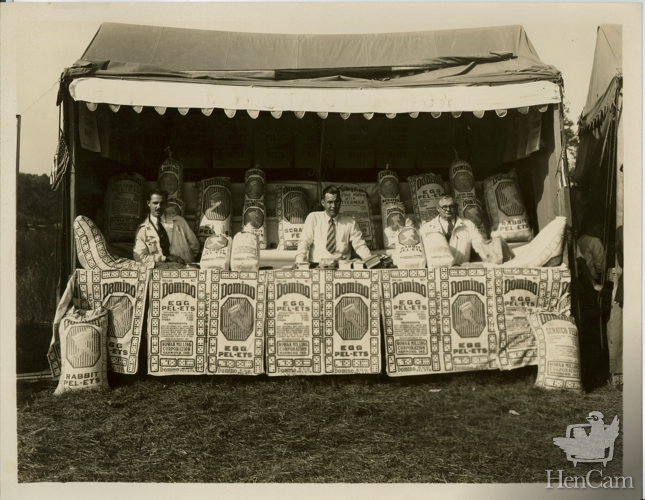 It wasn't hard to convince the small flock owner of the convenience of this product. By the Depression, competition for customers was fierce and money was tight. Cloth sacks were printed with patterns that the frugal homemaker turned into aprons, dresses and curtains.
But, today's feed bags are made out of either paper, which gets thrown out, or plastic which can not go into the recycling bin (at least not here, it's a type of plastic that my center doesn't take.) But, the graphics on the bags are vivid, and the material is sturdy and waterproof and yet flexible. I loathe to throw them out. So, I turn the feed bags into tote bags. Some I sell at the local farmers market. One I am giving away here!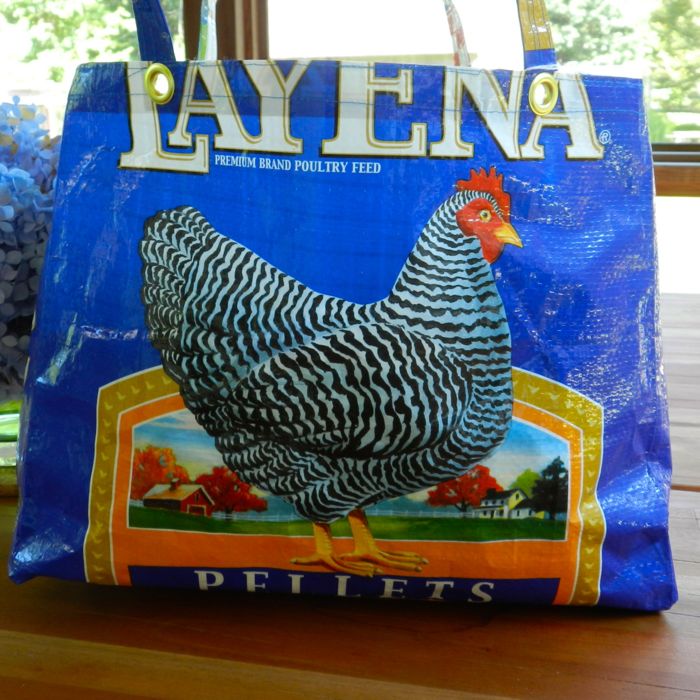 Note the grommets to strengthen the straps.
To enter, simply tell me here what you would put in the bag. You can enter a second time on FaceBook – simply click "like" on this post in FB. You can enter a THIRD time by forwarding the post to your FB friends. If you're not a FaceBook friend, do become one! I post photos there that you don't see at HenCam. I've got a busy week – it's Brimfield again, and I'll be looking for more finds to post on The Vintage Hen – so I'll let this contest run through Friday, July 13. The contest will close at 9 PM EDT. I value my international friends, so, yes, I'll ship this to anywhere in the world! Good-luck!
Up-date- this contest is closed and was won by Stephanie in AZ.