You prepare. You read. You might even be able to come to one of my chicken keeping workshops. You think you've done everything right, you bring home the chicks, you fall in love with the girls, and you expect them to all get along. But chicken keeping doesn't always go as planned.
A peaceful flock is a relaxing and lovely thing to have in your backyard. But, all too often there's feather picking. There's aggression. There's blood. It's hard to watch. I have been giving advice to one flock keeper who built what looked to be an ideal coop and safe fenced pen. Elizabeth lets the hens out to free-range when she gets home from work. The chickens are well-fed and well-cared for. But, it wasn't enough. The mix of breeds that she has are problematic. (Wyandottes, Rhode Island Reds and Barred Rocks are not usually tolerant of more docile breeds.) Although the space that she'd given the flock looked adequate on paper, it wasn't enough for the hens that she has. One hen was attacked and bloody. Other hens had feathers pulled out. Her husband build a larger pen, which alleviated most of the issues, but it wasn't quite enough to create the sort of relaxed flock dynamic that she wanted. Elizabeth and her husband have been to my workshops. They've heard me go on and on about how to keep hens from being bored. Her husband came up with a clever idea.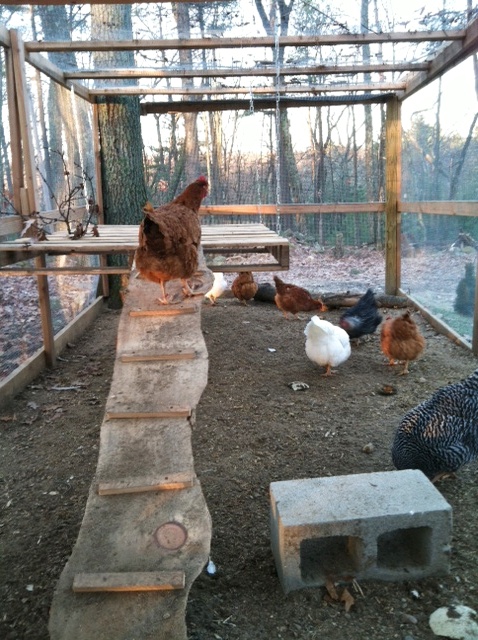 He created a second level in the pen using a pallet. This is like adding another 16 square feet to the run.
The girls are now all fully feathered. There's no animosity amongst them. The hens are content. Their humans are happy. Brilliant!