For the last year I've been involved with a forward-thinking nursing home director who understands that animals can enhance, engage, and delight the lives of her facility's residents. Ellen Levinson appreciates what dogs can bring to an institutional setting. She has two of her own that work alongside of her.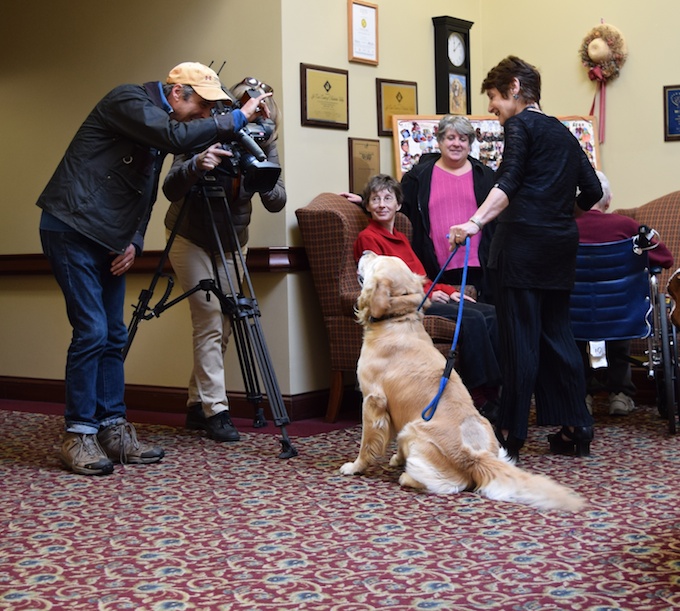 But Ellen wanted to go beyond traditional therapy animals that are brought to a bedside, and then are taken away. The nursing home is owned by a large corporation, based in Texas. Somehow Ellen convinced the accountants that bigger, permanent animals were worth paying for. The home is sited on a large piece of property. There is a field. She had it fenced, built a barn, and installed llamas and goats. Then Ellen came to one of my chicken keeping workshops, decided that chickens were essential too, and I was brought on to establish a small flock of hens on the grounds.
Ellen believes that having animals living on the premises gives the residents a sense of control. They get to choose when they see the animals and how to interact with them. Some just look. Some touch. Physical therapy sessions can take place outdoors, on a track around the pasture. There's a destination for the exercise.
Yesterday a camerawoman and a producer from Chronicle, the Boston ABC station's long-running human-interest news show, came to Life Care.
They filmed the hens. In this photo you can see an occupational therapist encouraging her patient to stand up to get closer to the chickens.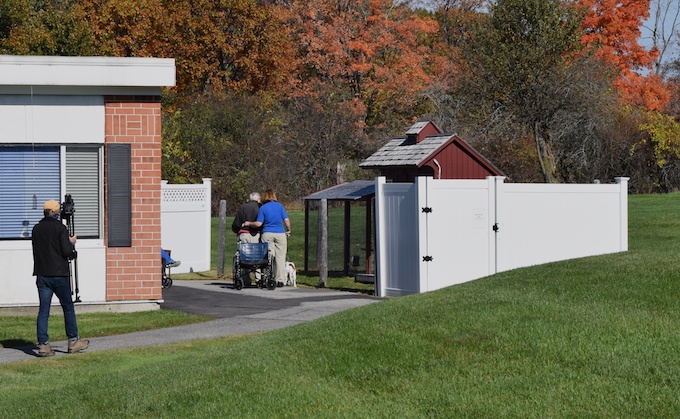 It was a beautiful fall day and so the patients were out on the track, viewing the animals, doing physical therapy, and getting fresh air and sunshine.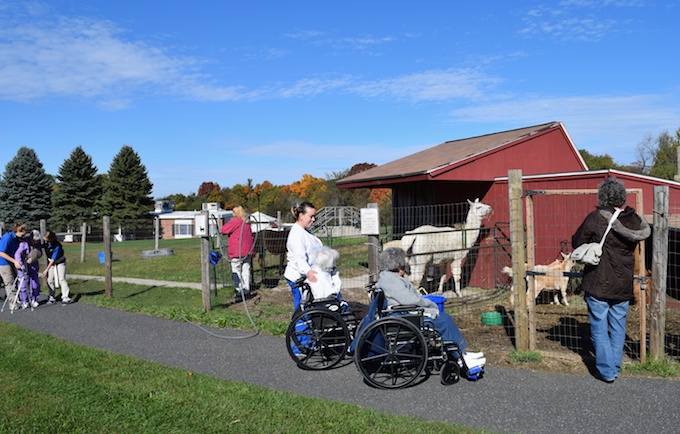 Llamas are unique creatures and Ellen needed someone who knew how to work with them, so Ellen sent one of her employees to "llama school." This is the designated handler,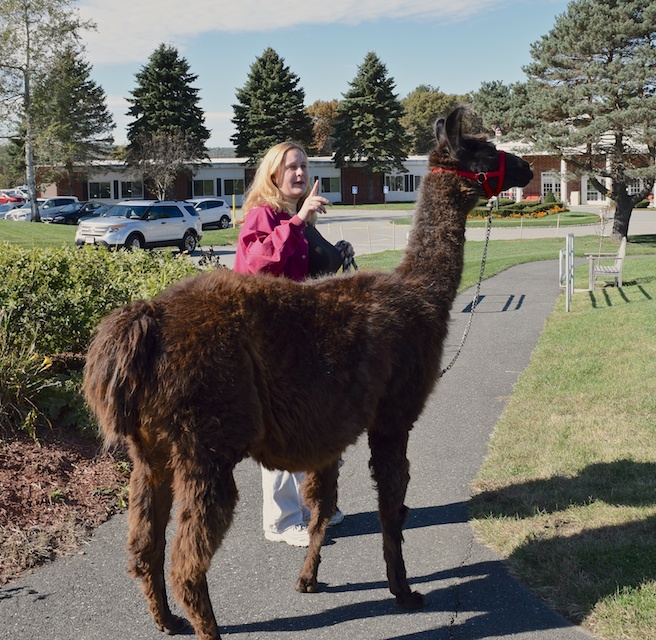 but anyone can pet Travis.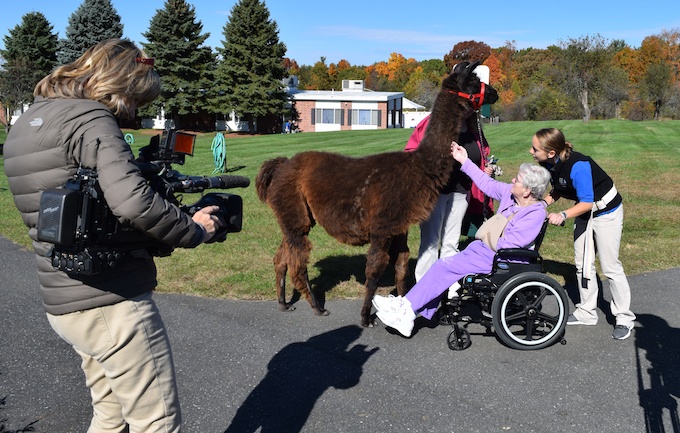 Not all of the residents can go outside. No problem. Travis comes in.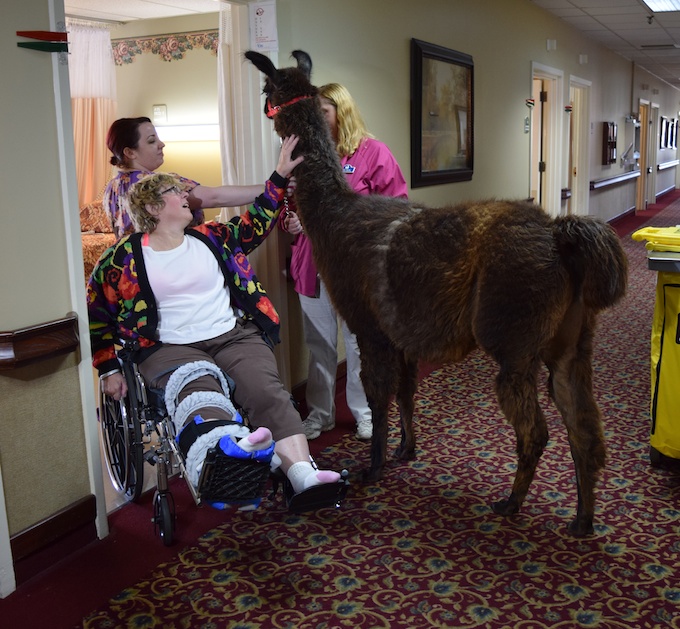 Animals bring the unexpected into a place where life is regimented by meal times, therapy sessions and visiting hours. My photographs failed to capture the sheer craziness and joy of the animals in this building.
Not only was Travis plodding on his camel-feet down the carpet, but there was this young dog in training learning to work with his occupational therapy owner: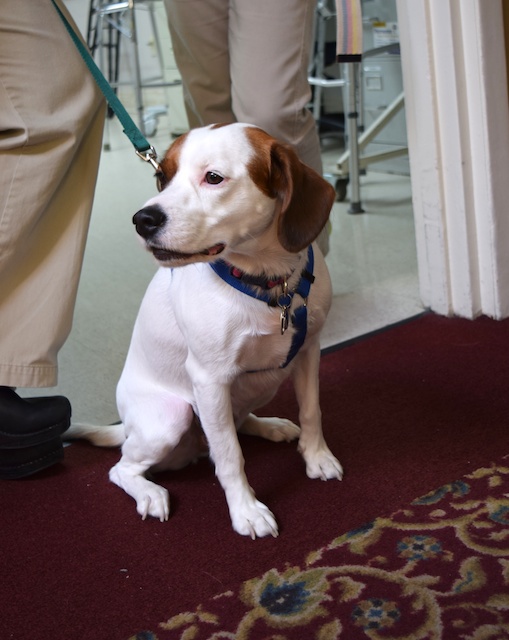 Along with Ellen's two goldens,  there was this shaggy fellow spreading happiness: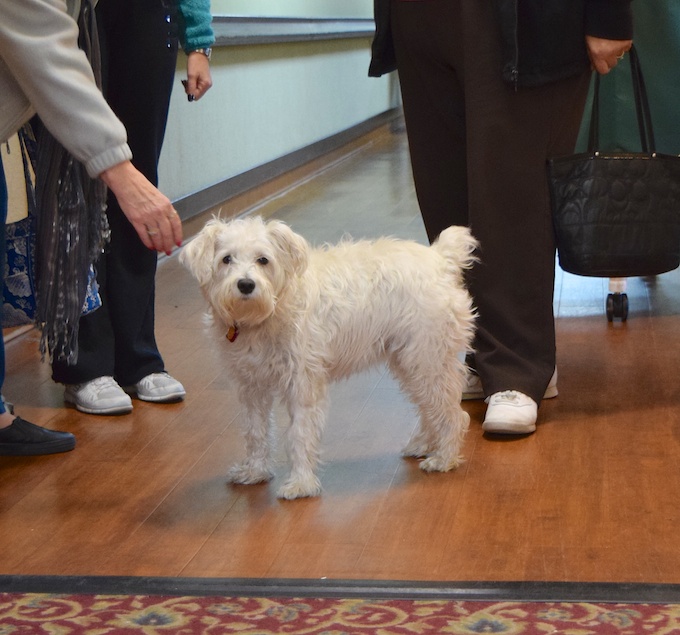 I was taking the whole the scene in and looked up to read this banner: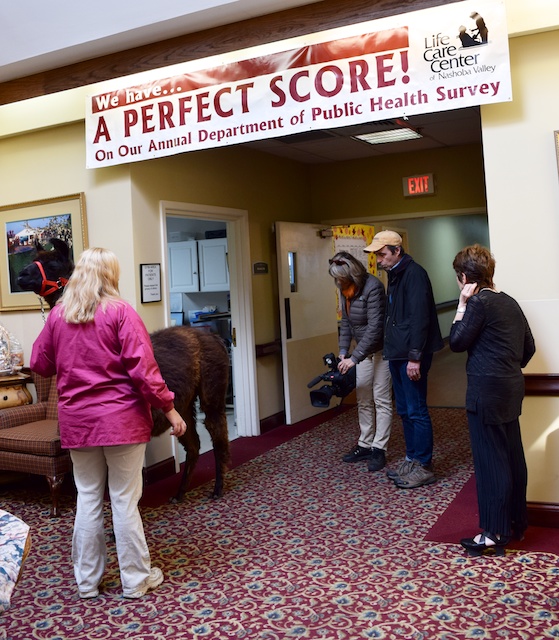 There's a llama and four dogs in the building, and chickens and goats outside, and yet the facility gets a perfect score from the health inspectors. How wonderful is that?
The segment on Chronicle will air mid-November. I'll let you know when it's on.
Um, Ellen? I know all about horses :)