Chickens need to take a bath at least once a day. Not a soap and water bath, but a dust bath. All chickens get external parasites, and the most common is lice. This is not the same pest that is feared by all parents of grade school children! Poultry lice are avian specific. They are soft-bodied insects that feed not on blood, but on the detritus of feathers and skin on a chicken's body. (Photos on my FAQ.) All hens have a few of these moving about on them near the vent. Chickens keep the population of lice in check by taking daily dust baths in dry dirt, which acts to desiccate and kill them.
In the summer dust bathing is easy to do. Hens scratch up a dirt wallow and laze in it in the sunshine. It is a communal activity that they enjoy immensely (video here.) But, what to do when the ground, what can be seen of it, is frozen hard?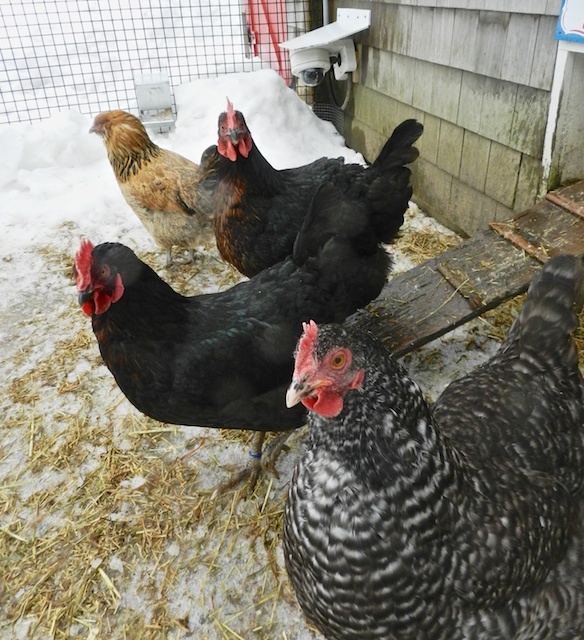 To keep your flock healthy and comfortable in the winter, you need to provide them with a dust bath. I use a kitty litter tub that I half-fill with inexpensive coarse builder's sand (available at most hardware and lumber supply stores.) I stir in about a cup of food-grade diatomaceous earth. (Be very careful that this is not the agricultural DE advertised for dealing with slugs in the garden – that DE is microscopically so sharp that it can kill your chickens.) The sand, by itself, makes for a good dust bath, but the addition of food-grade DE makes it a tad more effective at drying out and killing the lice.
I place the dust bath in a sunny corner of the coop. This is yet another reason to have a spacious coop with windows that let the light in. Chickens won't dust bathe in a dark, cramped coop. I clean it out weekly using a kitty litter scoop. In their enthusiastic bathing, the hens kick the sand out and so I replenish it every few weeks.
I know that there's something appealing to the hens about fresh sand (like clean sheets on a bed for us?) because when I fill up the box, the hens jump in.
Opal, the Delaware, is always the first. She's also quite large, but the other girls find a way to squeeze in. There's quite the queue.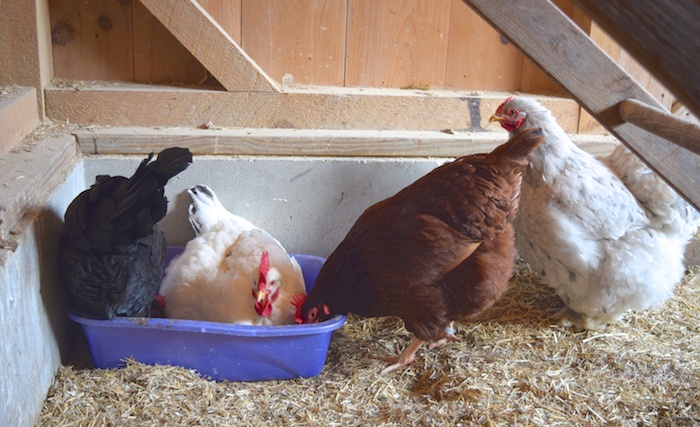 There's much chortling and wing flapping. It reminds me of a bunch of tots enjoying a kiddie pool in the summer. There's never enough room, but that's part of the fun.