I've needed a new camera for quite awhile. The camera that I had was good enough. I'm not a technically skilled photographer, but I see stories, and I was able to capture them with the Coolpix. I was frustrated at missing some moments because the focus was too slow, and the shutter speed didn't allow for action shots (you know how quick chickens move, so I missed a lot!) But, cameras are expensive and I put off purchasing a new one until it became a necessity. Finally, dirt got behind the lens and it couldn't be cleaned off and so I went camera shopping.
I went to a day-long photography workshop to learn what my options are. Steve and I discussed the right camera for me. I now have a Nikon D5300. That's why I was able to take that pic of the deer bolting. With this new Nikon, I'll be able to take more enticing food photographs. If spring ever comes, it'll do beautiful closeups of the garden blooming.
I was only able to purchase it because of the support of my readers. HenCam is my full-time job. I have to piece together a lot of parts to make it pay. Maintaining the site, with the live-streaming cams, costs about $300 a month. The cams themselves cost $500 each and need replacing every two years. It is challenging doing what I do and not have it be a drain on my family's finances. The site does not pay for itself. The ads on HenCam bring in very little (a click pays about 10¢.) Associated products, like the calendar, bring in even less (I think that I made $30 this year on that project!) If you start your Amazon shopping by clicking through my website, I make a small cut. It all adds up. Chicken keeping workshops and storytimes help to pay the bills. Luckily, I love the public speaking, and thoroughly enjoy that aspect of my work. I'm also fortunate to be an author, but the financial truth is that being published is more satisfying than lucrative. I make about 5% on the cover price of each new book sold (less than $1 a book) and most books don't sell more than 15,000 copies over their lifetime. Most of my writing now appears on this website. I love writing my daily blog. I find the topic of what goes on my animals endlessly fascinating. I enjoy the immediate connection and interaction with my readers that blogging provides. I also field numerous private emails daily. I'm happy to answer questions. I can't think of anything I'd rather do than engage in this conversation with you. With traditional writing, a publisher comes between the author and her readers and pays the bills. With a website like HenCam, the readers come directly to the author. If you were my neighbor and asked for chicken advice, you'd invite me over for a cup of coffee, and so I thought I'd create the equivalent of that friendly cup here at HenCam.  Many of you have bought me a cup of coffee, banana chips for Phoebe, and carrots for Tonka. (There's an easy link to PayPal on the sidebar.) Truly, I couldn't put the time into my writing without your support.
The goats are especially appreciative of their peanuts. In fact, Pip says, Put down the new camera and give us a few.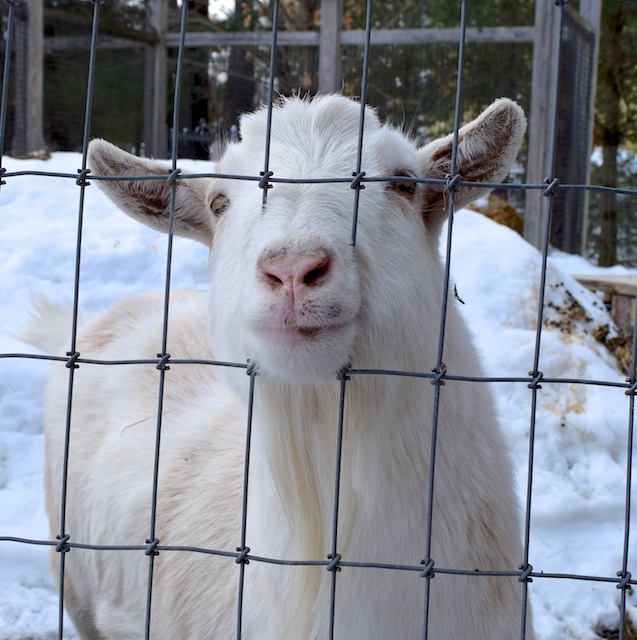 We all say thank you.