I'm a firm believer that having the right tools can transform a chore into an agreeable activity. This is true in my kitchen. I'm not one to use a lot of gadgets, but having well-made tools makes the process of cooking a pleasure. Put a sharp knife in my hand, and a seasoned wood cutting board under it, and I feel competent and happy. Hand me a dull knife and ask me to cut on one of those glass boards, and all I want is to get out of the kitchen.
The right tools can make or break your time in the chicken coop, too. Like in the kitchen, you don't have to have a lot of tools, but they do have to be appropriate for the job and be in good shape. I learned this very early on. When I was sixteen, I spent 10 weeks at a riding school in England. There were three brooms for a dozen girls, and only one of the brooms had full, sturdy bristles. Woe to the girls who had to sweep with the worn out brooms! We'd hurry to the stable yard, hoping to be the first one there to grab the good broom. To this day, I get great satisfaction sweeping with a new broom.
Keeping the coop clean and dry is the first line of defense against disease and parasites. My routine is made easy with these tools: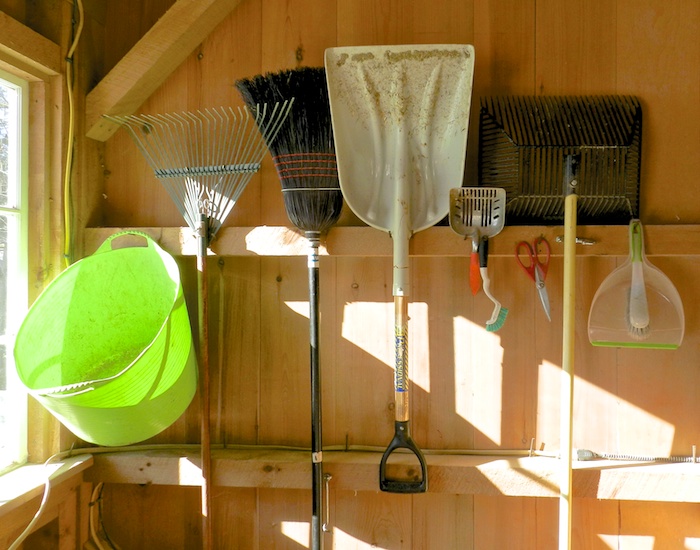 (from left to right)
You can't cleanup without the right-sized muck tub (big enough so that the pitchfork fits, but not so large that it's too bulky or heavy to carry.)
The metal rake is for tidying up the outside pen. It helps to loosen the dirt and remove manure.
The broom is both for sweeping up the floor, and also for getting down cobwebs. Cobwebs are reservoirs of bacteria and viruses. Sweep them out!
A plastic barn shovel is lightweight and wide and the perfect size for innumerable tasks. Once you have one in your barn, you'll never know how you functioned without it.
A kitty litter scoop is good for quick pickups, and I also use it to clean manure out of nesting boxes. Spend a little extra money on a metal one. The plastic scoops break when kept outdoors.
A scrub brush is necessary for keeping waterers clean.
A good pair of scissors for opening bags and cutting baling twine (and once in a rare while for cutting a sticky fly strip off of a hen's back!)
The fine-tined plastic pitch fork sifts out manure and leaves clean shavings. This will be a money saver for you as you'll throw out less bedding.
A dustbin and brush is handy for cleaning in corners and wiping off nesting boxes.
Finally, make sure that your tools have an organized storage place. Hang them up where they are easy to reach and yet out of the way (if you have goats, you know how important it is to have passages clear and tools stowed where the goats can't reach them to "help.")
Have I left out your favorite chicken coop tool?
In another post I'll list the things needed to setup a coop, like waterers and grain bins.
* Please note that I have Amazon links to these tools so that you can get an idea of pricing. I have not necessarily purchased items through these online stores. However, if you do shop Amazon, please start by clicking through a link on my site. I'll get a small commission from Amazon, which helps to support HenCam. Thanks!