(Start at the beginning of this saga of internal laying, here.)
After a full week of TLC, practical remedies and careful observation, Clementine was ready to go back to the nursing home flock. She was still skinny. Her keel bone was as sharp as a knife. She'd always have a bottom weighted down with solidified egg masses, so it was unlikely that she'd be able to hop onto a roost. But, a laundry room is no place for a hen. Besides, her people missed her.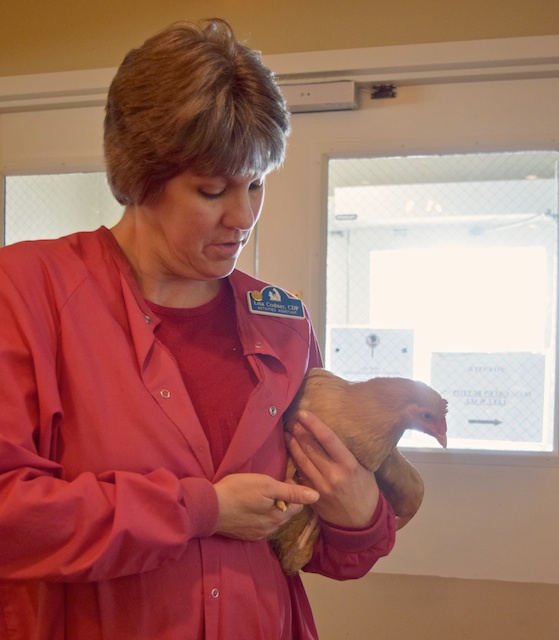 But, inside of a nursing home is no place for a hen to live, either. Clementine had to rejoin her flock.
When a hen is removed from a group and time has passed, say, five days (which is an eternity in a chicken's mind) the flock does not welcome her back. Never. Ever. They will chase. They will peck. They might draw blood, and sometimes even kill. When you first put a hen back and see the mayhem, your first reaction is to want to pick up and protect the hen that you recently spent so much effort nursing back to health. Don't. Do not, in your misguided kindness, relegate the hen to a loner's life. Do not use the flock's behavior as an excuse to make a house chicken out of her! The returning hen can and must be reintegrated into the flock.
The first thing to do is to make sure that the coop and run are ready for her. Your coop should meet all of the basic criteria – plenty of space, sunlight (the hens need to see inside of the coop!), outside and inside roosts, etc. If the space is cramped, then a hen can be cornered and injured. Fill the feeder and waterer. If the ground is hard and frozen, provide sand for scratching.
When I brought Clementine back to the nursing home, the hens were surprised to see her. They had to think about it. They eyeballed her, and then looked away. Although Clementine was familiar to them, she was changed, too. Chickens don't like change. Clementine moved differently than the pre-internal laying Clementine. Chickens are concerned about status, and as far as they were concerned, she was now the "new" hen and they needed to know how she fit in.
Clementine was wary, but she was also so happy to see dirt and things to peck. As I said, a laundry room is no place for a hen.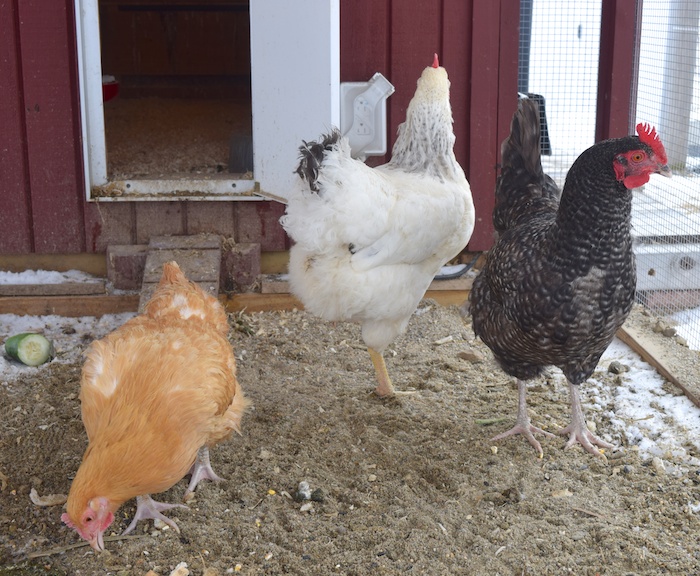 To determine status, there's often chasing and pecking, which can get brutal if left unchecked. We gave the hens something interesting to divert their attention – a cucumber. For awhile, the cucumber was more interesting than the new hen.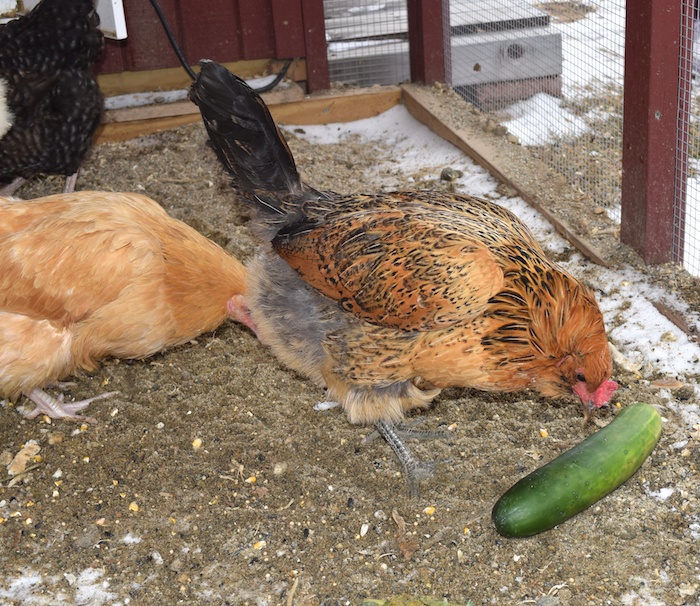 When integrating a hen into an established flock, wait and observe. Behavior unfolds over time. The new hen will be attacked, usually by one chicken at a time. Gently discourage this by stepping between the two, or holding out your hand. Do not hit. Do not yell or chase. Simply interrupting the behavior will achieve what you want.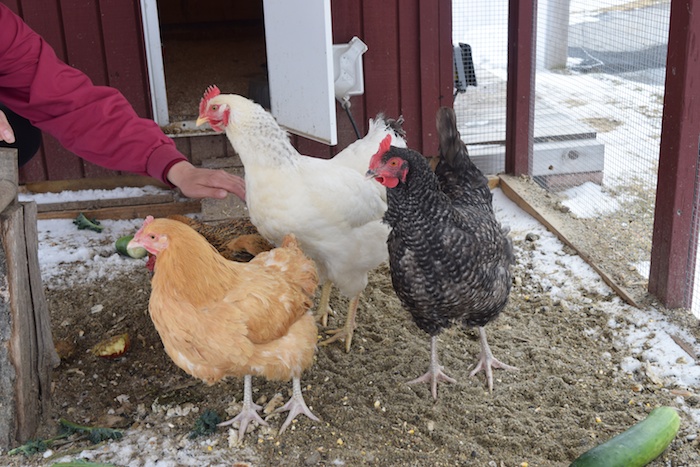 Because Clementine will always be the weak hen, the others will shunt her off to the fringes of their society. Honestly, that doesn't matter to a hen. As long as she isn't physically injured, she's fine with her life of low status. I watched to make sure that Clem was capable of walking away from aggressive posturing. When another hen snaked a beak at her to peck, Clem stepped aside. I watched for about 15 minutes, occasionally intercepting dominance behavior. All seemed fine. I left.
About fifteen minutes after settling in at home I got a panicked phone call. Clementine was being attacked. LIsa had scooped her up and was carrying her around, protecting her, but she had to leave work. What to do? I drove back.
There was a bitter cold wind, and temperatures hovered at freezing. I took Clementine from Lisa, and put her back in with the hens. Lisa watched anxiously. The Delaware pecked at Clem's head. Without intervention, this could lead to serious injury. But, too much intervention, and the hen would never be able to rejoin the flock. I stepped in and the Delaware turned away. I stayed for almost an hour. At one point, Clementine hid in a nesting box, (in this coop, there are three on the floor) with her tail to the group. This is a smart move, as they can't hurt her when she's in that position. She's also boring to them like that, and they leave her alone. The first time that she got up to eat, they chased her back. I let this happen. I knew she'd be safe. About ten minutes later, Clementine got up to eat again and they left her alone. It was getting dark and the hens were going inside to roost. I could go home.
In the morning I got another call. Clementine was still being pecked at. It was a sunny day, and so I told them to put her in the fenced yard next to the run. Clem was given food and water. The flock could see her but not get at her. She could see them. Chickens get bored easily. Clementine was now not worthy of their attention. The flock had better things to do than to expend their energy posturing and threatening the yellow hen. They went about their business. At roosting time, Clementine was put back in with the hens.
The next morning, everyone got along.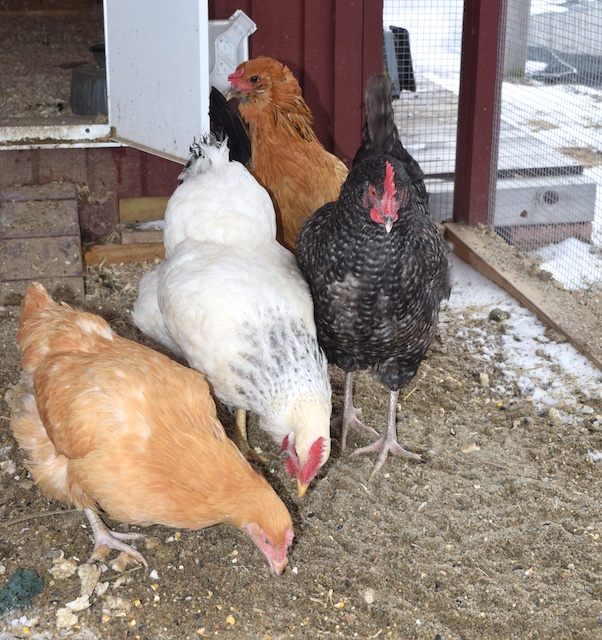 The lesson here is that returning a hen to a flock is not a matter of simply putting the chicken back in with her old friends. Time away changes everything, and there will be behaviors that can upset you, and potentially harm the bird. BUT, the hens are not being mean. They are being chickens. The hen that you nursed back to health is also a chicken. You have to let them sort things out – while creating safe parameters for the behavior. Do not give up. Do not avoid reintegration because you don't like seeing the chickens do what chickens do. That said, there is a difference between pecking and pummeling. Allow the squabbling but prevent bloodshed. Gentle dissuasion, a fence, and a cucumber is all that it takes.
It's been two weeks since Clementine has been returned to her flock. I've checked in with her people who tell me that Clem has been accepted by the other chickens. There's no pecking with contact. She's able to eat and drink and go about her day. Clementine will always have compromised health, but for now, she leads a good chicken life of dust baths and scratching and breathing fresh air, while also doing the work that this hen is so good at.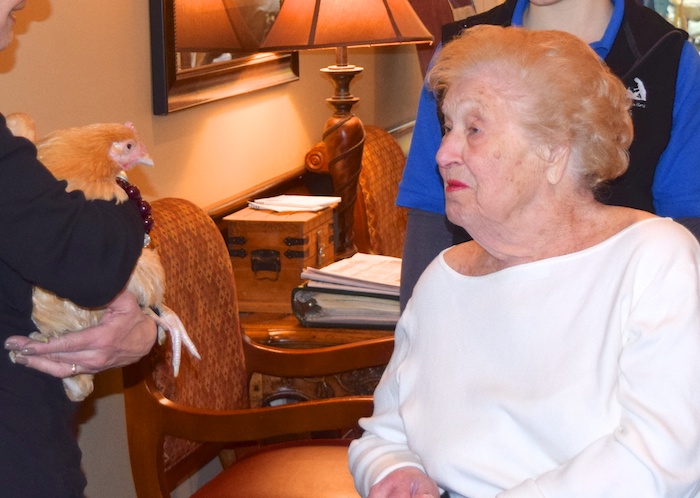 UPDATE: Two weeks after Clementine returned to the nursing home, she passed away peacefully in her sleep. I was not surprised, but it was sad news. I did a necropsy, which confirmed my diagnosis of internal laying. It was the worst case that I have ever seen. Her body cavity was packed with masses of egg material. There was also a solidified egg with a soft shell stuck high up in the reproductive tract. It had obviously been there a long time. I believe that eggs formed, were blocked by that stuck egg from making their way down and out, and so instead backed up and fell into the body cavity. By the time Clementine showed signs of distress, this had all been going on for a long time. It's amazing that she revived as she did. The necropsy also showed that she was eating fine, and that the rest of her systems were working, which illustrates how a chicken can continue to live  despite gross abnormalities inside of her. That means that it is our responsibility as their caretakers to make the right decisions. Clementine did revive. She was able to behave as a chicken does, eat, drink, and be part of a flock. If any of those things had changed before she passed away, it would have been a kindness to euthanize her. But, I'm glad that she had those last two weeks.