(This story starts here. Please read that post first.)
After a week of care, Clementine was ready to go back to the nursing home. And I was more than ready to have her out of my laundry room! The house is no place for a chicken. Despite removing the manure multiple times a day, the room stank of chicken. It wasn't only for my benefit that I wanted her back outside. Clem was isolated from other birds – not good for a flock animal, no matter how calm she looked – and she couldn't scratch in dirt or dust bathe. As soon as a hen can do those things, I believe in getting her right back outside! In fact, if the weather hadn't been so brutally cold, I would have kept Clementine in housing outside while nursing her back to health.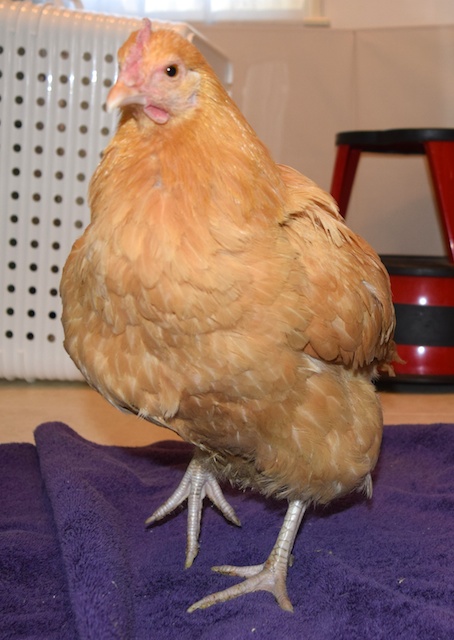 Although I felt that Clementine was ready to go back to her flock, I also knew that she would never be 100% back to normal. My best guess as to what was wrong inside of her was this: Clem is an internal layer. When the yolk is released from the ovaries it is caught by the fallopian tubes. This is not a closed system. There's a gap. As the eggs progress down the reproductive tract the whites surround the yolk. At some point, instead of continuing on into the shell gland, the jelly-like masses backed up to the fallopian tubes and dropped into the abdomen. There they solidified, weighting down her abdomen and changing her stance. Yolks are the perfect medium for bacteria to grow and so "internal layers" often get sick and die of infection.
By giving Clementine the antibiotics, I stopped the infection. Giving her an epsom salt soak helped as a general tonic, and also relaxed her systems so that she could produce manure and excrete any bits of eggs that might be stuck in her tract. Keeping her in a darkened room helped to stop egg production. All along she was able to eat and drink on her own. If she hadn't been able to do that, I would have euthanized her. I do not believe in feeding gruel or using an eye dropper. If a chicken can't eat, they have a good reason not to. (However, I will dose a hen with medicine if she is sick with a respiratory disease, and her eyes are gunked up so that she can't see,) Pushing food into a chicken will cause suffering. So, I did what I could, but I did not go to extremes. I would not have kept Clementine on for another week. If she hadn't incrementally looked better daily, I would have let her pass on.
I have no way of knowing if once back in with the flock and in the sunshine, if she will return to being an internal layer. Some hens do and some don't. If Clementine returns to that penguin stance, I will know that her time is up. What I did know was that after a week she was moving like a chicken and eating and drinking just fine. Her manure was normal. Her eyes were bright. She had energy. She was still (and will always be) bottom heavy. Those solidified eggs aren't going anywhere. She'll likely never be able to roost. But, the coop at the nursing home has nesting boxes on the floor. She'll be okay.
I gave her one more epsom salt soak just to make sure that she was clean and had one last boost. (I don't overdo these! If your bird is sick and doesn't respond to the first one, another won't help. If your hen responds to one, that doesn't mean that she needs a daily bath.)
I put Clementine in the crate and drove to the nursing home. The residents were very happy to see her.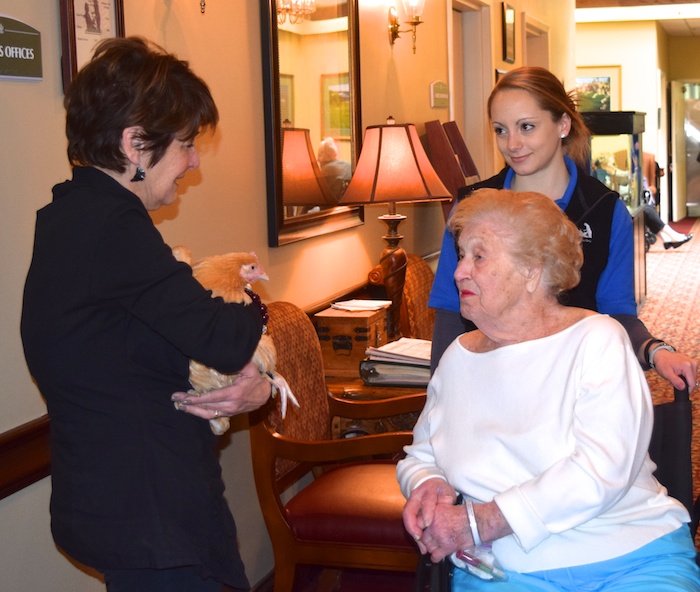 However, I still had work to do. Clementine had been away from her flock for a week, which is an eternity as far as chickens are concerned. She still had health issues. She would need to be reintegrated. More about that in the next post.