It's peach season. I have one tree. This year's crop was not only sparse, but also wormy. After cutting away the bad parts (and feeding to the chickens) I had only 2 small bowls of peaches for breakfast. This afternoon I'm going to a farmers market to buy peaches, as the season is fleeting and I need some for eating, and a bushel to freeze for pies this winter.
Starting this fall, I'm going to try a new method of peach borer worm control. Chickens. A few of my vintage poultry books detail how to integrate a flock into a fruit tree management scheme. The damaged, dropped fruit carries the worms to the ground, which then overwinter in the soil under the trees. In the spring they emerge and do damage. Ravenous chickens stop that cycle, shredding and eating the plant matter that the grubs hide in, and eating every stage of the pests. Makes sense. I'm going to put a temporary fence around my tree and set the industrious Gems to clearing the area of bad bugs.
Here's a photo of three boys (see the one in the tree?) harvesting peaches.  I believe that the photo dates from the early 1920s.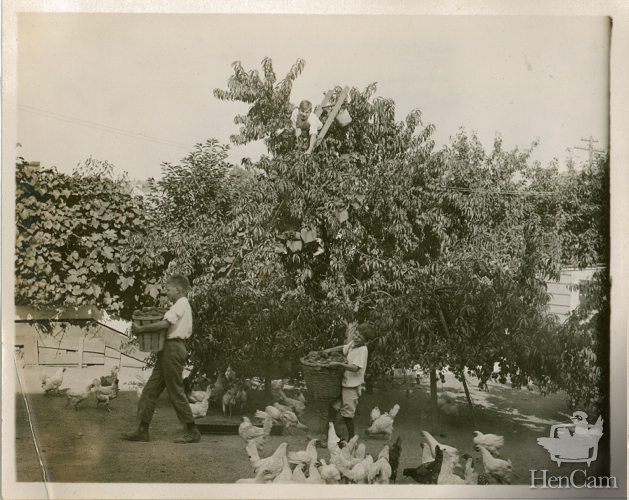 Here's a closeup. Those peaches look ripe and edible to me! What a bountiful harvest, thanks in good part to the hens underfoot.