It's blueberry season here. I have ten bushes, but haven't been able to harvest more than a handful as the birds and the chipmunks get them. One of these years I'll build covered fencing* around them, but for now I stock up on blueberries from farmstands and from carts at the side of the road. I wash the berries and spread them out on a large sheet pan, freeze individually, and then put them into zip freezer bags so that I have blueberries through the winter. Invariably those get used up before springtime and I end up buying frozen blueberries from the supermarket. They're good, but not as good as local. Now that it's blueberry season again, I want to use up what I have in the freezer, and that means making muffins.
I am very, very fussy about muffins. I like them light, both in texture and fat content. I want a berry muffin to be chockfull of berries, but not mushy. I want them to be normal portion size (I'd much rather eat two than down one huge muffin!) I want the recipe to be so easy that I can stir up a batch on the spur of the moment. Which is what I did yesterday afternoon.
Blueberry Muffins
1                         egg
1 cup                 buttermilk
1/3 cup             vegetable oil
1/2 teaspoon   vanilla
2 tablespoons  honey
2 cups                all-purpose flour (10 ounces)
1/2 cup              sugar
1/4 teaspoon    salt
1 teaspoon       baking soda
1 1/2 cups        blueberries, fresh or frozen (if frozen, don't defrost)
1. Preheat the oven to 350 degrees F. Grease 12 muffin cups or use paper liners.
2. Whisk together the egg, buttermilk, oil, vanilla and honey.
3. In a separate bowl, combine the flour, sugar, salt and baking soda until thoroughly mixed (nothing ruins a baked good more than a clump of baking soda!)
4. Using a spatula, combine the wet and the dry ingredients until all is moist. Lumps can remain.
5. Gently stir in the blueberries.
6. Spoon the batter into the muffin cups.
7. Bake for 22 to 30 minutes. If the berries were frozen, the muffins will take the longer time to bake through. They're done when they spring back to the touch and there are no edges of raw dough around the berries.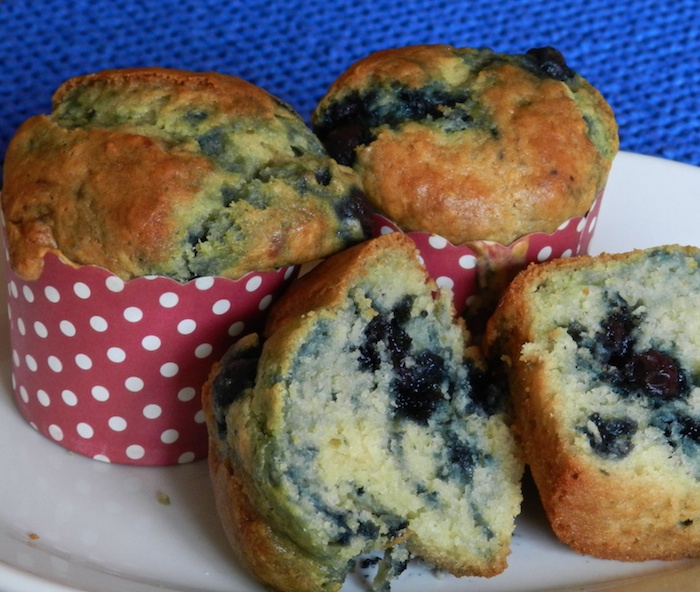 *I've tried the netting that supposedly protects berry bushes. Both chipmunks and birds trapped and died in it. This year I tried the balloon that look like big scary eyes. The birds sat on them. Suggestions are welcome.