I do enjoy making (and eating!) desserts, but I'm not one of those precise bakers who construct architecturally correct cakes. Nor do I like pure sweetness. What I love are fruit desserts that balance acidic tartness with sweetness, and that have texture and bursts of flavor. Although I'm a pie baker, for everyday quick cooking I make crisps because they fit into my crazy schedule – I can bake one up on a whim right before dinner. I make up a large batch of the crisp topping and what isn't used in that first crisp goes into the freezer and is pulled out whenever I want to make another. I rarely use a recipe, but this week I made crisp and I wrote down what I did to share it with you.
This is rhubarb season, which makes me do a happy dance, because it is my absolute favorite fruit to put in a pie (I know it's not a botanical fruit, but I use it as a fruit, so I call it a fruit!) The rhubarb that I planted three years ago is finally mature enough so that I can get a good harvest from it.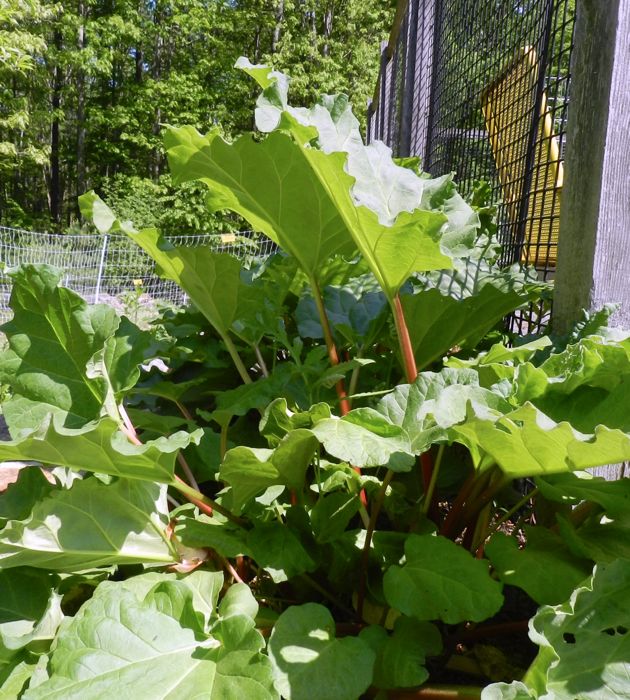 The leaves are not edible, and are, in fact, poisonous, so before I bring the stalks inside, I lop off the tops right into the compost bin (the one that the chickens cannot get into).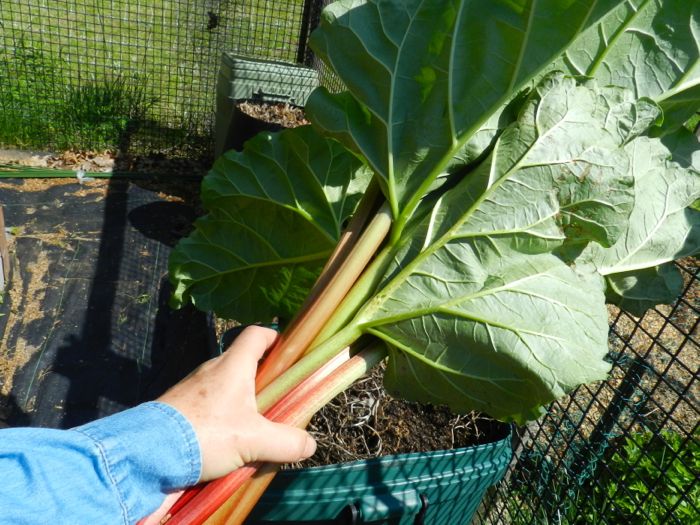 Once washed, I chop the rhubarb into 1-inch pieces. I like to add another fruit to the crumble, and I happen to have tree-ripened peaches in my freezer (bought from a local orchard and vacuum-sealed last fall.) I defrost them just enough to break them apart so they're no longer in a block.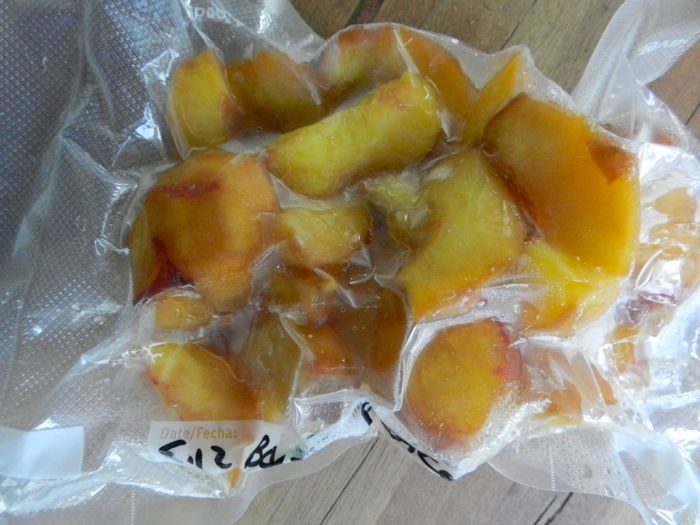 I'll need 6 cups of fruit to fill a pie plate. Half rhubarb and half peaches is good.
Here's the rest of the ingredient list for the crisp filling:
1 egg, lightly beaten
1/2 cup of sugar, preferably coarse organic (better flavor than pure white sugar)
1 tablespoon of quick tapioca or instant clearjel (to thicken the juices)
Universal Crisp Topping: 
1 cup whole wheat flour
1 cup all-purpose flour
1 cup rolled oats
1 stick (1/2 cup) unsalted butter, cold, cut into 8 pieces
1/2 teaspoon kosher salt (less if using salted butter)
1 teaspoon cinnamon
2/3 cup sugar, preferably coarse organic (better flavor than pure white sugar)
2 tablespoon chopped crystallized ginger (optional)
1/2 cup nuts of choice (optional)
1. Preheat the oven to 350 degrees F. Coat a baking dish or pie plate with non-stick spray.
2. Combine the fruit and egg in bowl. In a small bowl, mix the 1/2 cup sugar and thickener, then stir into the fruit.
3. Put the fruit into the baking dish.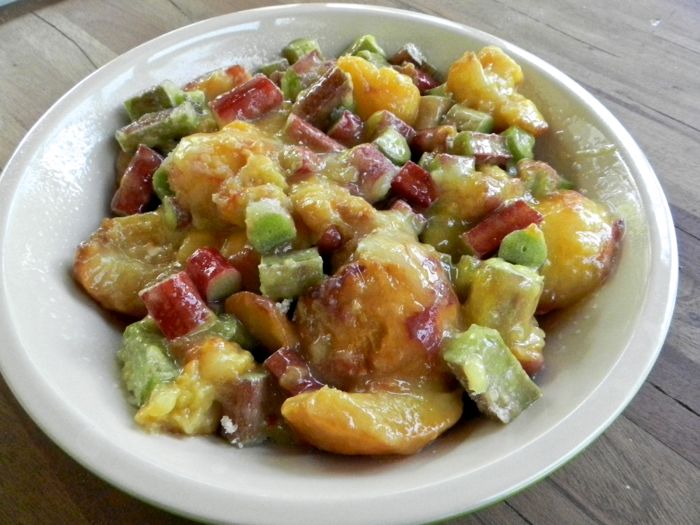 4. Put all of the topping ingredients into a food processor and pulse until the mixture is coarse and crumbly.
5. Evenly distribute about 1 cup of the topping over the fruit.
6. Bake for 45 minutes to an hour, or until the crisp is bubbly and the topping is lightly browned.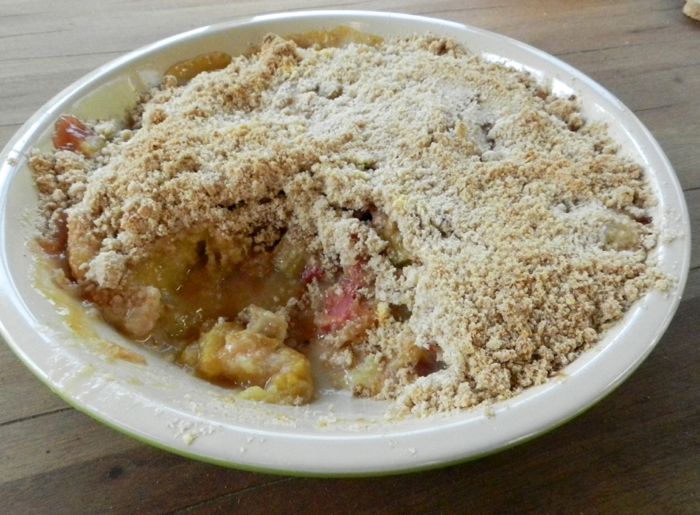 This is delicious plain. It's excellent for breakfast with yogurt. I happened to have a bit of heavy cream in the fridge, which I whipped by hand (which yields a better texture than when done in a mixer) and had it for dessert.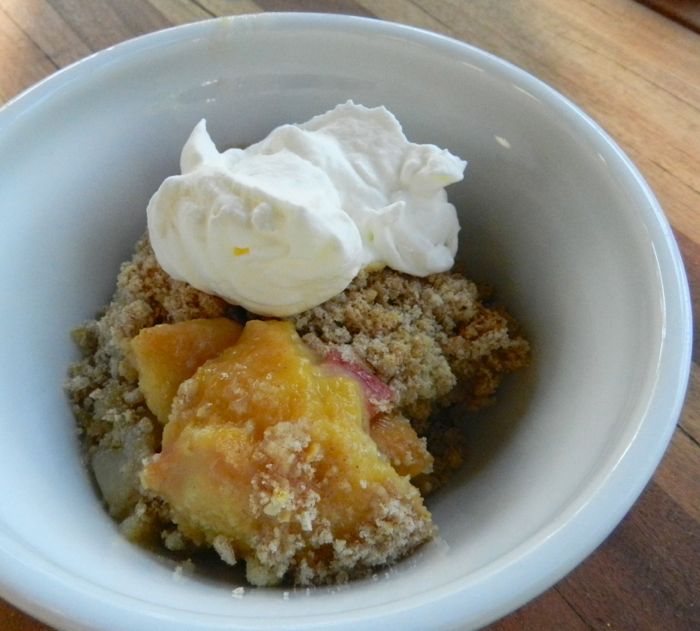 Now I have enough crisp topping in my freezer for another three crisps. If I'm able to harvest my strawberries before the birds get them, I'll be having Rhubarb-Strawberry Crisp soon. Let me know what combination of fruit you put into a crisp.