Post Update: This contest is closed. Judy M. won!
To celebrate the publication of Vintage Chicken Photographs: 30 Postcards, I'm having a giveaway! I am so excited about this book. The photos are charming, funning, and evocative. The quality of the paper, printing and binding is superb. To see more about it, go to it's page on my store. (Did you notice that I now have a store? I have some fun plans for it!)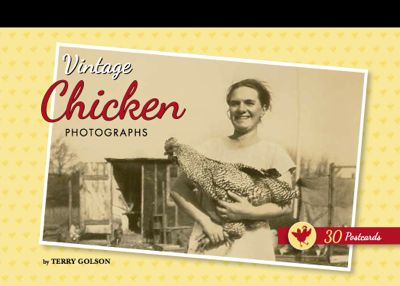 All you have to do to enter is to click on one (or more) of the media share buttons at the bottom of this post. Let your friends know about this book on FaceBook, Twitter, Pinterest, or Google+, and then let me know, here, that you did so. If you don't do any social media, that's fine, too. Just leave a comment and you're in!
The winner will be selected by a random number generator on Thursday, January 17 at 9 pm EST. This contest is open to all, so my international readers are invited to enter.
Can't wait to see if you won? Purchase a copy now! I'm running a special for the month of January – FREE SHIPPING, even to international addresses. (Yes, that's crazy, but I want to share this with you, even if you live in New Zealand, Brazil, or Poland!)