Most of the animals that I live with do not exactly have mellow temperaments. Candy is imperial. The Speckled Sussex hens are loopy. The goats thrive on mischief. Lily is a genius dog who is on the lookout for alien invasions and squirrel armies (perhaps the same thing?) And yet, I want the animals that I share my life with to be polite. Despite the potential for chaos, this is not an unattainable goal. It takes me knowing what I want and communicating that consistently. This requires time and training. But mostly it takes an attitude of calm stewardship.
When I posted about how to hold a hen, I heard from many readers about how they embrace their chickens. I also heard about hens that cannot contain their enthusiasm and leap onto shoulders, which makes for a hilarious story, but not one that I would want to have happen more than once. Personally, I don't want  a five-pound hen (who has likely just stepped in manure) flapping her ungainly self at me in an attempt to roost up on top of my head. Even if I found this acceptable, I wouldn't want this to happen to a guest or a child.To ensure that your hens greet you and your friends politely, let them know that good things happen on the ground, at your feet, not near your face. Feed them treats tossed away from you. Do not feed them from your hands when they get pushy and peck.
Sometimes, though, it's fun to have a hen on your shoulder. It certainly makes for a funny photo. Clearly, these women and their chickens are familiar friends. The birds look quite calm and polite. (Do you think it a family photo with rooster, hen and feathering-out chick?)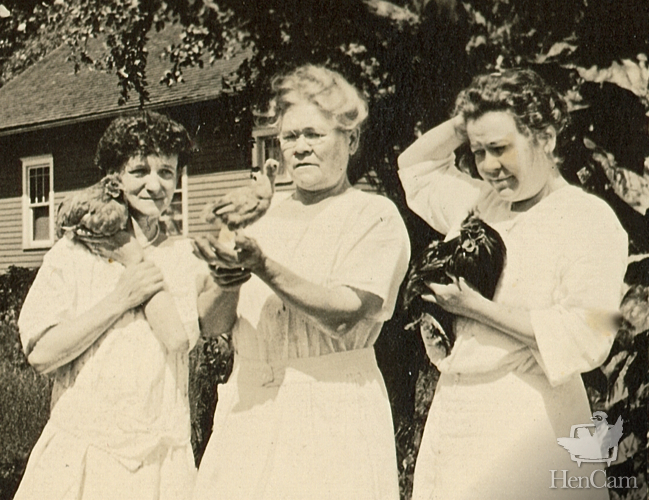 I'm sure that these ladies, with their long hair pinned up into buns, wouldn't let one of their chickens leap up onto their shoulders. Can you imagine what a tangled scene that would be!