I've been waiting for this to happen. My White Leghorn, Twiggy, who has been an over-achieving layer since the age of 14 weeks, and who has produced almost non-stop for the last three years, is finally having laying issues. This is inevitable with such birds, it was only a question of when and how.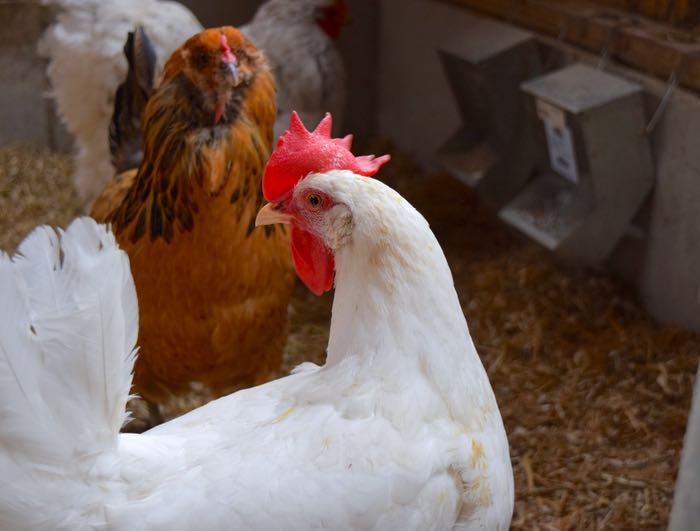 In order to create an egg shell, the hen first has to digest food that contains calcium, then lay that calcium into her bones, then reabsorb the calcium into her blood stream, which brings it to the shell gland, where it is used to form a shell. As hens age, even when they get enough calcium in their diet, this system becomes less efficient, the shells thin, and eventually the hen can't make them at all. (Note the two Pet Lodge Steel Small Animal Feeder with Lid and Sifter Bottom Small Animal Feed Box, Hold Several Days Worth of Feed, Great for Rabbits, Ferrets and Other Small Animals (5 Inch) (Item No. AF5SL) in the above photo. One contains oyster shell, the other grit, both of which are essential for good digestion and the health of your laying hens.)
Twiggy is still laying almost daily. Her body produces a yolk, which gets surrounded by a white, and then gets encased in a membrane. But she's not making a shell. As soon as that shell-less egg is laid, it breaks, and Twiggy reaches around to eat it.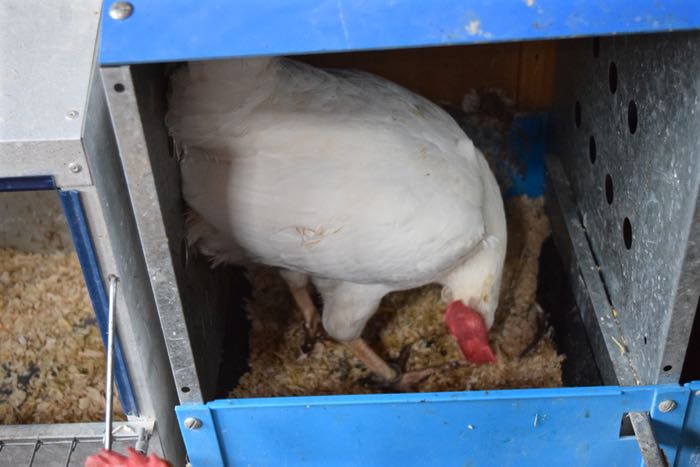 Twiggy's bottom is a mess from this.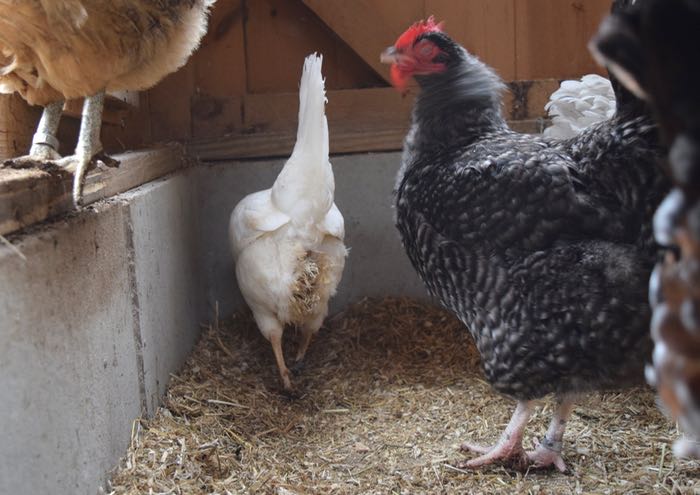 As long as that membrane forms, she's still able to expel the egg. That's good. At some point, though, the yolks and whites will not be able to pass easily through the reproductive tract. They'll solidify, get infected, or back up and fill the body cavity. This is not an unusual scenario.
So far, though, Twiggy is okay. I know because Twiggy is active and eating and drinking normally. She doesn't strain or look distressed while in the nesting box. She's fully integrated into the flock. No one bullies her. If she was weak, they would.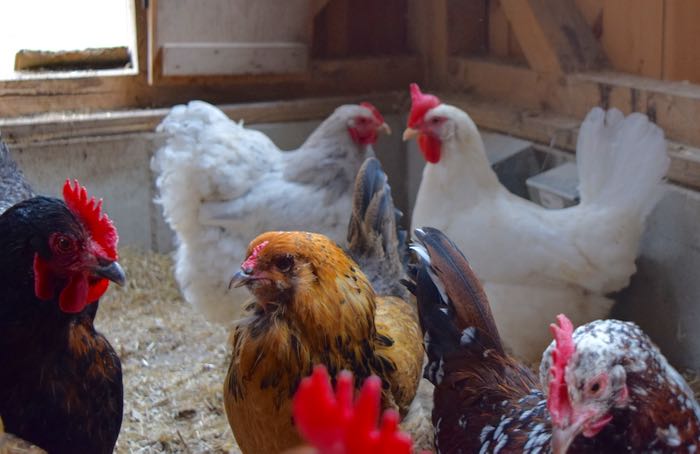 Twiggy's comb remains a vibrant red. I think she's rather pleased that she's making her own daily snack.
I don't know how long this stage will last. We'll just have to let her be and see.