Today is Tonk's birthday. He's ten. Although I think he looks awesome, he's not yet in his prime.
The horse's skeletal structure doesn't fully mature until they're five or six years old. Many horses are started under saddle around the age of three, and racehorses are galloping on tracks by the age of two. This is common, but not good for the horse's longterm health. Some young horses aren't ridden, but they're kept in close quarters and don't have the room to move and develop properly. Luckily for Tonk, he lived in a large field until he was four, then backed, and ridden lightly during those final two years of his growth phase. This is good, because I want him to last a long time.
We have a lot to do.
I bought Tonk to use mostly as a trail horse, but I have a deep background in dressage, and it turns out that he's rather good at it.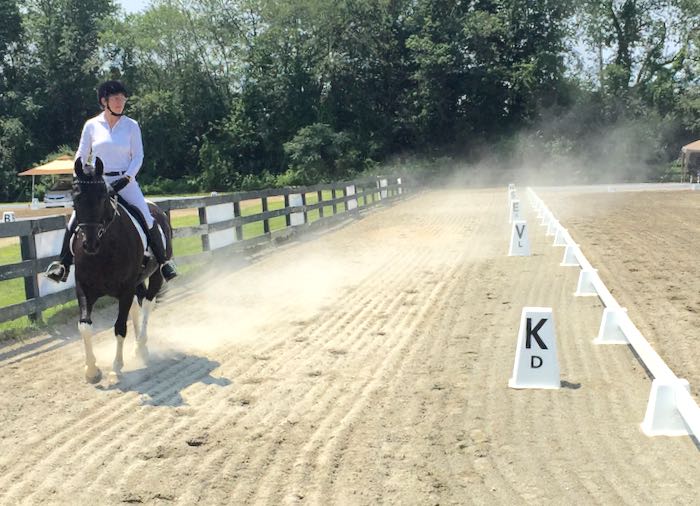 Dressage entails gymnastic building of muscles and ring work. It can be hard mentally and physically on the horse, and can also get stale, so I like to go out and do new things. This past year, Tonk and I tried a couple of versatility competitions. It was certainly different and a break from our usual work!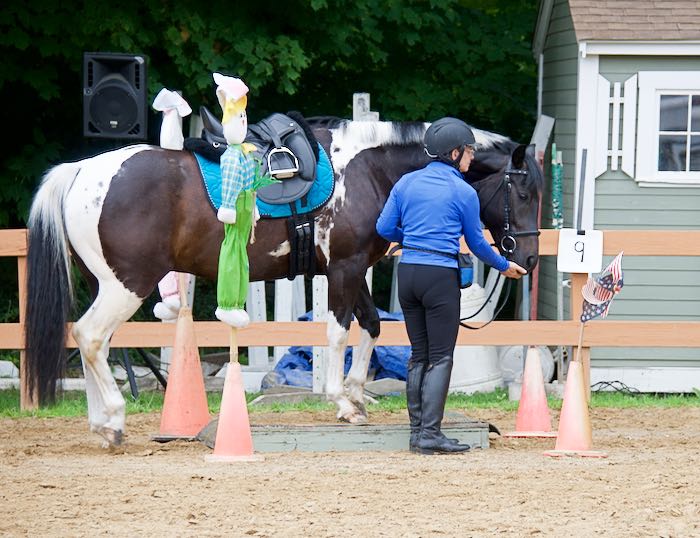 We also get out in all weather. It's good for both of us. (In this photo he's enjoying a peppermint candy while contemplating the vista.)
Horses are in their prime in their teen years. With the right combination of genetics, care and luck, horses can remain active into their twenties, By their mid- twenties, their backs sag, and they get arthritis and other old age issues. Despite that, I've known 30-year old horses that are still happy to go for walks on the trail. However, more often than not, I see horses in their late teens who are lame from hard use. With my horse, I'm taking the long view. This past summer, he had a vague lameness and I gave him a month off, even though I had to cancel a horse show (and not get a refund for the class fees.) We do hill work for correct muscle building, and I'm careful not to strain those hocks. He already has minor arthritic changes in the left joint and so I pay attention when he tells me that he's uncomfortable. To keep Tonk sound I also monitor his diet. A stabled horse needs to have his diet evaluated on an on-going basis. Hay and pasture varies. Activity level and weather changes. Currently, in addition to hay, grain and a protein supplement, Tonk gets vitamin E and a joint supplement.  I hope that Tonk and I will be together for twenty years. I'm doing what I can to keep him as sound and healthy as possible. In two decades, he'll be thirty and I'll be in my late 70s. I hope that by then we'll still be able to share this view, even if we're both going slowly.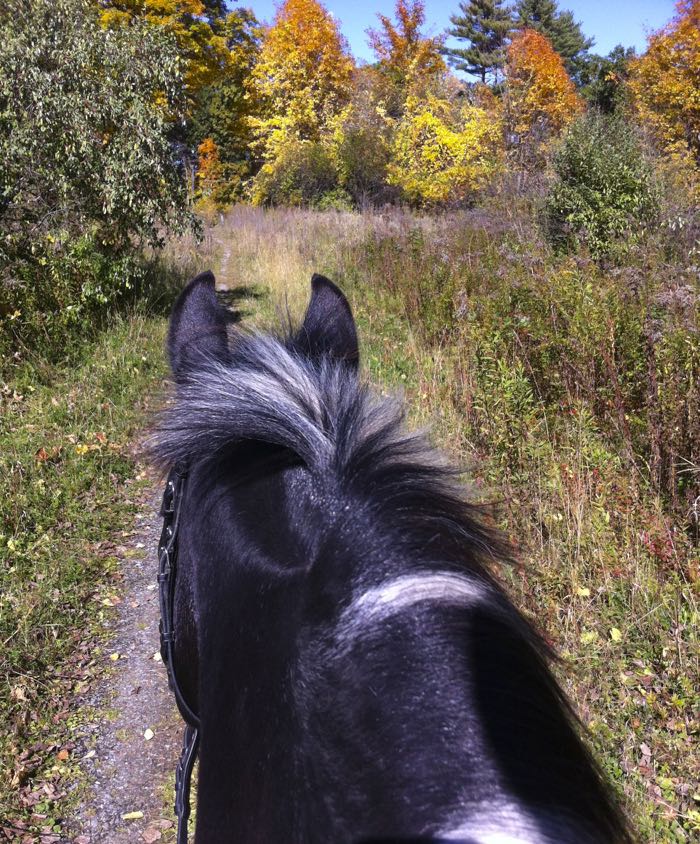 Happy Birthday, Tonka!
(PS I switch back and forth from calling him Tonka, to simply Tonk. I use both. He doesn't care one way or the other.)