Remember when I said that I'd like to have a Long Ears in my life? I still don't have one of my own, but I now get to visit with a burro several days a week.
At the beginning of January, Poh was adopted by the owners of River Front Farm, a stable where I have a couple of Lusitano gelding clients. Poh is of indeterminate age (ten?) and is shy of humans. At some point in his former history he learned that wherever a human wants him to go is probably not a good place, Poh has an amazing set of brakes on him. However, Poh has already decided that RFF is home, and that he's in charge of all of the horses. He's madly in love with one mare, so he gets to hang out with her, even when she's in a riding lesson.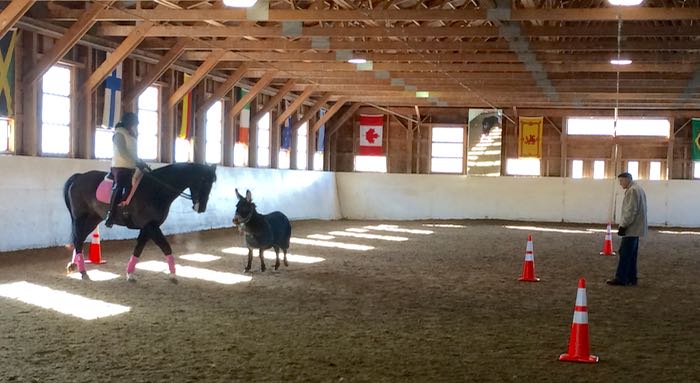 What's especially charming and sweet about this photograph is that the instructor, the great Karl Mikolka, (who is now in his eighties and as active, demanding, and humorous as ever) was the chief rider at the Spanish Riding School in Vienna. I doubt he had to conduct a lesson with a donkey in the ring there.