The weather has been unseasonably warm. The air is damp from rain. You might think I'm happy that winter hasn't hit yet, but I'm not. I worry about the animals. This is the time of year when respiratory disease decimates backyard flocks. To understand why, it helps to know a bit about bird anatomy. A chicken's lungs are different from ours. Avian lungs are small and fixed to the rib cage. Air is pushed in and out not with a diaphragm, but with air sacs that act like bellows. (As an aside, this is one reason why fat hens, and those with tumors and ascites, die – their lungs can't function when crowded and wet.) For an excellent explanation of a chicken's respiratory system, read this piece put out by eXtension. To see an animation of how birds breathe, watch this. The entire film is fascinating, but start at 6:19 to learn about the avian lungs.
So, why do I think that early winter is a danger zone for your flock's respiratory health? People tend to slack off on coop cleaning during the winter. It's not fun when the mornings are frosty, and besides, the stuff doesn't smell as bad in the cold. So manure gets left in the shavings, gets shred up by the hens' big feet, and becomes dust that hangs in the air. In the winter, even early on when the days get above freezing, coops are closed up more tightly than the summer. Windows are shut. Ventilation is reduced. There are fewer hours of daylight so the flock stays indoors more, defecating, and breathing in air that's filled with dust and damp particles. That's enough to weaken a hen's respiratory system. Add a few wayward germs and you have a recipe for a full-out disease outbreak in your flock.
I counter this by being hyper-conscientious about manure management. Each morning, when I let the Girls out, I take my
Amazon Auto Links: http_request_failed: cURL error 6: Could not resolve host: webservices.amazon.com
and remove the piles from under the roosts. On a day like today, when there's little wind, I open the barn. The big doors are left open all day.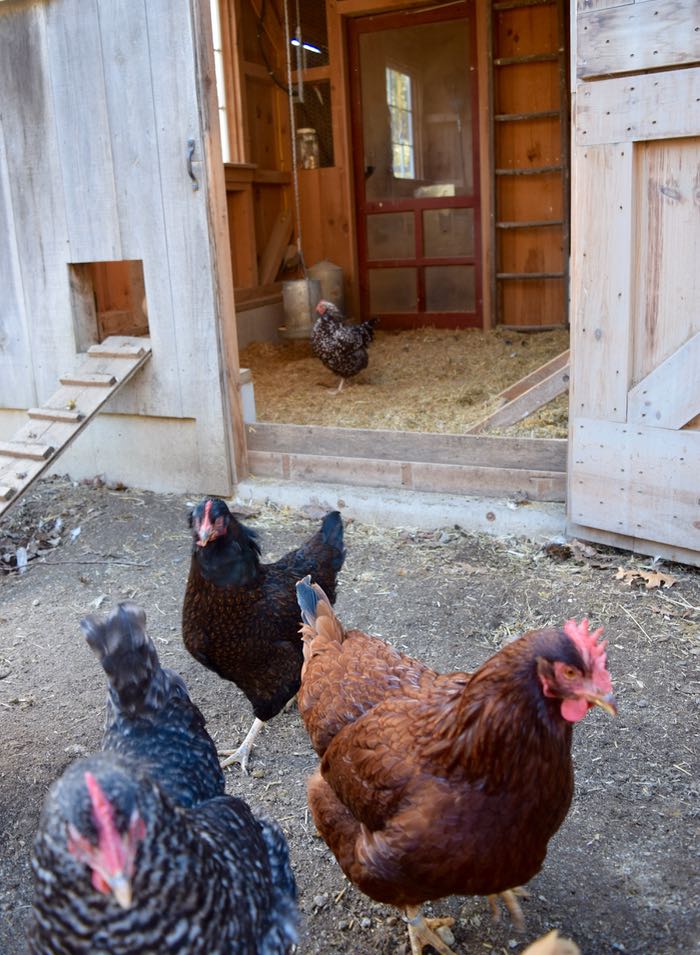 Fresh air is the first line of defense against respiratory diseases. In the winter, it's more important than ever.