Across America, people are getting ready for Thanksgiving. In my house we don't do the big family meal, with turkey and the fixings. Instead, on the weekend following Thanksgiving we have the Pie Party. It's an event that I invented, and for my family and friends it has become a much looked forward to tradition. (If you type Pie Party into the HenBlog search bar, you can read about all of the parties from past years.)
The party is all pies. That's it. A lot of pie. This year I'll have more than 30 guests, and each one eats half a pie (yes, really, I keep records!) I bake all of the pies myself, from scratch. I use my organizational skills honed when I worked in professional kitchens. I have exact prep lists and have planned out the work flow. Yesterday I made 15 crusts, plus decorative cut-outs.
Baking is a combination of exact measurements and technique born from experience. I weigh out the flour.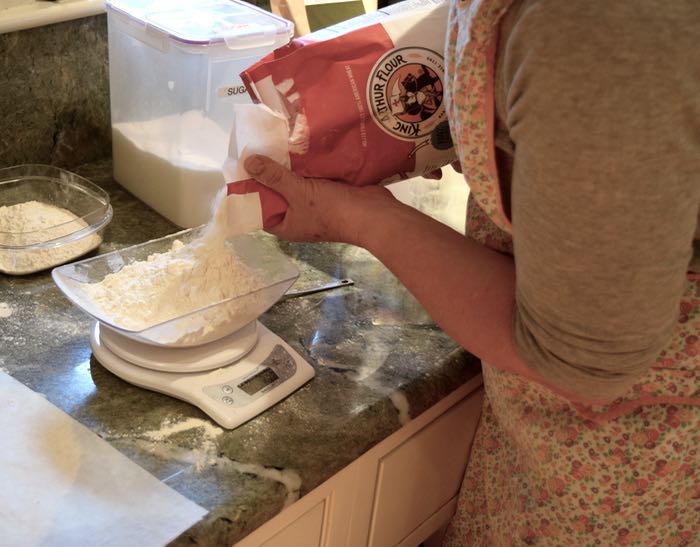 But the rolling out is all about feel.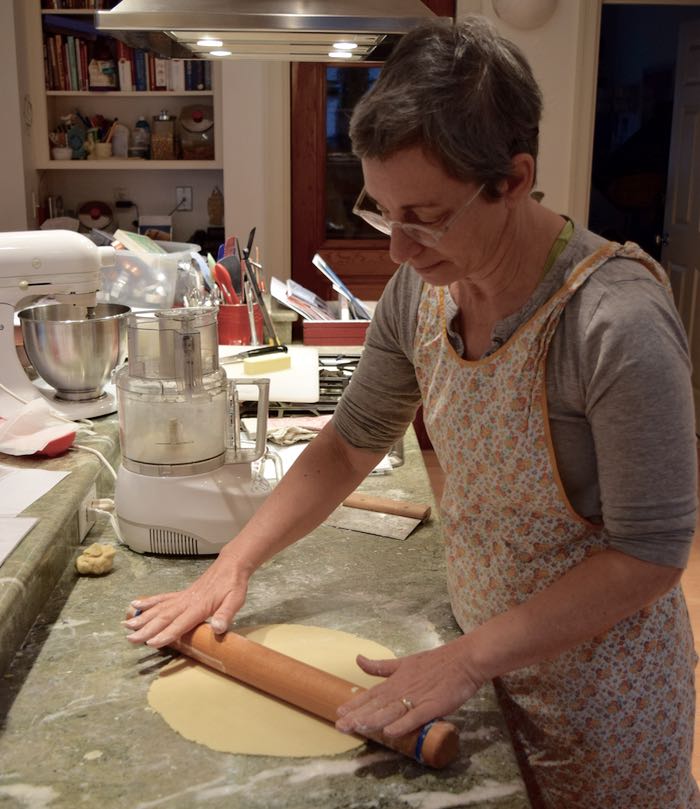 By the way, that's my beloved J.K. Adams PRP-2 19-Inch-by-2-Inch Maple Wood Rolling Dowel. It has a nonstick patina of butter in its pores.
I froze all but two of the crusts. Those were turned into pies, which were then also frozen. My pie crust recipe, and directions for freezing, are in this post. Some pies can be baked ahead. Some can be baked the day before. Some have to be made on the morning of the party. Some touches, like meringue, are done right before the guests arrive.
Today I go grocery shopping. I need cream and lemons. I'll also head to a farmstand for some heirloom baking apples. (See my apple pie recipe.)
Here's this year's menu:
Lemon Pie, Toll House Pie (one with peanut butter chips, one with just chocolate), Apple Pie with Crumb Topping, Classic Double-crust Apple Pie, Pear and Cranberry Pie, Chocolate Pie with a Graham Crust and Meringue Piping, Chocolate Chunk Bourbon Pecan Pie, Apricot Cream Cheese Tart, Peach Pie (made with homegrown peaches), and two savory tarts: Onion and Prosciutto, and Corn and Tomato.
I'll make doubles of most of these. And, no doubt, as I always do, I'll worry that I don't have enough (!) and make something at the last minute. As you can imagine, this week, blogging will take a backseat to the cooking.
What's on your menu?