Twiggy is a classic White Leghorn. She's energetic and restless, and she lays eggs day in and day out. Her huge floppy comb is like a bulls eye for the other hens – when she gets too close, they peck at it, but she's been too fast and wary to get caught.
That changed recently. I noticed that she was keeping apart from the flock.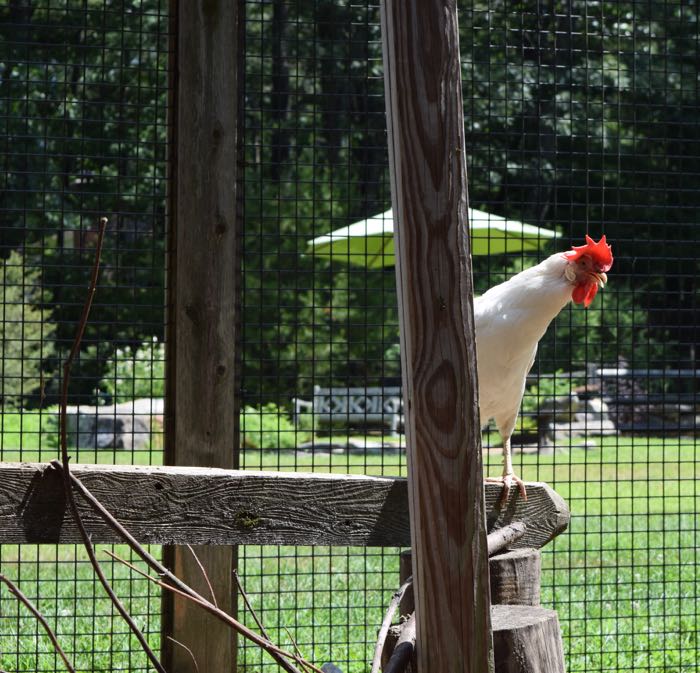 There's always chasing and resource guarding in a group of hens. That's the pecking order. What shouldn't happen is aggressive behavior that causes injury. Twiggy has fit in fine for three years. Last week that all changed. Both Black Star hens, Beulah and Nancy Drew, went after her. I'd seen the skittering around and thought it would settle down. It didn't. A couple of days into this heightened banning of Twiggy from their space, they went after her. The Black Stars pinned Twiggy to the ground and pecked at her comb. They meant to kill. Luckily for Twiggy, I was outside, saw this happen, and intervened.
Behavior never "happens out of the blue." There's always an antecedent and a trigger, however in this case I had no idea of what it was. Twiggy looked the same to me, but chickens see tiny details that I can't. I isolated Twiggy in this rabbit hutch, in the Big Barn, both to keep her safe and to observe her.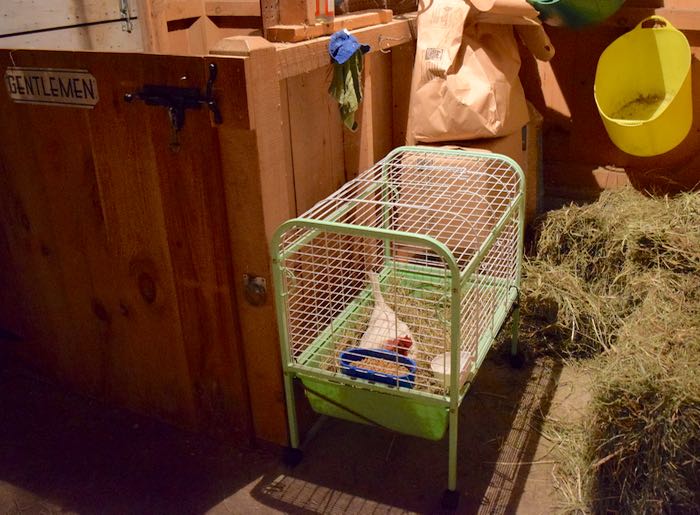 Her manure alternated between runny and normal, which might have been due to stress and heat, or could indicate and underlying issue. She did lay an egg, which let me know that some of her systems were still working properly. However, she hasn't laid an egg in several days since then. I'm hopeful that Twiggy is finally going into a molt and will take a break from laying. Maybe that's what the Ladies noticed different about her.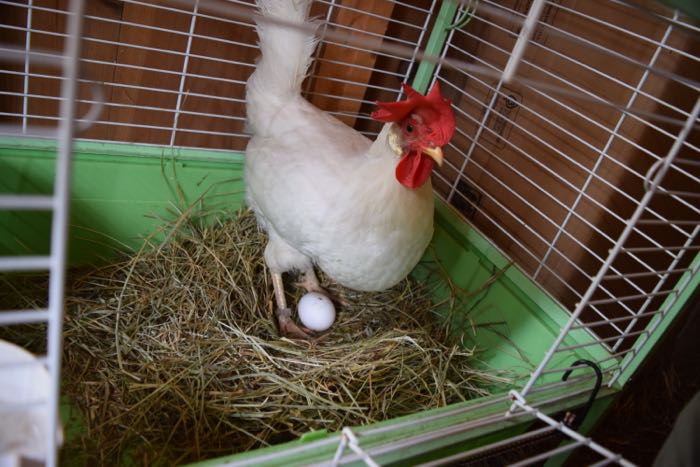 For two days, Twiggy slept in the hutch and spent the days in the goat paddock. I monitored her input and outputs. All looked normal enough. Whatever the Black Stars Death Stars noticed about Twiggy, I couldn't see it. Perhaps the Gems In the Big Barn wouldn't either.
I let the Gems out on the lawn, and put Twiggy into their enclosure to explore and learn where the food, water and roosts are. This is the procedure that I use whenever I introduce a new hen to a flock (see my FAQ.)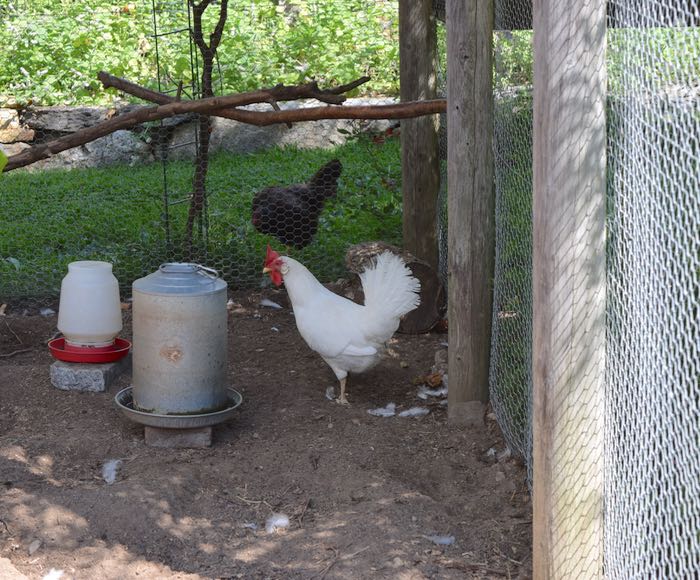 Then out Twiggy went to free-range with the Gems. Most of the hens ignored Twiggy. Amber stayed companionably nearby. This was good!
As I had expected, the only hen to object to Twiggy's presence was Misty, who was sent to live with the Gems last year when she proved too aggressive to live peacefully with the Ladies (the flock in the Little Barn.)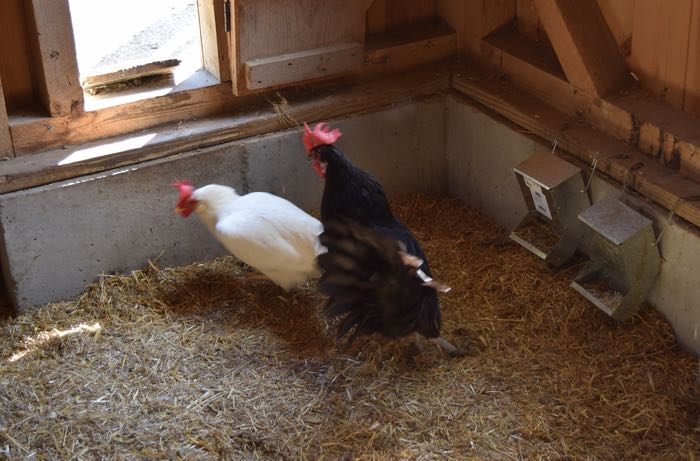 But, Misty chased, she didn't jump on Twiggy's back and pummel her like the Black Stars had. I thought that it would settle out, and it has. There are two areas of outside roosts, and Twiggy has used both of them. Soon enough, the other hens were up there with her.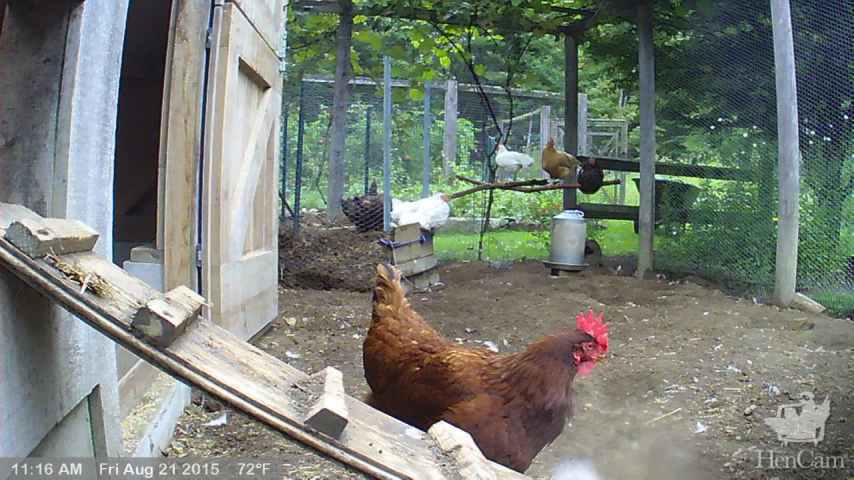 Also, the compost bin is circular, so when a hen chases after another they go around and around but can't catch each other. Twiggy did some laps around that bin, but within a day, she was also inside of it, scratching the ground with her new flock.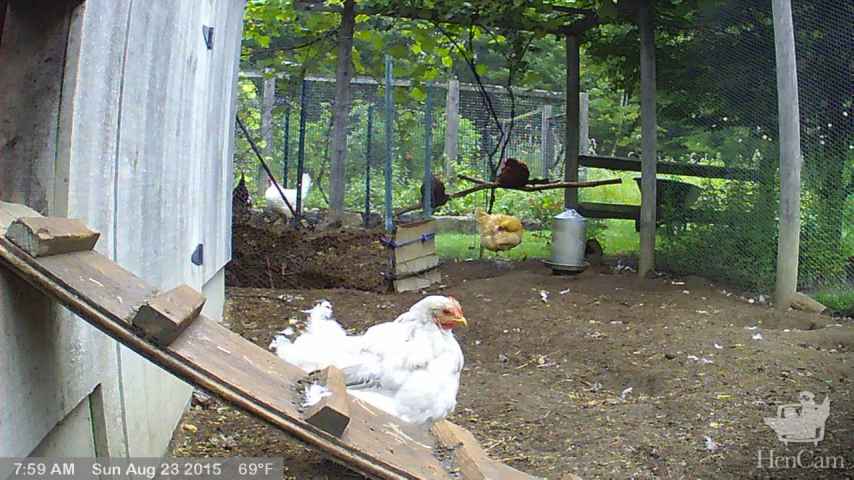 Not everything is perfect. That big red comb of Twiggy's is like a red flag to a bull, and it's easy to grab with an outstretched beak. It was bloody this morning. Someone, likely Misty, had gotten a chunk of it. But by the time I saw it, Twiggy was acting normally and the hens were spread out. No one seemed perturbed. It's better for Twiggy to be out with a flock than confined, alone. Twiggy has joined the Gems.