In a flock of hens there's always drama. Like the reality show Survivor, chickens see themselves as being castaways with limited resources. They form alliances. They guard what's theirs and they plot for more. There's friendship and competition, foraging, and naps in the sun. Balance is achieved, but easily rocked. Recently the balance here was shaken. I brought Beulah back from the nursing home. I uncovered feather picking amongst the tribes. And, like the host on the show, I shuffled the groups.
Misty is a Blue Andalusian, which is a flighty, nervous, high-energy breed. Andalusians have large, floppy combs which are like bulls eye targets for the others to peck at, but these birds are fast and agile, and so can step out of the way of aggressors. In fact, in a mixed flock, the Andalusian is, if not on the top of the pecking order, able to dart here and there and get what they need.
Misty is both a confirmed feather picker, and she was the top hen in the Ladies tribe. If it was up to Misty, Beulah would have stayed out in the cold and never have been allowed to step foot in the coop. Misty, what with her feather picking and bullying, had become a problem in with the Ladies, so I moved her in with the Gems. The Gems already knew her from free-ranging on the lawn together. There have, in the past, been chest-thumping challenges, but the two flocks tend to keep to themselves when out on the lawn, so the skirmishes never amounted to much.
The Gem's run isn't covered by hawk netting, and Misty can fly, so I clipped her wings. According to the books, just the large flight feathers on one side have to be cut off. This would both put her off-balance and prevent lift-off.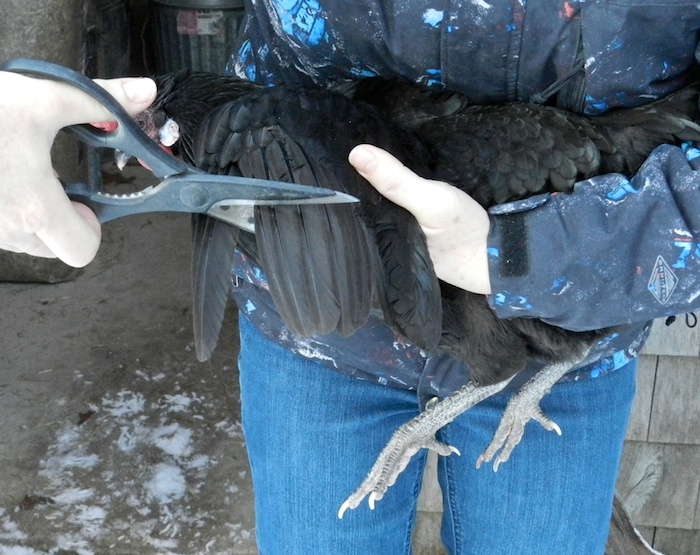 I put Misty on the roost so that she could get a lay of the land, and the Gems could see her.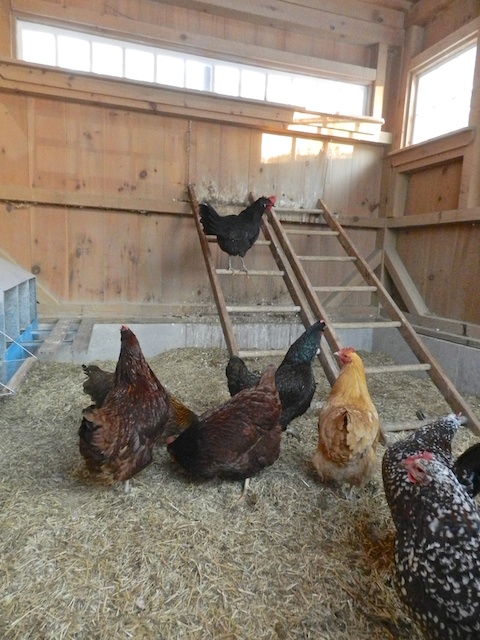 Soon enough, Misty hopped down and the Gems told her to Go Away. In another flock, and a smaller and more poorly designed coop, this could have turned into a blood bath. Hens will pin down an interloper and peck at her head until death. But, I know the Gems, I know that there's plenty of space and resources. I knew it'd be okay. I added some fresh bedding for them to scratch in and be distracted by, both inside and out. Misty was chased. She ran outside. She looked back inside. She was told to leave. She did.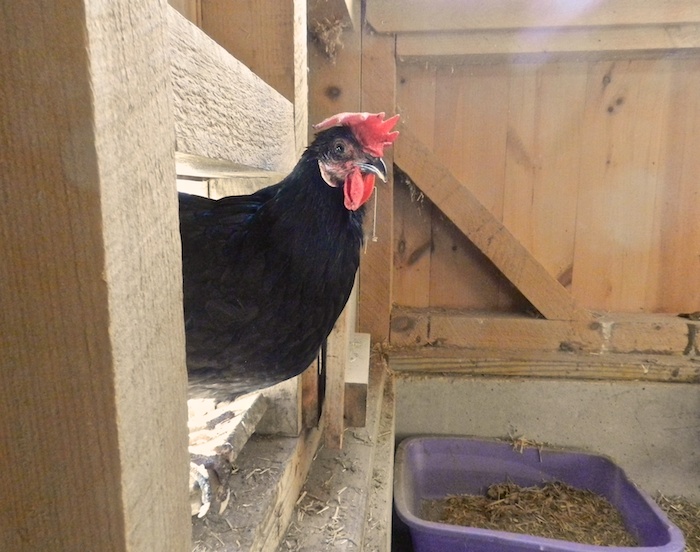 The Gems ignored her, unless she came too close. Then they scared her off. She stared longingly at her old coop. Even Lily knew that this one didn't belong in with the Gems.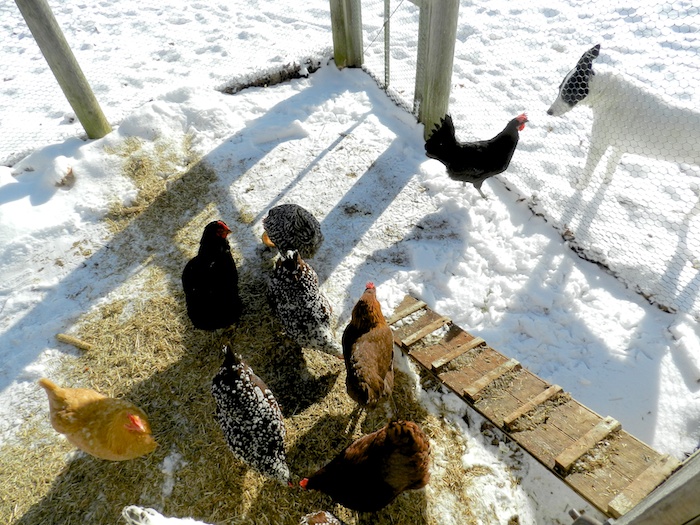 Things looked peaceful enough so I went back into the house. I soon got an email from an observant HenCammer. Misty was on the lawn. She's a hen that doesn't particularly like human attention, but when she saw me on the back steps, Misty came running. Take me home! she said. I didn't. I don't know how she managed to fly with one clipped wing, but I clipped the other and put her back in with the Gems.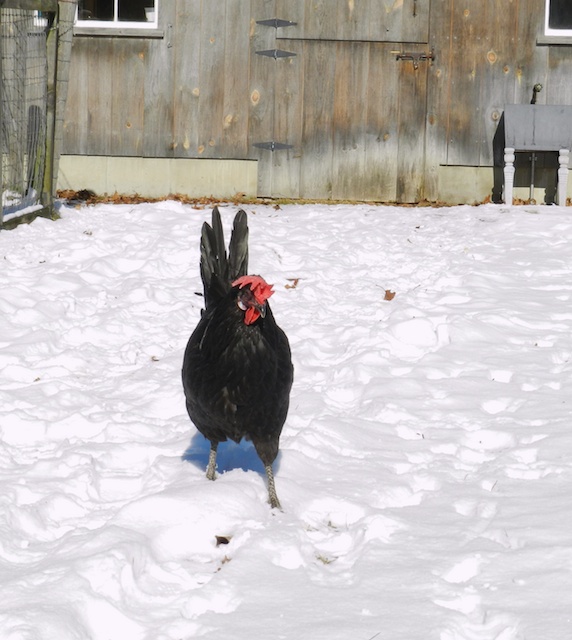 An hour later she was back on the lawn. I have no idea how she got up and over a six-foot fence. I clipped the wings even shorter.  Misty finally stayed put.
I watched the dynamics in the coop and was chagrined to see that, even in a new flock, and with lowered status, Misty still snaked her head out to pick a feather off of another hen. This was gentle and not at all aggressive. I've been reading that this type of feather picking is related to preening and bonding, but I still don't like to see it!
The next day, the Gems had really put Misty in her place. She was either under the nesting boxes or in a corner of the yard. That's good. She would no longer be a bully.
By today, you couldn't even tell that she was a) a new hen in a flock and b) a reformed bully. This is what I like to see – hens going about their day evenly spaced out: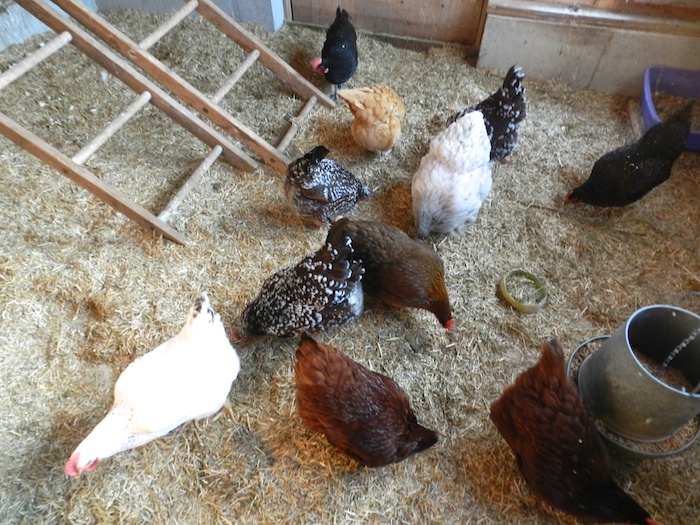 Once in awhile, a hen pecks at Misty to tell her to keep her distance. I like seeing that, too.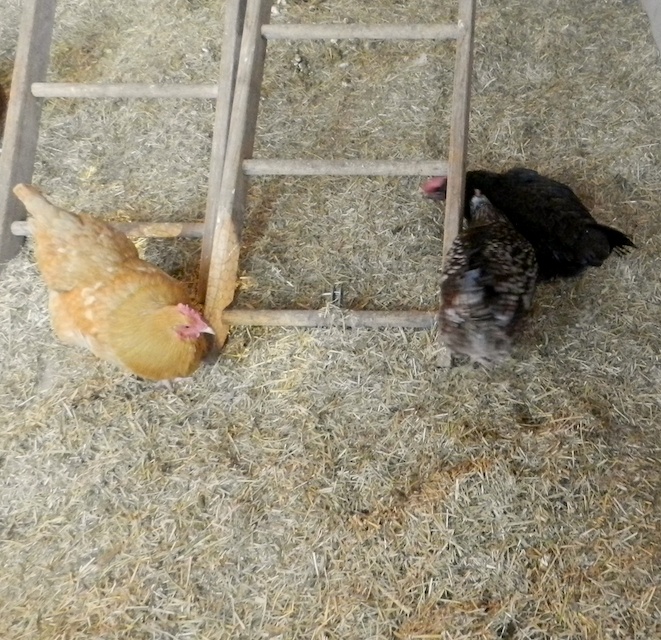 I know it's all okay because look at Misty's comb. Amazingly, after all of this drama, it's not bloodied.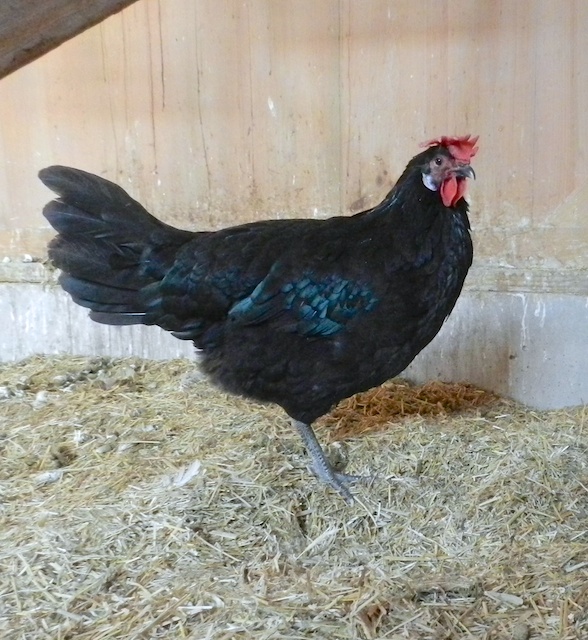 On top of that, I know that Misty has settled in because yesterday she laid an egg, like a good hen, right in the nesting box.