I thought you'd like to know what's going on here – so this post will be on a number of topics, which relate to each other only in that I'm trying to stay on top of all of them!
We are waiting on rain. Unlike California, we know it's coming, and unlike in Texas, it won't be a flood. But we need it. The goat pasture is bare, and so I'm keeping the goats in their paddock, and taking them out to graze.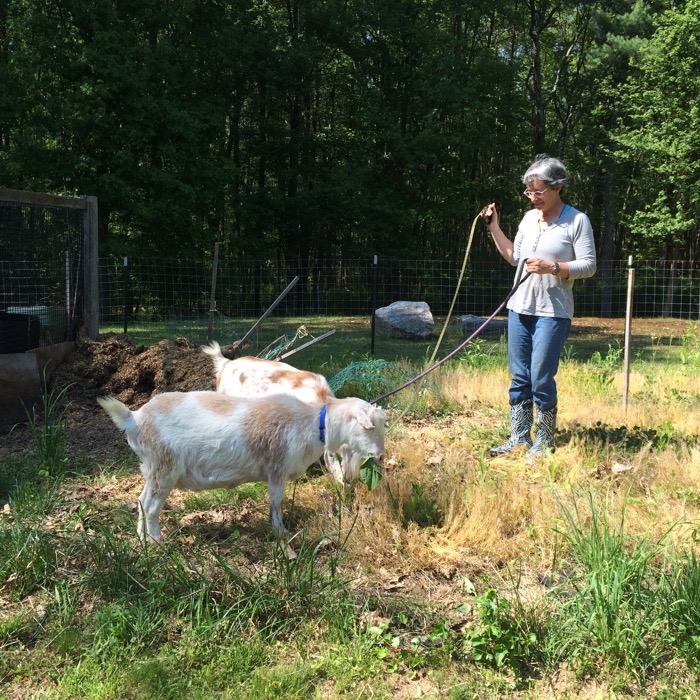 This is the area that has been my pumpkin patch for years. I'm letting it rest this season. The goat boys' job is to eat the weeds. They don't often stay on task.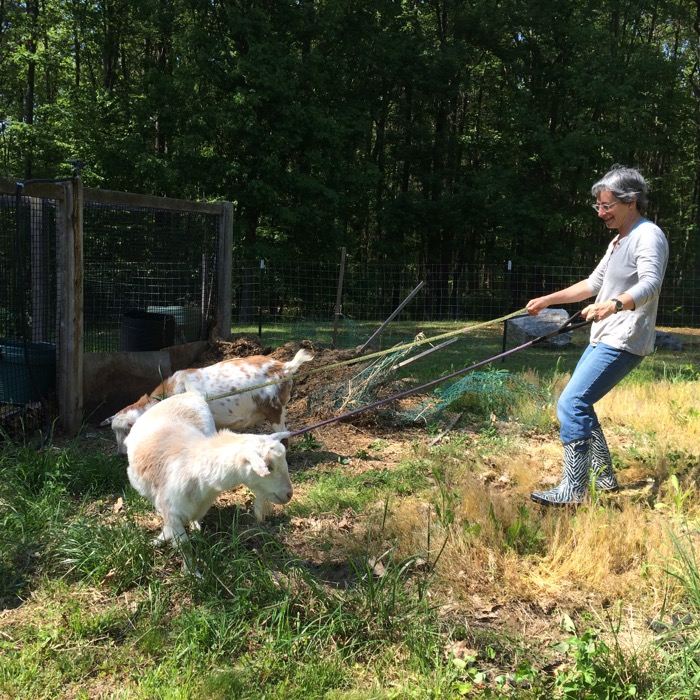 The hens have been helping to control the infestation of winter moth caterpillars that are denuding trees of leaves, and then dropping down on silk threads to find more plants to weaken. Some nasty bugs, like tent caterpillars, are off even the hens' menu, but these little green things they love. Go to work, Girls!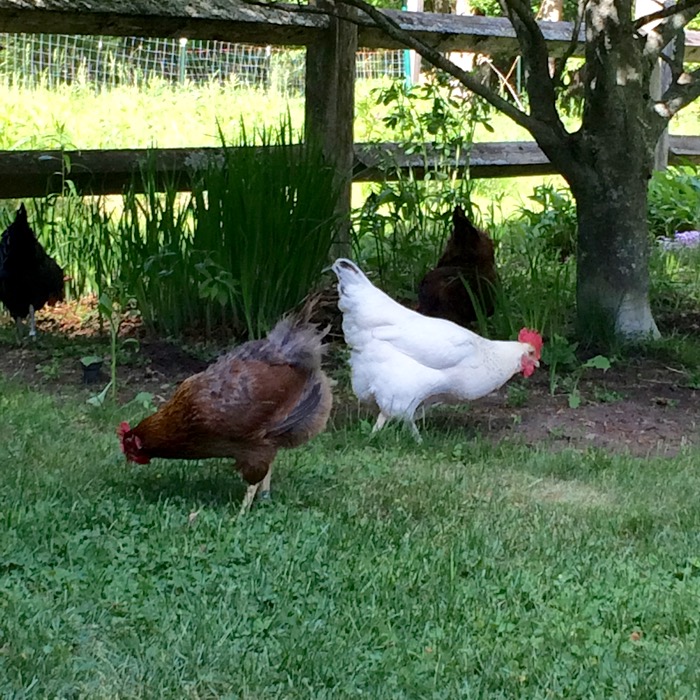 Lily is supposed to be on bed rest. That torn cruciate ligament has her hobbling around on 3 legs. It must be painful. She's only allowed out on her leash. But, Lily still managed, while crossing the lawn, to snatch up a garter snake. She sees the veterinarian on Thursday. I'll let you know the prognosis. (For those wondering – I'm still waiting on the DNA test results.)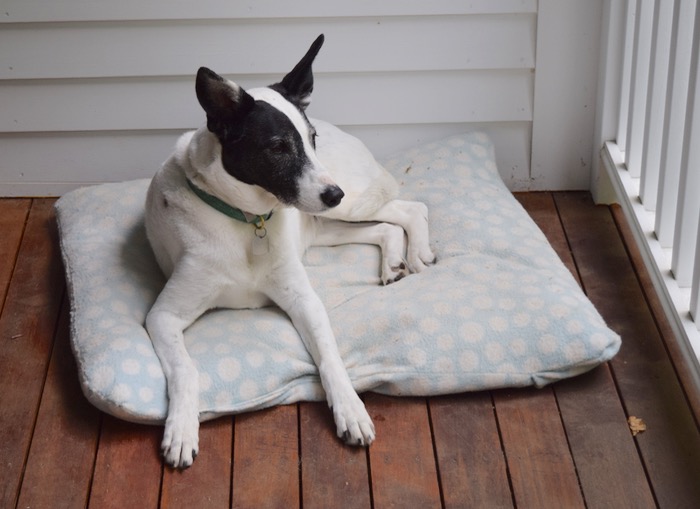 I've been busy doing school and library visits, with a hen, of course. I've also been called on for advice on chicken health matters. One client had a hen pass away, and she wanted to know why. I did a necropsy. The hen was producing yolks, but no shells. The yolks, unable to move easily through the reproductive tract, had become infected. The client was relieved to know that what her hen died from was not due to the care she gives her flock.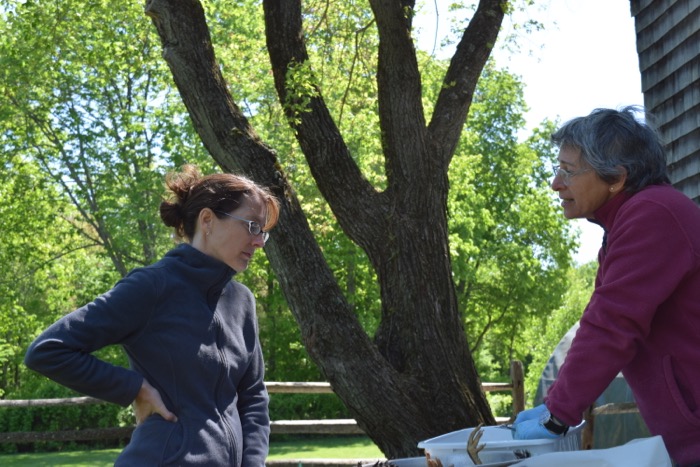 I've started to take on horse training clients. I recently spent several hours observing this lovely horse.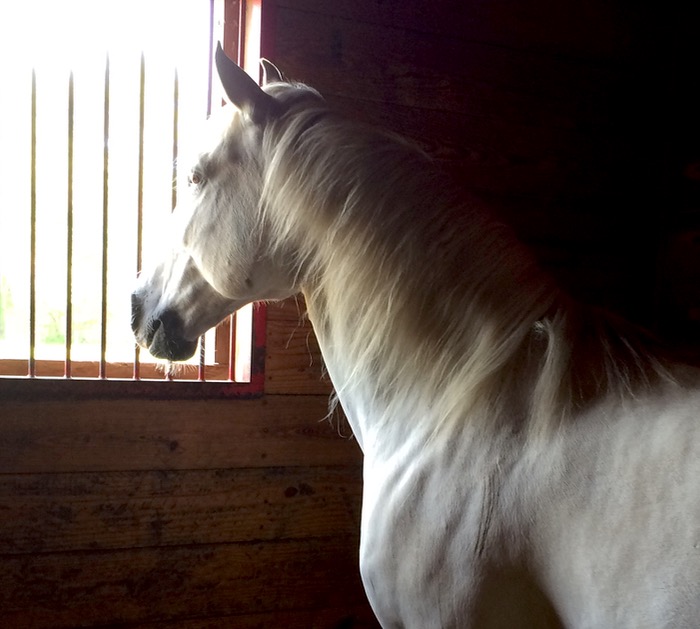 He's just moved to a new barn, and is about to embark on a change to positive reinforcement training. I took copious notes on his body language as he went through this new routine. Horses often communicate what they're feeling in subtle ways, such as a flick of an ear, a flared nostril, a cocked hoof. I paid attention to all of that, and now his owner has a baseline for us to work from. I'll continue to monitor his progress, take videos of training sessions, and provide this friendly horse with attention when his owner travels on business.
In the meanwhile, I spend several hours daily with Tonka. Two weeks ago, we entered our first dressage show.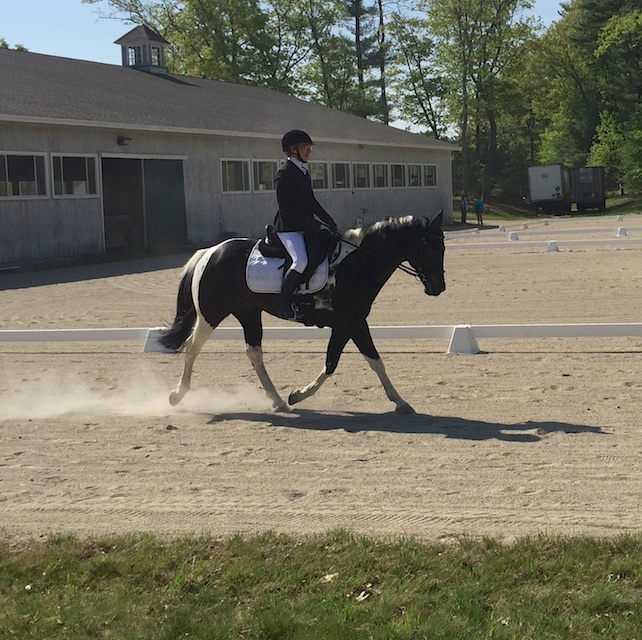 We're doing something right – we had the second-highest score of the day. We'll be showing again on Sunday. This time, the test will include the canter. We still have a lot of work to do! Lucky for me, all of this work is exactly what I want to do.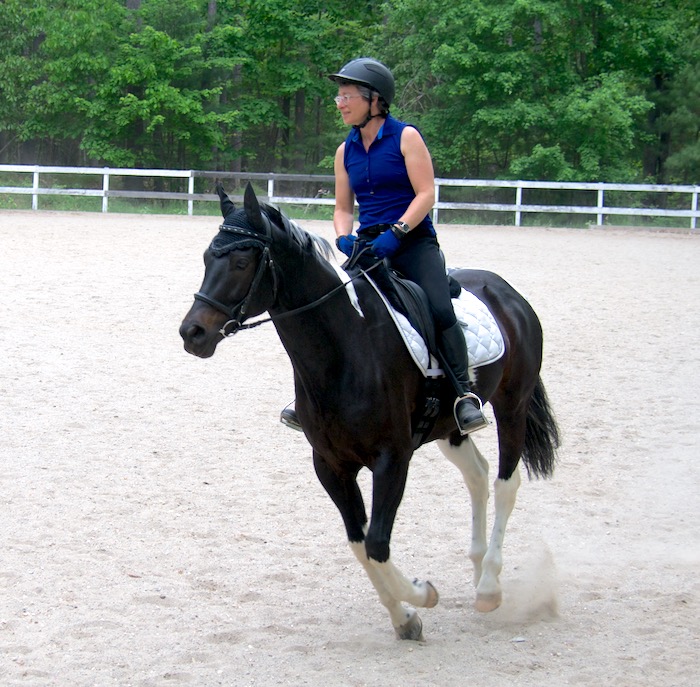 There are a few other things going on that have been slowing my blog writing – ITGuy has been updating and upgrading. I've got a new photo program to figure out (AGGHHH!) School for my sons is almost out. One is moving (too far) away. And I haven't even mentioned the vegetable garden…