Despite being only thirty miles from Boston, my town of Carlisle is small – only 5,000 human residents. One reason for the low housing density is that much of the area is not suitable for building. It's too wet. Bordering Carlisle is a river that floods into woodlands. It's a national wildlife refuge and an important flyway. Throughout Carlisle there are intermittent streams and vernal pools, essential habitat for amphibians, including several rare species. Although humans are restricted in building here, there are some who can construct their homes wherever they like – beavers are master builders, and ducks and herons have a way with sticks.
All this winter the wetlands have been frozen over and blanketed in snow. (In the springtime there are shallow ponds on both sides of this road.)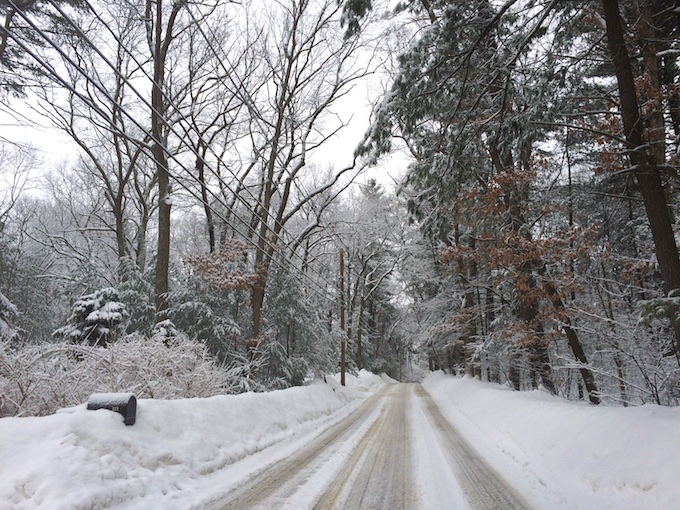 The wetlands remain frozen over, but the last few days saw a dramatic upswing in temperature. It's above freezing! The spring thaw and mud season have begun. Driving down the aptly named Brook Street, right at the low spot that crosses wetlands, I kept my truck to the center of the road, away from the water-filled shoulders. It's a good thing that I was driving carefully, because there was a creature up ahead.
I stopped and got out to see what it was. (Which explains the not so great photos taken with my phone's camera.)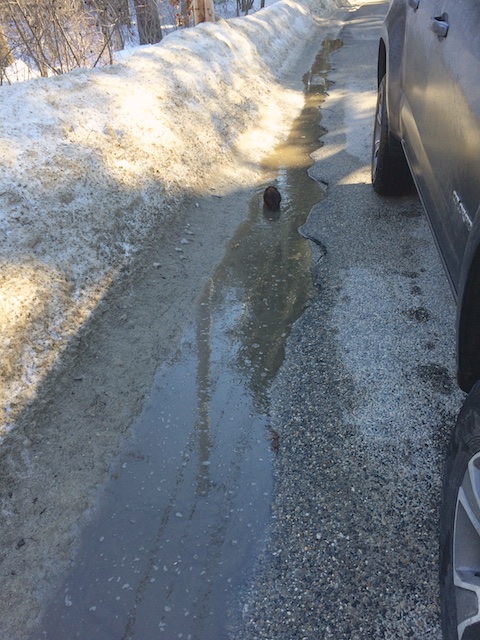 A muskrat! On a springtime mission from someplace to somewhere.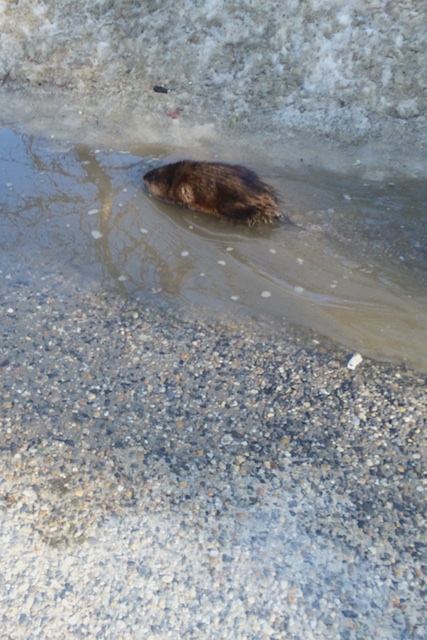 The water was running fast down hill. She was going against the current. Did she think that she was heading upstream in order to find the calm water of a pond? On one side of her was the road, on the other a snow bank impossible to climb up and over. Her instinct told her to move up the stream until she found safety.
I could see her webbed feet and the whiskers on her nose. I didn't want to get too close as she was already worried. (For better photos and more about this animal, go to this website.)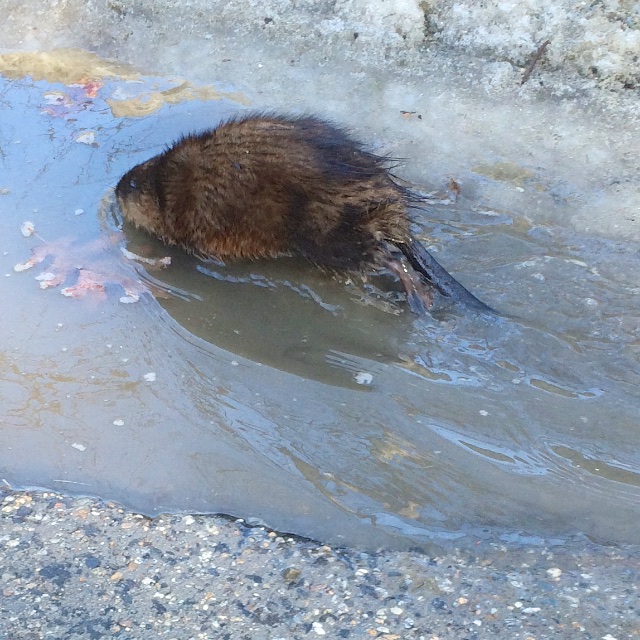 Two cars stopped behind mine. This is the sort of traffic jam that we have in Carlisle. Then we all slowly drove past the muskrat. About a hundred feet further up the road was a break in the snowbank and a way for her to get back into the real wetlands. I'm sure that she got home.