I have sixteen hens, but only one has been producing eggs this winter. I'm not surprised or disappointed by the lack of eggs. It's expected. Nine hens are in their third year. Late last summer they all molted and are taking a much needed rejuvenating break. Most of them will resume laying by the end of February. Six hens hatched in March of 2013. They too have molted and are restoring their internal supplies of minerals before laying again later this winter. However, one chicken has not ceased laying. Twiggy, the white Leghorn, is the poster girl for a productive hen. Despite the winter weather, the darker days, and her age (almost two), she is laying about four eggs a week. That's down from her daily egg in the summer, but still! This is why farmers love Leghorns. Those extra eggs can make the difference in the financial survival of a small farm.
I keep the less productive birds simply because I like having them around, which makes yesterday's bonanza that much more thrilling. Three eggs! One from Twiggy, one from Beatrix, and an egg from one of the Black Stars. When the landscape is white and frozen, those winter eggs are especially welcome and not taken for granted.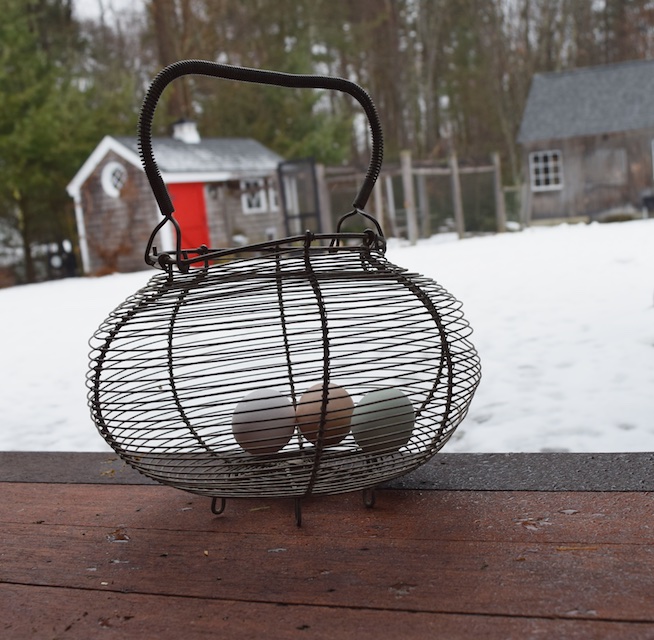 So pretty!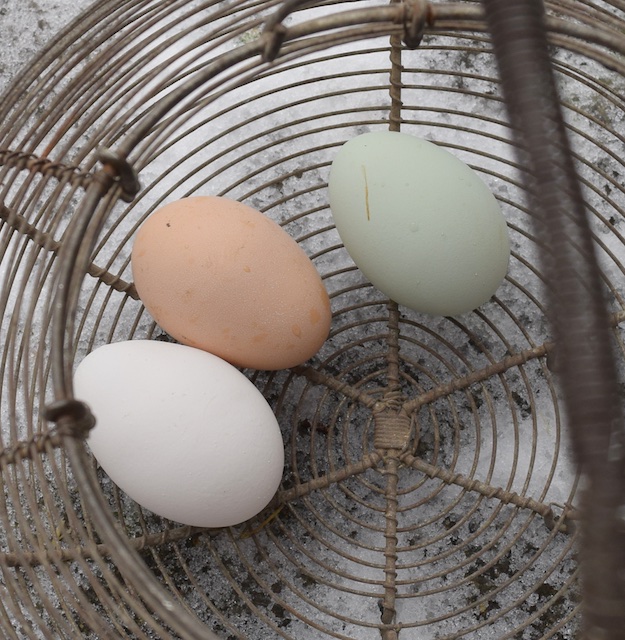 The key to this winter bounty? Windows. It's cloudy and dreary. The wind has been bitter cold. The chickens spend much of their time indoors. But I designed the barns to let light in. As soon as the sun rises, the hens wake up and become busy. They eat. They scratch. They preen. All of that activity during every minute of daylight shortens the winter laying hiatus, and so I have eggs in the basket even when sunset comes early and there's snow on the ground.

Think about it – sunshine streaming into your house makes you happy, doesn't it? Your hens feel the same way.