It takes about 26 hours for the hen to form one egg. In a perfectly operating reproductive tract, a yolk is released from the ovary (this, by the way, is the full-sized yolk that you see when you crack the egg). It proceeds down the tube, where the whites, the membrane and the shell are laid on, successively, and in that order. At the end of the process, if the egg is to be brown, dye is spritzed onto the shell. The egg is then coated with bloom (sort of like a protective shellac) and then the egg is ready to be laid. This is a complicated process. Much can go wrong. Amazingly, though, it usually goes smoothly. Depending on your hen, she will lay an egg every day or so. What she can't do is lay two eggs a day, because only one at a time proceeds down that conveyor belt of the reproductive tract.
That is, she can't lay two eggs a day unless she is Twiggy.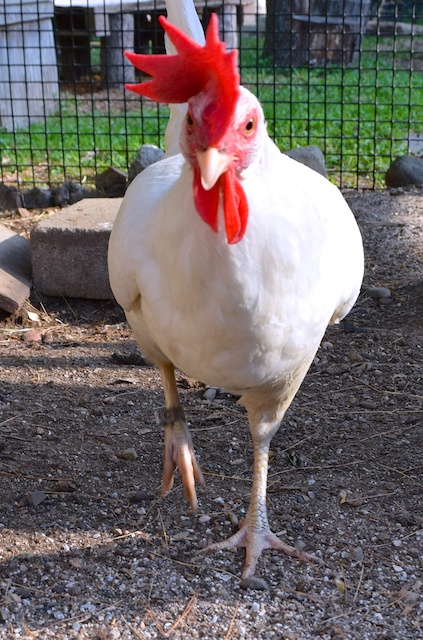 Twiggy is my over-achiever. The other hens lay an egg a day for maybe two or three days, and then take a break. Twiggy lays daily, sometimes six days a week. She recently outdid herself and laid both of these eggs on the same day!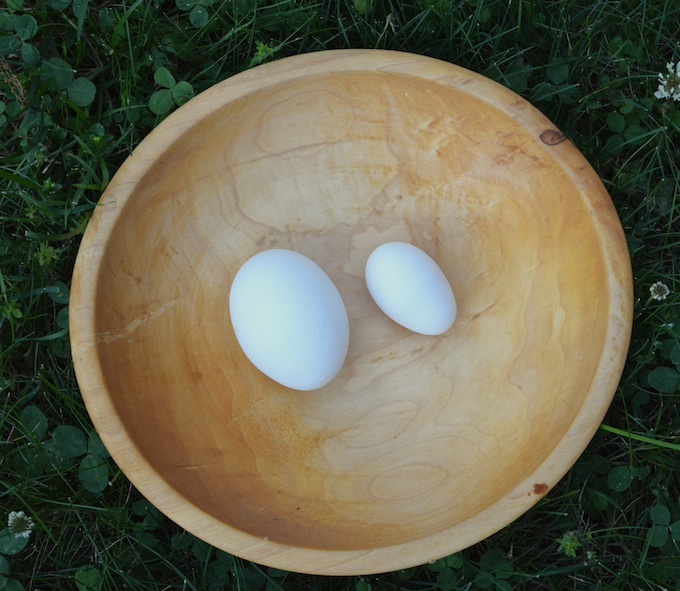 Granted, one is small. However, unlike wind eggs•, this one has all of the requisite components – yolk and white – and is perfect, albeit petite.
I've told Twiggy that she has my permission to slow down and take a summer vacation. She says that she'd rather not.
*Wind eggs are tiny eggs that don't have yolks. They are usually laid by pullets whose reproductive tracts haven't quite gotten into sync yet.