Although I'm always asked about how to care for chickens in cold weather (don't they need heat? and what about snow?) after twenty years of backyard chicken keeping, I can tell you that your flock will weather cold weather just fine. (It's all about good coop design and management. See here.) I wish, instead, that people would ask, How will my hens do in the heat?. The answer to that is that chickens get heat stressed. When it's too hot, and they don't have cool water, they can die between the time you leave for work and the time that you get home. I've written a FAQ about hot weather care for your flock. Read it now, so that you are prepared.
Although nights here have remained cool, and we haven't had any extreme high temperatures yet, that heat wave could come at any time. We're prepared. Steve has put up the shade cloth. We take it down in the winter so that the hens get as much sun as possible, but it goes up in the spring. The fabric is designed to block sunlight, but let water and air circulation through. You can purchase these at home stores, or find a supplier on-line to make a custom size for you. They last for years, and it is a very good investment for your coop.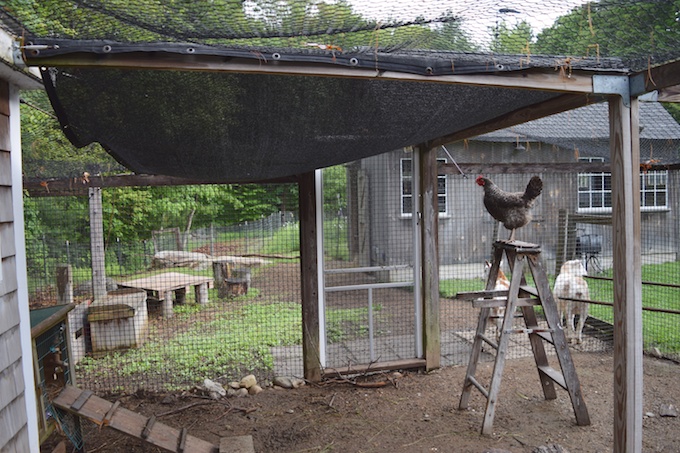 As soon as all danger of freezing is past, provide outside waterers. Chickens would rather drink water outside in the pen than go into the coop for a drink. To keep them hydrated I keep both the inside and outside dispensers filled. The Ladies empty that plastic waterer in just two days. (The red ceramic feeder contains grit which they eat when they need it. Free-choice grit is essential for your hen's ability to digest food.)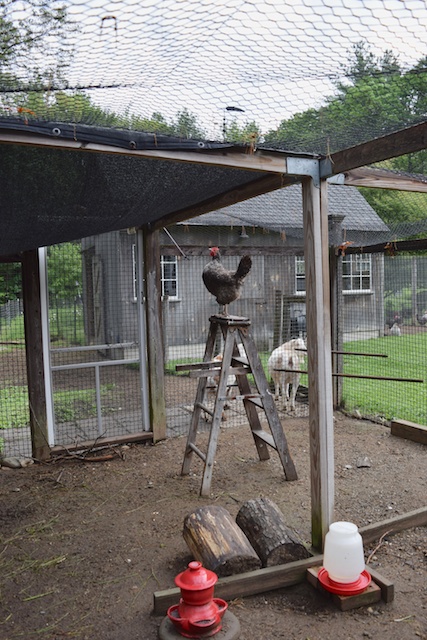 Veronica says that all of this is quite interesting. She's ready to sunbathe.