I post a mix of storytelling, daily observations, and chicken care advice here at HenCam. I haven't written any serious animal health blogs recently, not because I'm not doing them anymore, but rather because I've been delving deeply into some issues. (As an aside, I want to thank everyone who contributes to what I do here at HenCam. When you purchase one of my books, or "buy me a cup of coffee" you enable me to take the time to think, research and write. I'm very grateful to you!)
Today's post is important.
All animals have internal and external parasites. They look nasty and gross us out, but it's a fact of life. Good animal husbandry accepts that they'll be there, understands the life cycle of these pests, and manages housing and environment to minimize the load. We keep an eye on things. We make adjustments for weather, and the health and age of our animals. When parasites negatively affect our animals (lack of thrift, decrease in production, discomfort), we do something. In twenty years of chicken keeping, I've done a lot, but I've never administered drugs.
Guessing what is wrong with one's flock is rampant, and on-line forums fuel the worry. As soon as someone sees runny manure, someone else yells, worms! Before jumping to conclusions and administering chemicals (some of which are legal for broilers but not laying hens), first make sure that these parasites are actually living in your birds. Take a fecal sample to your vet. Only once, in all of my years of chicken keeping, has the fecal sample tested positive, and that was for a low load of tapeworms. I adjusted my manure management, and my hens haven't tested positive again.
I've done eighteen necropsies and I've only seen worms once, in elderly Eleanor. I found round worms in her intestine. There were only two. They had nothing to do with why she died.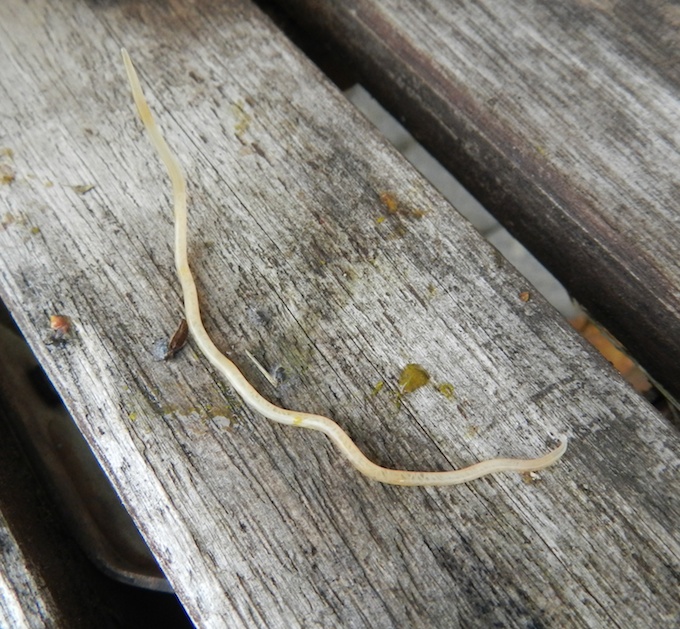 Chickens that are healthy and are in a clean and dry environment, and eat a varied diet, rarely have parasite problems. Gail Damerow, in her book Raising Chickens, states that "under proper management, including good sanitation, chickens gradually develop resistance to parasitic worms." She doesn't cite a reference for that claim, but I do agree with her. It's important to know that most parasites reproduce outside of the chicken – often in other bugs, and always in damp and dark surroundings. So, sunshine, manure management, cleanliness, and control of animals like beetles and cockroaches, can take care of almost all internal pest issues.
Still, there are times when there truly is a parasite infestation. Treatment is difficult. I know of no chemicals on the market approved for laying hens. That's why I was surprised when I recently noticed a new product at my local feed store, Rooster Booster.
I was intrigued because the label claimed that it was legal for laying hens. The label also emphasized the "nutrient-rich" base. Was this a new herbal powder or supplement? I asked the store manager. He didn't know.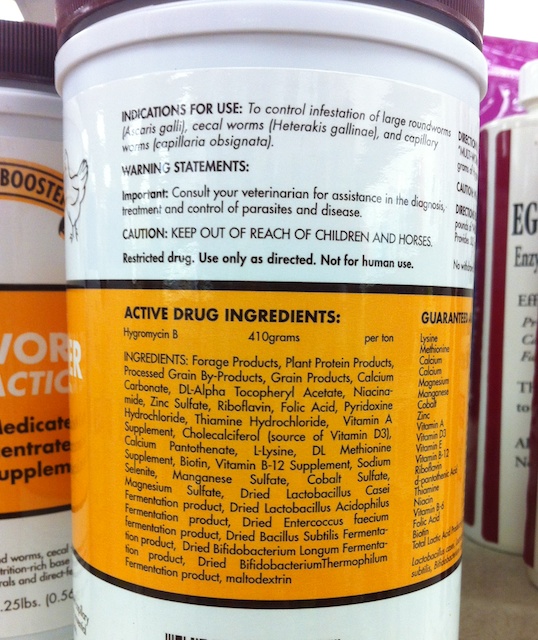 I did some research. Hygromycin B is an antibiotic. This is not stated on the label. I guess we're supposed to know. Or, perhaps the manufacturer hopes that we don't? Many of us raise chickens to have a source of eggs not tainted by drugs. Since this is being sold at feed stores to backyard hen keepers, and is packaged as if it is a natural supplement (after all, it has vitamins and probiotics in the ingredients), I am outraged.
Hygromycin B was approved by the USDA in the 1980s, but, for business reasons, has been off the market for years. Well, it's back on. A chemical trading website states: Hygromycin B , very safe de-worming drug, can effectively kill the roundworm of pigs, whipworm and chickens' roundworm, and have antibacterial effect. And it also can be used for chicken feed. However, it goes on to report: The Hygromycin B is very toxic by inhalation, in contact with skin and if swallowed. It may cause sensitization by inhalation and skin contact. It has risk of serious damage to the eyes and limited evidence of a carcinogenic effect. Before use (sic) it, wear suitable protective clothing, gloves and eye/face protection. Do not breathe vapour and dust. Interesting how "very safe" and "very toxic" are in the same paragraph, and this from a website that is pro-chemical. There's more, which you can read on this link.
Hygromycin B is a product that commercial growers use on an ongoing basis not only to control parasites, but also to increase productivity and reduce food costs. They feed antibiotics because without those drugs, their chickens would be sickly or die. They put it in their flock's rations so that they can provide the cheapest of feedstuffs and still get a high volume of eggs. Those reasons don't apply to my flock, and shouldn't apply to yours. Let's keep antibiotics off of our own properties and out of our own personal food stream.
Please share. Thank you.