I'm often asked, Do Chickens and dogs get along?
As with so many questions, the answer is, It depends.
Chickens are prey animals. Everyone, from the hawks in the sky, to foxes lurking in the woods, want to eat them. Dogs are predators. Right there, you have a problem. Chickens startle easily. They dash and dart. These are exactly the motions that set a dog into hunting mode. That said, not all dogs are a physical threat to your chickens. What sort of dog do you have?
Do you have a large, athletic dog? Or a little couch potato? I have both.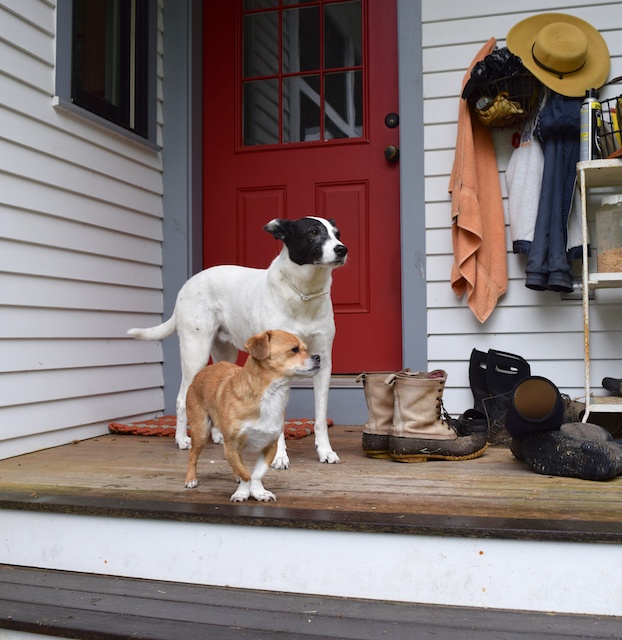 Scooter is not much of a threat to anything, not even a tennis ball. He would prefer to be curled up in the sun. Still, he is a dog, and despite his ridiculous cuteness, he remains a predator at heart. He could harass the chickens, even a little dog can stress out your flock. Then again, they could harass him! If Scooter did grab a hen, his gnarly undershot teeth wouldn't do much damage.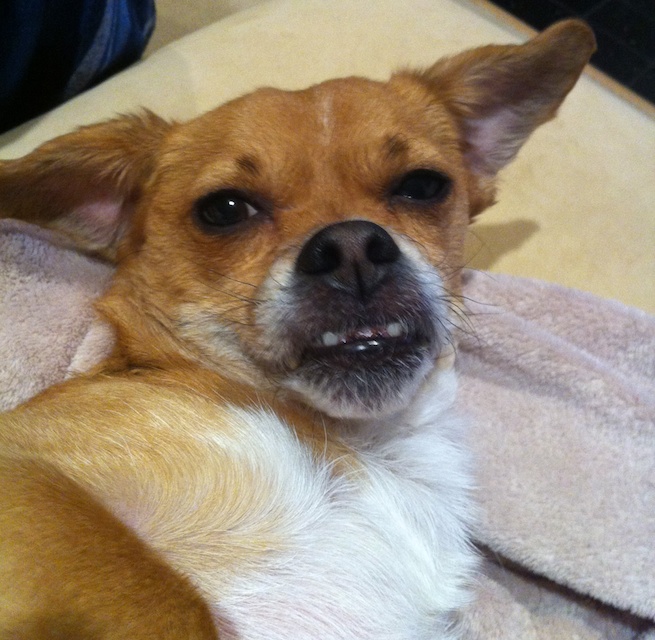 On the other hand, Lily dog is always on high alert. In all likelihood, in her first few months of life as an ignored puppy on a farm, she learned to hunt and eat rabbits and such. Added to that history is her highly reactive temperament. When she sees movement, she chases. She tears off like a streak first, and thinks later. This isn't necessarily a bad thing. The local coyotes, herons, hawks, raccoons (and the list goes on) stay clear of our backyard. But, a dog with such a strong prey drive can't always distinguish between a chicken scratching in the woods and a squirrel.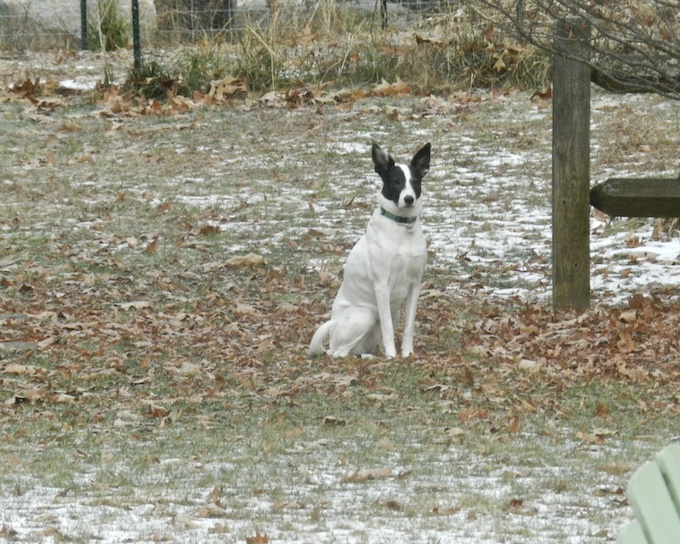 Some big dogs are fine with chickens. My late, great Nimbus, was the ideal dog to have with hens. Nimbus was likely an Australian sheepdog and husky mix. She had a very strong prey drive, but she also had the protective sensibility of a herding dog. I owned her for a few years before getting chickens. Once the hens were installed in the backyard, I told Nimbus that they were not toys. All I had to do was say, uh-uh when she tensed to chase or try to play with them. Nimbus got it immediately, and she understood her role. In fact, I'd let the flock free-range with Nimbus there to protect them. The biggest issue that I had with her was that she'd follow the hens and eat their poop. Dogs love chicken manure. They eat it and they roll in it. It's disgusting. It's stinky. If that's too much for you to deal with, don't worry about how to let your dog mingle with your hens. Keep them separate!
Lily is another story. I knew that with her that I'd have to do systematic and on-going training. I use positive reinforcement to teach Lily that chickens are to be left alone. This is the opposite of what some trainers advocate, called aversion training, which is, when a dog goes after a hen, you yell, yank and punish. That theory holds that the dog associates the chickens with bad things happening to him, and so the dog will avoid the hens. Punishment like that works once. Or twice. The behavior you don't want immediately stops. With some dogs, that's enough, and they decide the chickens aren't worth the trouble. But, for most dogs, and especially for reactive dogs like Lily, that sort of aversion training not only doesn't work longterm, but it also causes issues that are lasting and damaging to your relationship with your dog.
Dogs, when yelled at and yanked, will build up a tolerance for punishment. So, each time the dog misbehaves, the owner has to escalate to get the desired response. Soon, the owner is physically abusing her dog, and the dog associates not only the chickens with punishment, but the handler as well. At some point that sort of dominance training creates a backlash from the dog. Fear-based aggression ensues. Or the dog shuts down, fearful of doing anything wrong at all. That might look like obedience, but it is not (you see this "learned helplessness" a lot with horses trained in so-called natural horsemanship – more on that another day!)
A better way to train a dog to leave the chickens alone is to reward him for the behavior that you want. Imagine what the perfect scenario is – perhaps your dog lying quietly while the hens mill around. Then, train for that. What's the first step? Reward for when your dog (on a leash, so he can only do the right thing) is calmly looking at the chickens. If your dog can only be calm from fifty feet away on the porch, then start there. Slowly, day after day, get closer to the flock, all the while rewarding for quiet and relaxed behavior. This sounds like it will take ages, and it does take attention and work, but the end result will happen more quickly than you think. Soon enough your dog will be calm around your hens.
Then again, you might have a Lily. Lily is a very challenging dog to train because of her innate reactive nature. I've taught her not to chase the hens from the other side of the fence. I've trained a wait! so if she does take off after a stray hen, I can (usually) stop her in her tracks. But I'd never trust her 100% out with free-ranging hens. It's just not worth the risk.
So, when my dogs are out, my hens are in.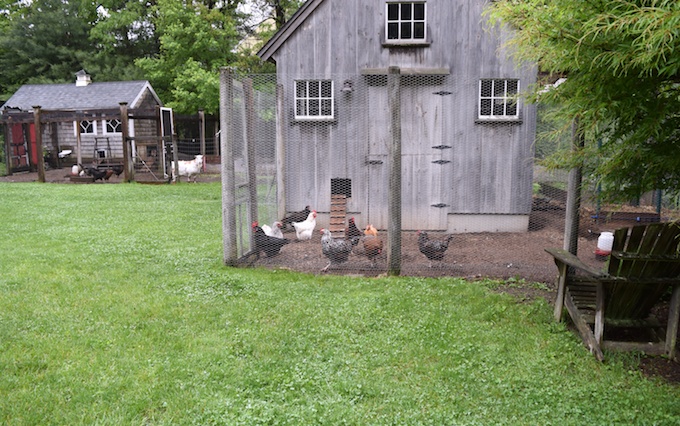 And vice versa.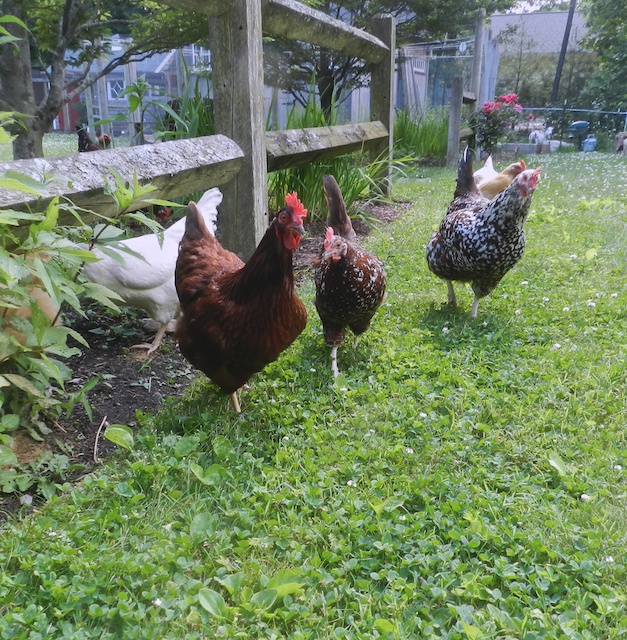 Note: I've enrolled in the Karen Pryor Academy Dog Trainer Professional course. It starts in June. What I've talked about here is just the tip of the iceberg when it comes to training theory and knowledge, and is applicable not only to dogs, but to horses and people as well. I'm looking forward to sharing what I learn with you here on this blog, and by next summer I'll be available for training consultations.