I have quite a number of events coming up, and I hope to see you at one or more of them.
This weekend, on Saturday, is a Chicken Keeping Workshop. There's still plenty of space so do sign up. The photo below is from the Advanced Chicken Keeping Class held a week ago. Notice the cookies. I'll be baking again on Friday!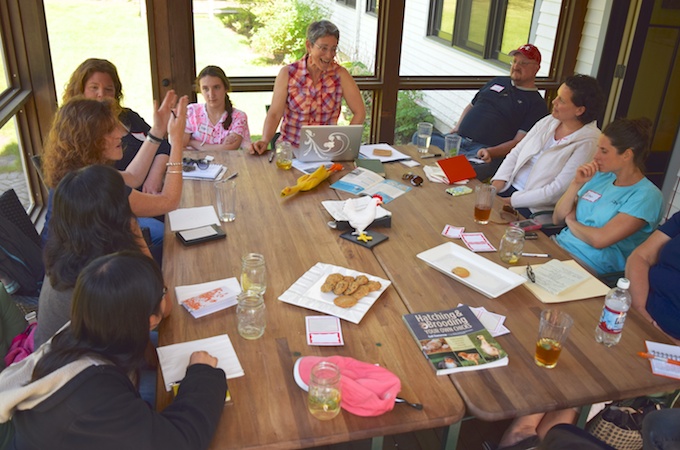 On June 11, I'm really looking forward to being at one of my favorite places – The Tower Hill Botanic Garden in Boylston, MA. I'll be doing a talk and book signing in the Limonaia, which is likely to be the most fragrant and beautiful space that I've ever done a program in. That event is free with the price of admission, so come early and tour the grounds. Even better, walk the gardens and then join me for dinner at the Twigs Cafe! I've reserved a table, so email me to let me know if you'd like to join us.
Speaking of gardens, I've added a new program this summer – A HenCam Garden Party. It will take place here at Little Pond Farm on July 12. If you've ever wished for a party where people talked about their chickens (instead of children, politics, etc.) then this is the event to come to! I'll give a short presentation on how to incorporate a flock into a landscape, and the remainder of the afternoon will be spent relaxing by watching the Beast and hens, scratching the goats, wandering the gardens, and being able to chat about your own hens with others who get it. A full description and signup is on my Events Page.
There's more on my schedule – take a look at the Events Page for the full listing. I hope to see you soon!