Taking care of a horse is complicated and rife with worry. It is not just that these animals are big (though they are) but it is also because so much can go wrong.
The digestive system is large and yet sensitive to upsets, called colic. A twist in the gut can kill. Proper feeding is essential. Tonka is fed four flakes of hay day, a small scoop of grain, a probiotics supplement, and has plenty of water. Changes and stress can cause colic. The farm has a grassy field that the horses will take turns in (but not until this rainy spring is over and the sod has firmed up.) Because his paddock doesn't have grass, I've been hand grazing him daily, gradually increasing the amount of fresh greens that he eats. We both enjoy this peaceful time near the wetlands, where birds are singing and the spring peepers (small frogs) are making a ruckus.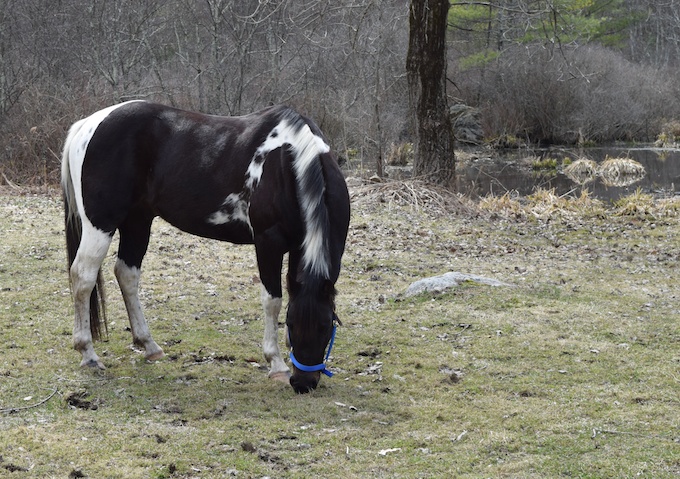 A horse carries himself (upwards of 1,000 pounds) plus a rider on four hooves, which aren't simply solid cartilage – no, they have bones and capillaries and cushions, all of which can be damaged. The hoof walls are continuously growing, and so need to be filed. Some horses have to wear shoes to protect them from bruising and cracks. So far, I've been able to keep Tonka barefoot, which I prefer, both for financial reasons and because he has a beautiful natural angle to his hooves, which I'd like to preserve. However, shoes don't hurt the horse, and if Tonka shows signs of hoof damage, I'll have no qualms about having him shod. For now, every five weeks, Tonka's farrier trims his feet. (My dogs, by the way, are given the hoof trimmings to chew on. They love it when Georgia comes!)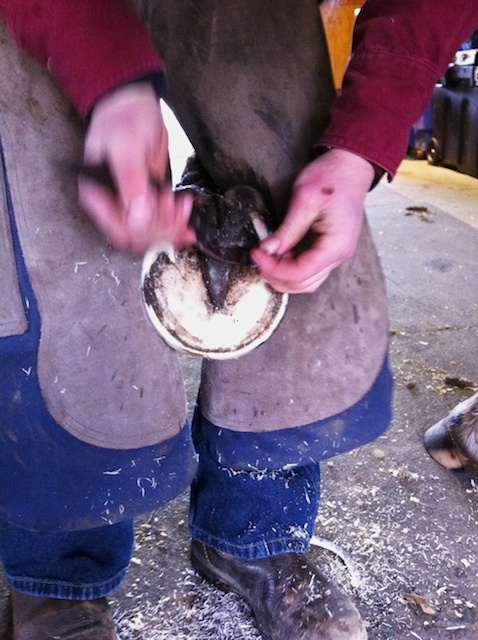 Being a farrier is back-breaking work. I don't know how Georgia does it. But, she does, without complaint, and is even capable, while working, of answering my questions. She's skilled and educated and I always learn something from her.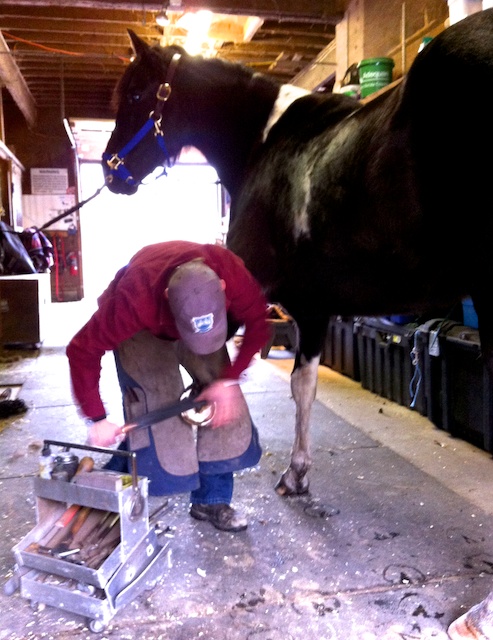 Horses teeth, too, are always growing, and do not wear down evenly. The edges can become so sharp that the horse gets ulcers in his mouth. Twice a year I  schedule a horse dentist to file Tonka's teeth. After this session, Tonka was much relieved. Chewing his hay and holding the bit in his mouth was so much more comfortable!
And then there are communicable diseases to worry about. Thank goodness for vaccines. All of the horses at Tonka's barn will be getting their spring shots tomorrow. EEE, rabies, tetanus, West Nile, and rhino.
As with any animal under our care, we can protect them only so much. Lyme disease is epidemic here. Injuries happen. I can only do the best that I can, stay as educated as I can, and as always, pay attention. One of the reasons that horses are so wonderful to be around is that they are expressive animals that communicate with us humans. I'm listening, Tonka.