The nursing home hens have been doing their job. The memory loss residents watch what's going on in the coop from their activity room windows. Other residents have to go outside to see the chickens, which isn't a bad thing. I heard from a friend who's mother is in rehab there after a broken hip. On Saturday the weather warmed to the 40s and she wheeled Marian outside to see the flock. If not for the animals, they would have stayed indoors. My friend looks forward to bringing the great-grandchildren for a visit.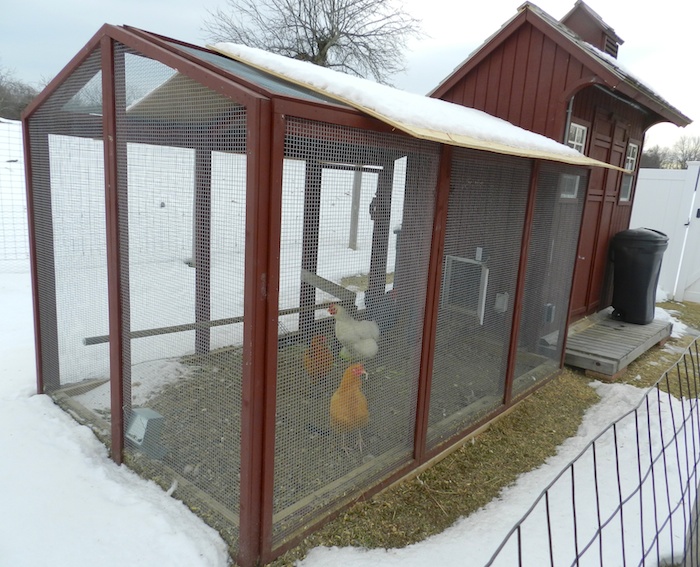 The other thing that the hens have done is to uplift the days of the people who work at the nursing home. Lisa, originally skeptical of the project, now spends her lunchtime and breaks with her favorite hen, Clementine.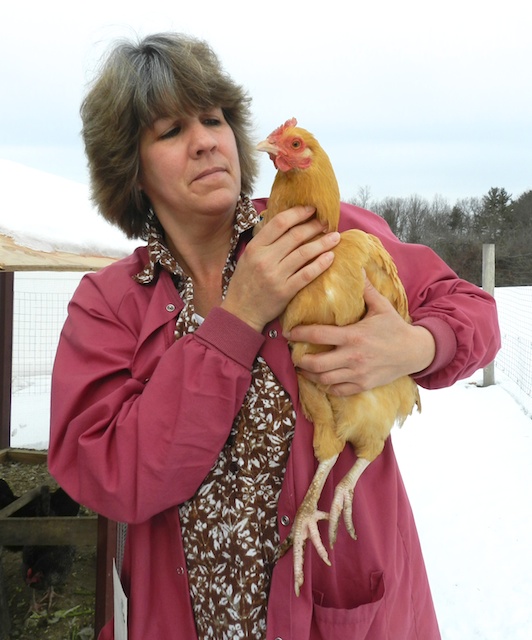 But, all was not well with the girls. I'd been called about some feather loss around the tails. I went to see what was going on. There was no blood-letting, but the plumage was certainly shortened and sparse. I watched the flock for twenty minutes. As I observed the dynamic amongst the four girls I didn't see any obvious signs of aggression. They ate comfortably next to each other.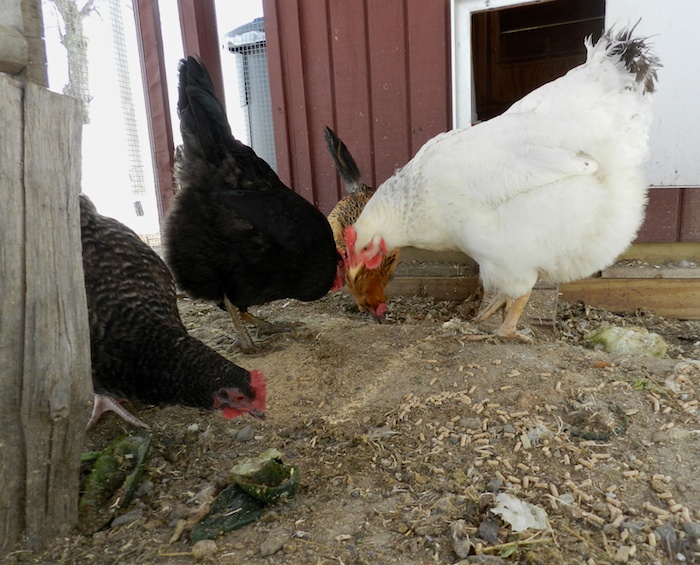 However, Clementine was clearly on the bottom of the pecking order and skittered away if the other hens even looked at her. She had the barest bottom, made worse by runny white diarrhea. It looks like vent gleet to me.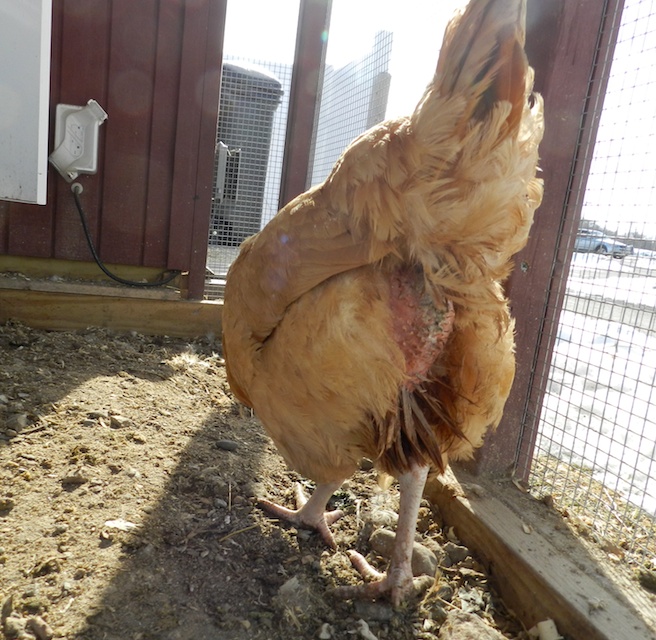 Today Lisa is going to give Clementine a warm soak in an epsom salt bath and treat with povidone. Hopefully, I'm right about the vent gleet and the treatment will clear up the mess. However, I could be wrong, and I'll be checking back in with LIsa next week.
Feather picking is, I think, the number one concern for most backyard chicken keepers. Once this bad habit starts, it's hard to break, especially if it spreads to more than one hen. What I observed at LIfe Care was that there was only one culprit.  Beulah, the Black Star, was the only hen with nary a feather out of place.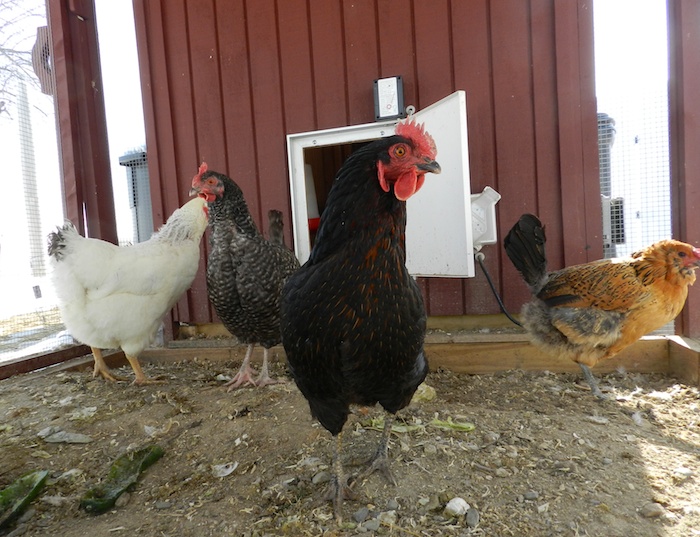 In a case like this, the easiest thing to do is to remove the aggressor. Four hens would be as good as five for entertaining the residents of the nursing home. I put Beulah in a crate and brought her back home.
Because Beulah was originally from the same batch of chicks as the Literary Ladies, and because she's been in a "closed flock" (one not exposed to other poultry), and because I know that neither of the flocks has seen illness, I wasn't worried about biosecurity and so didn't have to quarantine her. I'm also not worried about Beulah returning to her feather-picking ways. Putting her in with a new flock deposes Beulah of her top-hen status. The bad habit should be broken. However, integrating one hen into an established group can be a challenge. There will be pecking. There will be consternation and upheaval.. In this case, though, 24 hours after bringing Beulah home, she has rejoined the flock that she knew as chicks with little drama. Does she still remember them? I have no way of knowing. But, I'll tell you how I integrated this one chicken into the group in my next post. In the meanwhile, you might see a bit of chasing as the new pecking order settles down – don't worry about it!
It's not easy to tell the two Black Stars apart, so I've put a blue band on Beulah's right leg. Also, her chest is a tad darker than Nancy Drew's, the other Black Star in the flock.