There are seven hens in the Little Barn, one of which is an old bantam White Leghorn named Betsy Ross. She no longer lays eggs, but the others, the Ladies, are heading into their peak laying year. They hatched last spring, fully matured over the winter, and are now laying eggs in the nesting boxes, and in their favorite place, the rabbit hutch.
Despite the snow on the ground and the thermometer at zero this morning, now through the end of March will see the maximum egg production for the year. That's because the length of daylight tells the hens it's time to lay eggs, but that it's not yet time to go broody. This weather is actually better than mid-summer, when sweltering heat depresses laying. Right now, the Ladies are cozy in their coop, and warm enough in the sunshine, to be able to crank out the eggs.
Yesterday I collected six from the six Ladies.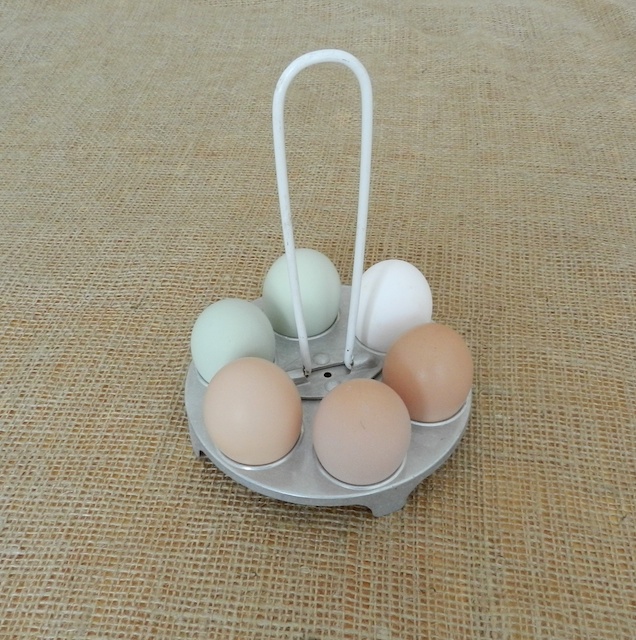 Yes, even Veronica laid an egg! She's a Cuckoo Marans, a breed that is supposed to lay chocolate brown eggs. She doesn't. In fact, the darkest egg of the lot belongs to Beulah. But, that's okay. Veronica is a chatty, cheerful hen that likes visiting schools and meeting children. Any eggs from her are the icing on the cake.
Beatrix, who was showing signs of straining to lay an egg without success, now has all in gear and is producing her pretty greenish-tinged egg. (Beatrix's egg is to the left, alongside Owly's slightly bluer egg on the right.)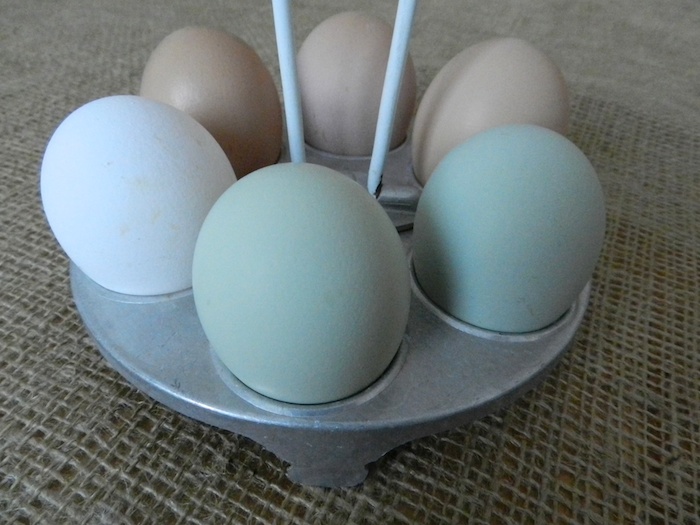 Twiggy lays the white egg. Being a Leghorn, she lays eggs six eggs a week, and sometimes even seven. The other girls lay from two to five eggs a week. After a winter of using eggs sparingly in cooking, I now have an abundance to work with. Egg Salad! Frittatas for dinner! Custard for dessert! Despite the freezing temperature outside, it's feeling a lot more like spring in my kitchen. The eggs are just in time for programs I'll be doing to promote The Farmstead Egg Guide and Cookbook. There will be samples of recipes at book signings! Keep an eye on my events page and let me know if you'll be coming.