I know that you're all curious about the second ramp that you see on the HenCam.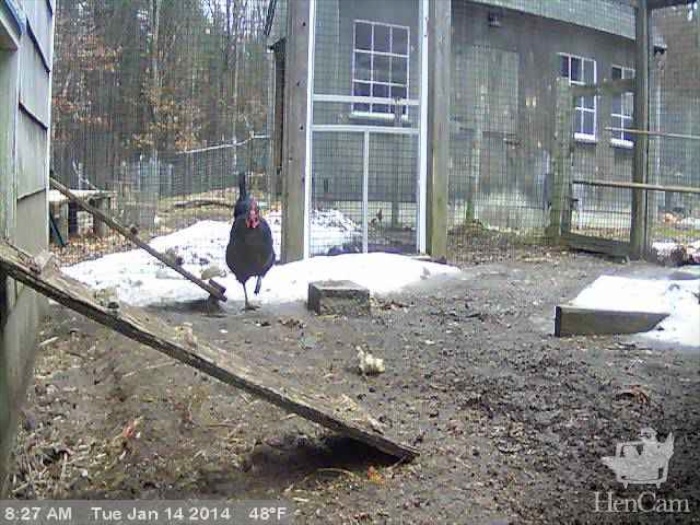 This is what is around the corner.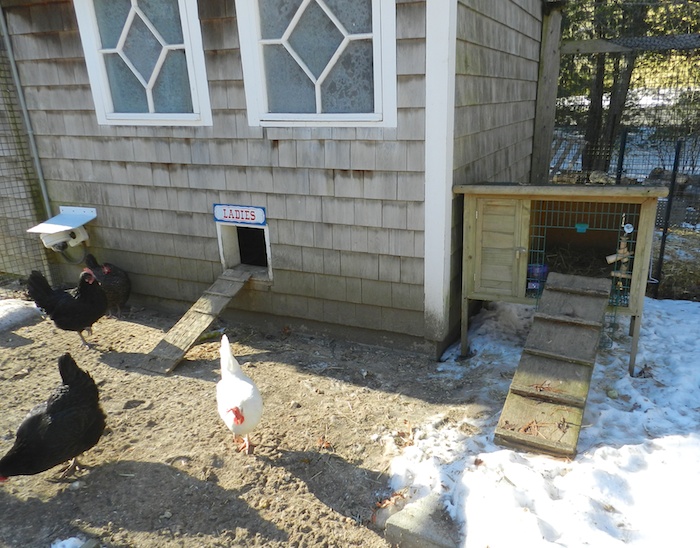 It's a rabbit hutch.
On paper, my coop and pen fit the space requirements for the flock. With the passing of the two old hens, you'd think that there would be even more room. However, the weather has been awful, so they're spending more time inside. And, the group dynamics has changed now that Buffy and Twinkydink are gone. Betsy can no longer hide from the Ladies by squeezing behind the old girls. (Do not read into this that the old hens protected Betsy on purpose. They did not. However, Betsy is a smart little bird and she knew that if she hid behind Buffy or Twinkydink, that the Ladies wouldn't chase her there. The Old Girls didn't like the Ladies in their personal space, and pecked at them if they came too close, but they were used to ignoring Besty.) Betsy, now in need of some other sort of buffer from the Ladies, joined Phoebe under the nesting boxes. Phoebe, being a mild-mannered little bunny, turned her back to Betsy, but found still found her presence annoying. Unlike the late, great Candy, Phoebe does not imperiously hold her own with the hens. She needed a new quiet spot. So, I put the hutch into the pen, thinking that Phoebe would appreciate a new haven, and that I'd alleviate some of the social pressure.
It's nice and cozy. I put rabbit food, fresh hay and shavings inside.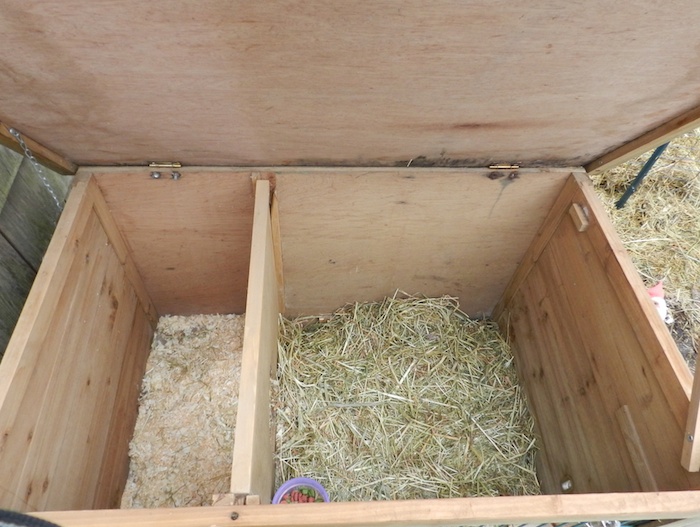 Of course, the animals do not follow my script. Phoebe does like the hutch – to sit under. Once in awhile she goes inside for a snack, but she doesn't want to stay in there. Twiggy does like the hutch – to lay her eggs in the hay. Nancy Drew has laid an egg in the shavings. And Betsy? She continues to annoy everyone. They peck at her, but it's not serious. No one actually takes a pull of any of her pristine white feathers. She skitters here and there. If the flock truly bothered her, she'd be hiding in the nesting box. So far she hasn't taken a step inside.
I had wanted to wait to write this post until I had better photographs, but knew that I had to assuage your curiosity (I believe my readers are also suffering from mid-winter doldrums!) At best, I took this one of Twiggy going down the ramp. You'll have to imagine the rest.
This small addition has improved everyone's mood. Chickens are curious animals that like to investigate new things. It doesn't take much to improve their surroundings by adding a shelf, a perch, or a nesting box in a new place. Think about what you can do for your animals during these mid-winter doldrums. Ideas? Tell me here.