I'm often asked, How high does a fence have to be to keep my hens in?
As with so many questions about chickens, the answer is, It depends.
Growing pullets are agile and lightweight and are often escape artists. They'll hop onto a stool or log and launch themselves out of a pen. A six-foot fence might keep the young ones in.
Most laying hens, though, are far from aerodynamic. The heavy breeds, like the Barred Rocks and the Australorps tend to stay put. And they like life on the ground, where the food is. The fence built for the chicks will do for them, but usually a lower fence will as well. There is a four-foot wire fence around the perimeter of my property, and it keeps the chickens from straying up the street.
However, there are always exceptions. In my flock, that exception is Misty. She's a Blue Andalusian, which is a sleek Mediterranean breed that originated in Spain. She likes to be up high, and she can get there. I often let the Ladies into the goat paddock to forage. They all stay in the pen. Except for Misty. When I ask the Ladies to go back to their coop, they come running. Still, I do a headcount before closing their door. I'm always short a hen. It's always Misty. She's the only one to fly over the goat's 4-foot fence. Misty also has yet to figure out how to fly back to come when called.
The other day, while the hens were free-ranging on the lawn, Misty decided to fly up to the top of the run. I have no idea of why she did that. In ten years of having chickens in that pen, I've never had a hen parade around up there.
The goats were as surprised as I was.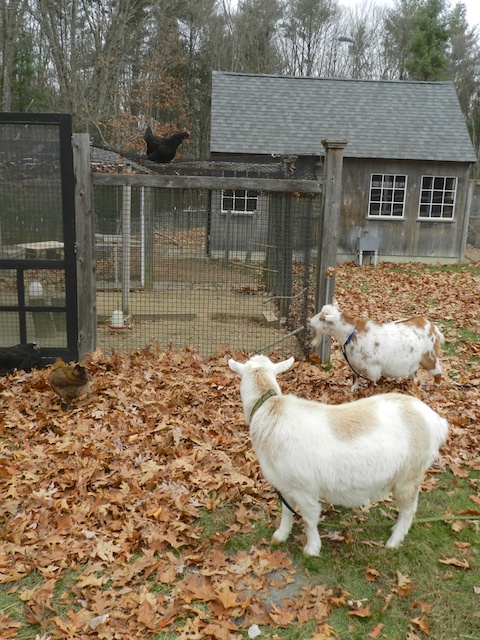 Twiggy, the White Leghorn is as svelte and athletic as Misty. However, she wouldn't think of leaving the good food on the ground if it weren't for that instigator, Misty. Twiggy followed.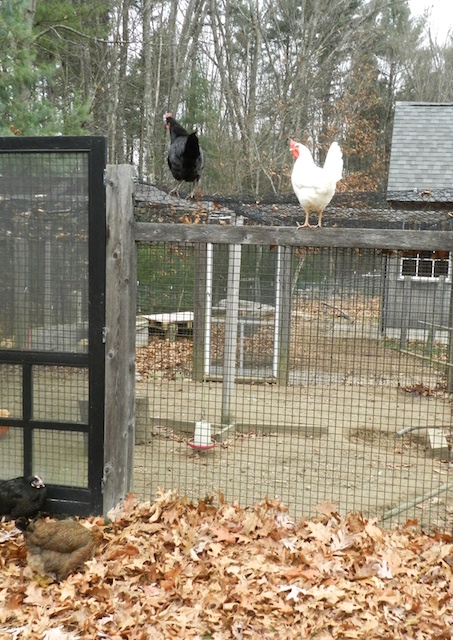 It was precarious on the netting.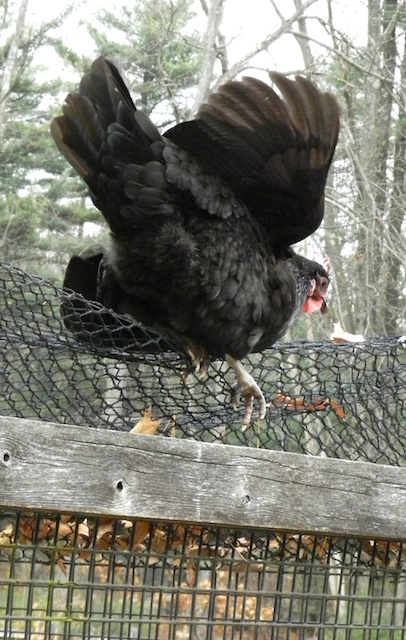 It is hawk netting, designed so that birds won't get tangled in it. Nonetheless, Twiggy quickly decided that it wasn't for her. Besides, there was nothing to eat up there, and Twiggy is always hungry. Down she came. It took Misty a bit longer to leave her perch. I think that she liked the view.